Innovative and unfettered thinking abounds at NLA's ideas for housing competition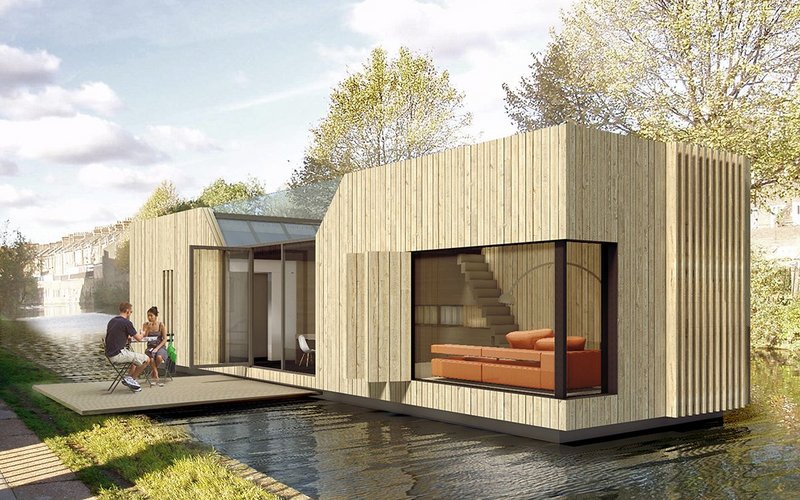 The Chichester floating homes by Baca Architects.
From floating 'waterhoods' to surburban densification, how can the delivery of new homes in London be doubled to cope with the capital's rising population? What new funding mechanisms, planning routes and design strategies can be set up to meet housing need as the population grows to an anticipated 10 million in the next 15 years? How can capacity be increased when private housebuilders are already at full-pelt, and there's a construction skills shortage? How can house ownership become affordable again for generation rent? We may know the questions but the answers, and how to make sure they are implemented, are another matter.
New London Architecture sets out to grasp this nettle in its thought-provoking New Ideas for Housing competition, report and exhibition. As NLA chairman Peter Murray says in his foreword to the report, there's no silver bullet of a solution that can make up for years of under investment. Instead, there will need to be multiple and diverse solutions generated broadly to ensure that the many areas of housing potential out there can be realised.
The report gives the context for the present day housing crisis, analysing tenure, size, quantity, affordability, finance, and housebuilder capacity. Net delivery is at 20-25,000 per year – unchanged over 15 years – yet housing experts estimate that between 49,000 and 100,000 is needed. Home ownership has fallen from 59% to 36% in a decade among 25-34 year olds.
So what's to be done? Certainly the 100 shortlisted participants in the associated competition had no trouble coming up with suggestions of where to increase density in what is a relatively low density city, from densification of suburbs to transport oriented developments involving road, waterways and railways to carefully stitched inner-city infill. I particularly liked Richard Lavington's suburban multi-detached' mansion block densification strategy. Air-rights ideas abounded, above everything from multi-storey carparks to schools.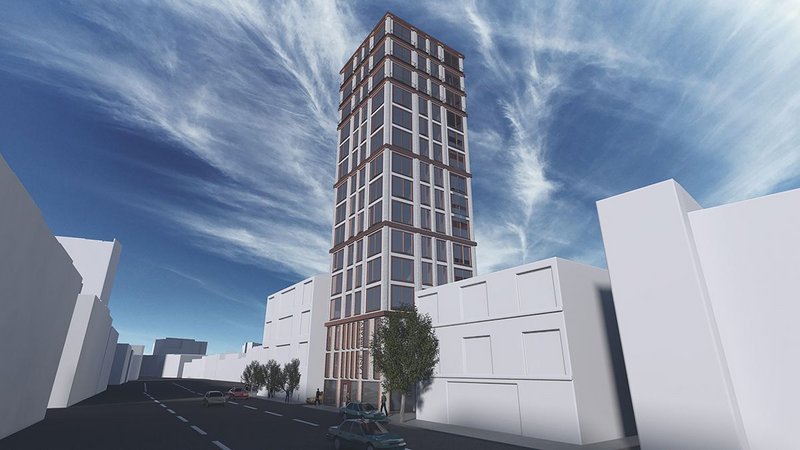 Housing over public assets by Bill Price, WSP.

Credit: Parsons Brinckerhoff Library
The idea of getting planners or new enabling agencies to identify and package up potential development sites – such as the creation of a new Greater London Estate for brownfield redevelopment sites – seems very sensible. Some of the procurement and financing ideas were intriguing, in particular Crispin Kelly's Consent and Implement proposal to allow anyone to apply for planning permission to develop underused publicly owned land: if they get consent, they must build within three years and give half the asset back to the landowner. Intergenerational solutions were also prevalent – including BR + W's idea for Together Old 'N'Young (TONY), which proposes tall intergenerationally-occupied buildings near amenities and transport – and releases larger homes for families. Some entrants addressed construction methods, coming up with modular and prefabricated solutions such as Rogers Stirk Harbour Partnership and YMCA South West's 26m2 Y-cube studios. dRMM's Wood Blocks shell and core housing typology, which reduced construction cost by 40% by excluding fit-out, sounds very promising.
This exhibition has already caused something of a spat among architectural critics. Small but densely populated with ideas, it's dealing with issues far too big to be ignored. Instead, it should be compulsory for planners, housebuilders, architects, and all those interested in the future of London. With such a major problem on the capital's hands, the more debate the better.
New Ideas for Housing until December 17, New London Architecture, The Building Centre, 26 Store Street, London WC1E 7BT
---