Nick Johnson has done a lot – at Yale, in Manchester, with Cabe and most notably with Urban Splash. He's still regenerating places, but now he does it quite differently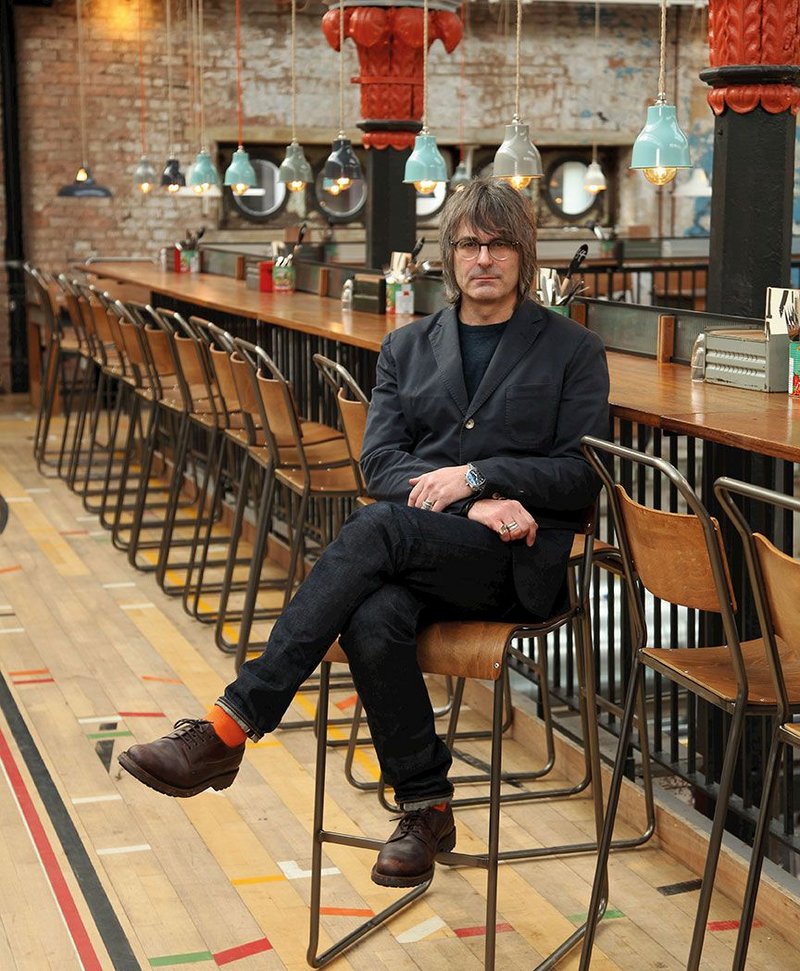 Nick Johnson at Mackie Mayor in Manchester.

Credit: Jason Lock
Nick Johnson used to be a Cabe commissioner, he used to teach at Yale, he used to chair Marketing Manchester. He used to commission architects to design homes by the dozen and to run the most unorthodox largescale development in the UK with Urban Splash.
Now he runs a market, or two. One in Manchester, one in his home town.
Now he has foresworn sitting on boards and committees and filling his life with meetings with and for the establishment. He is doing regeneration in a different way.
I met him at Mackie Mayor, the old meat market in Manchester's northern quarter. It re-opened late last year, a place to find good food in many forms. I circled the 1848 brick facade first. I was looking for expanses of glass and views into it but the nearby tattoo parlours gave more away. Pushing through doors from the ring road the warmth and gentle bustle enfold you, you are on the edge of a dining hall of tables edged by kitchens, menus chalked above them. You have to stroll around it to appreciate it, to choose what to eat, and jump up to get another drink.
Johnson knows the market building from Urban Splash's project in loft living in nearby Smithfield – and from the one of Splash's legendary parties in the derelict building. He poked around the site when Splash bid for the regeneration in the late nineties, but lost. When he was taken around the grade II listed building again he saw great potential to make a new market. He had already done it once in nearby Altrincham.
He sees the thread of ideas and places going back years with luck seized more than made. Back through nearly 20 years at Urban Splash, making Manchester's New Islington with Will Alsop and Fat, to setting up Atlas Bar in the nineties with his partner Jen Thompson and architects Ian Simpson and Rachel Haugh. Back to when he left college as a chartered surveyor and realised his power of influence. On spec he wrote a four page letter to property and bookmaker businessman Jim Ramsbottom, suggesting he use bridging loans and great design to get a development off the ground. It worked. His hairstyle bears the stamp of Manchester's music scene and occasional DJ-ing but these also feed his fierce loyalty to the North West and his battle over years for independent businesses and making his place better.
All these things came together when he left Urban Splash. In the slow unravelling after the financial crash American vulture funds began to dictate business. So in 2012 he got out of big regeneration ('meetings had gone from three in a meeting and getting on site in three months to 13 in a meeting and seven to 10 years on site'). Honorary positions went too. He swapped them for time nearer home and his four girls, particularly his youngest Kat who is disabled with Rett syndrome. It might sound like retirement but he wanted to get back to doing. He wanted the naïve urban terrorism of early regeneration days when unknown rules were broken and possibilities seemed endless. 'I needed to feel scared again, but in a different way,' he says.
So it was easy to refuse the offer of a seat on the regeneration taskforce of his home town Altrincham. But he did offer ideas on how this perfectly positioned town with an affluent population, well connected to airport and city, could start to combat the empty shops that made it vacancy capital of the UK: think of it as the original market town.
Instead of profits leaching out to London, the jobs and the value stay in the region
When the chance to run that very market came up he and partner Thompson seized it. 'It is what I tried to instil [when teaching] at Yale,' he says. 'You don't have to know anything before you do something. You might have the wrong answers, or the wrong ­questions and you have to be ready to change anyway.' But Thompson did know food, as cook at Atlas. 'She is like A&R at a record company,' says Johnson. It is that, plus careful selection and curation of the stalls and food offerings, that has turned the market around. As Market Operations Johnson and Thompson have shifted it from stalls selling haberdashery and extra large ladies' night wear to a place for weekend browsers and for small scale entrepreneurs to test ideas; Johnson talks familiarly of Joules of Plucky Pickles, and the ex-herder and ex-cheesemaker Jeremy taking over the cheese shop.
Most successful is Market House, imagined as street food in comfort. Here are five kitchens plus bars, each with their own offering, and long dining tables in the heated hall. Even on a grey winter Wednesday it had a hum to it and in summer tables outside double the seats as it takes over the street. On those streets, shops are perking up with tapas, bar and coffee shops clustering around this success, some of them even spin offs. When you are an operator it is perhaps harder to welcome competition with completely open arms but Johnson points to a few highlights.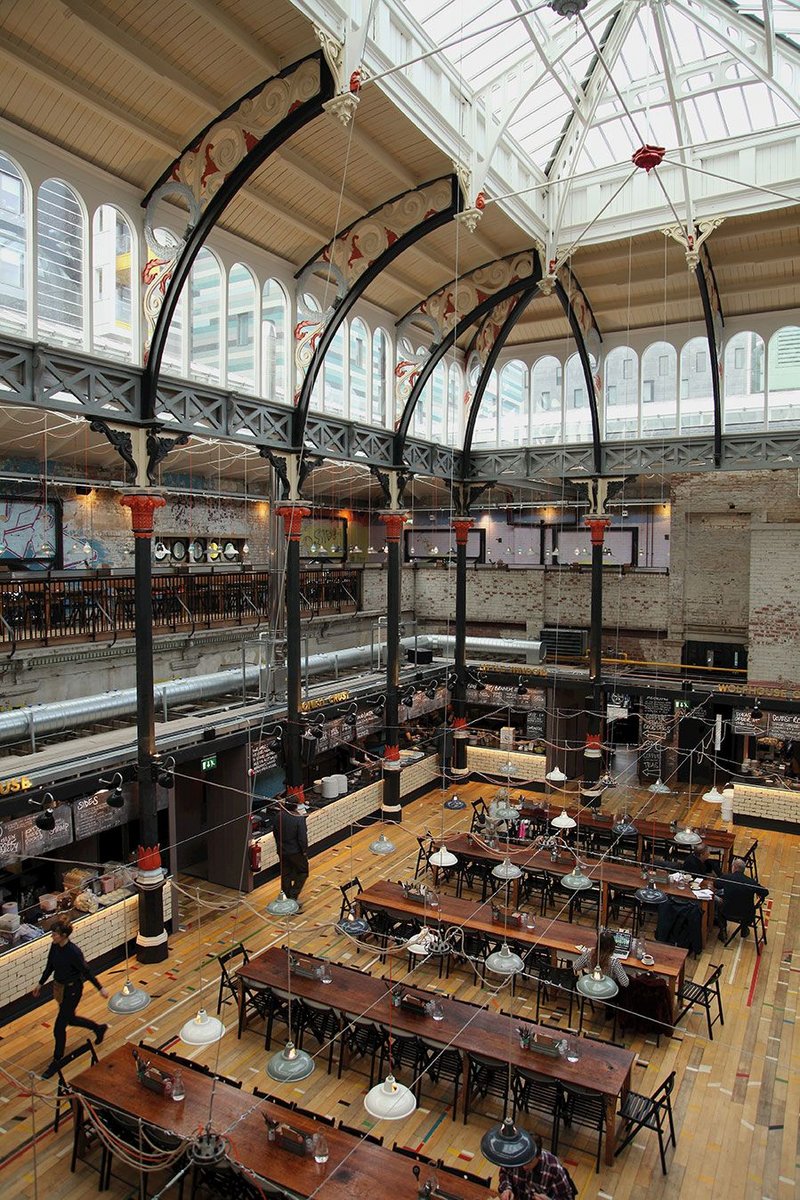 Brightly coloured pillars and a reclaimed gym floor keep things informal and comfortably quirky against the brick of Mackie Mayor's old building.

Credit: Jason Lock
It is the same idea at Mackie Mayor. And he has taken many of his foodie friends with him from Altrincham to feed its 20,000 customers a week. Each kitchen is an independent business and it is all run on the basis of mutual benefit without a written contract in sight ('if it is not working for one party it is not working for both, best shake hands and move on'). Like the building, with no views in, this is barely marketed: a facebook post an hour before it opened. He says he doesn't want it to be a brand, but maybe he was too busy getting it open before Christmas, installing an old gym floor and a staircase of sleepers and fixing up services – all working directly with subcontractors like the plumbers, dad and lad team Jim and Jim. Architect Buttress submitted the planning application and Johnson's team took it from there. Then there was a wine expert and craft beer maker to bring on board, 'runners' to engage and small businesses to coach into expanding. And he had to work out the playlists. As we eat, fresh mackerel and hot harissa rendering me temporarily questionless, Johnson infinitesimally adjusts the sound levels of Mackie's music from his phone.
He looks around at the riches of the north west, brought together under this roof, his roof. Johnson loves the region for the fact that in a few hours you could be in the hills in the Lake District, and back in time for tea. Not that you need it here with cakes from a café started on Morecambe Bay in Silverdale and vegetables grown locally to order. Instead of money leaching out in profits to London or a multinational, not only the jobs but the value stays in the region. 'The money made here stays here,' he says. 'It helps with post-Brexit Britain.' This sort of sentiment seems to drive other market revivals of recent years, from Borough Market, Newtown, Darwen and Frome Independent. And other towns and cities are picking up on the Altrincham example, from neighbouring Stockport to Bath and New York coming to check it out.
Johnson's conversation is full of names, of people who have inspired, impressed, exaggerated. The famous and not. There are at least three Richards in our short hours together and the children of friends have more than walk on parts – architect Christophe Egret's son Luke is running the ­kitchen we eat from. Egret junior puts the long ­table eating into context: 'People sit next to strangers, they see what others are eating, they talk.' People are what this is about for Johnson. ­'Architects talk about placemaking. But ­people make places.'