Demolition of the 1970s glazed pleasuredome would destroy the last of an entire typology, says Will Wiles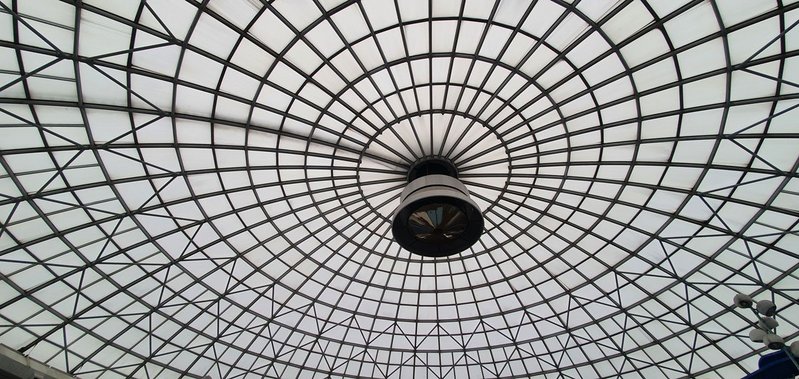 The dome of the Oasis Leisure Centre, as designed by Gillinson Barnett & Partners.

Credit: Neil Robinson. Save Oasis Swindon Campaign
Geography is destiny, as they say in Swindon. The Wiltshire market town's location between London and Bristol made it an important stop on the Great Western Railway, and Brunel placed his engine works there. About a century and a half later, the town's location halfway between Oxford and Bath meant it was where my sister and I were taken for days out with our similarly aged, Avon valley-based cousins. But what was there to do in Swindon? Well, that was the best part: we went to the Oasis Leisure Centre.
The Oasis, you must understand, was not your common-or-garden leisure centre. Designed by Mark Potiriadis at Gillinson Barnett & Partners in the mid-1970s, it had three thrilling water slides, a wave machine, and a number of other attractions, all underneath a 14m-high glazed dome. Architectural treasure-houses they might be, but Oxford and Bath are a little short on wild-eyed fun. Raised in tourist centres, we went to Swindon to get away from it all. Words cannot quite capture the visceral excitement that built up as we awaited the next trip.
Naturally the pandemic forced the closure of the Oasis, but last November Swindon council announced that the centre would not be reopening. Instead its owner, Seven Capital, intends to demolish it and rebuild. This has prompted widespread anger and dismay as well as a campaign to have the facility listed. Purpose-built leisure centres of this size and vintage have been completely wiped out in recent years. As the architectural historian Otto Saumarez Smith points out, if the Oasis goes, it will mean the destruction of an entire typology. In terms of rarity, it is on a par with the Roman Baths down the road.
The dome, it must be said, is not the prettiest structure on the outside – it is more industrial than Xanadu. But that is because it is highly functional, and the function is the manufacture of joy. Inside, it is much more impressive, not that I paid much attention to it as a juvenile visitor. The space enclosed by this stately pleasuredome felt measureless indeed. One of the qualities of the Oasis that the listing proposal seeks to preserve is its tropical theme. The bright colours, foliage, boulders and iconography of palms, sunshine and frolicking dolphins might seem a little dated to modern eyes, but it was a crucial part of what made the Oasis such a delight. It was, appropriately for a pool, immersive; it was more than just a series of entertainments under one roof, it felt like a world of its own.
This world-apart quality is an underrated factor in making a leisure attraction a success. Soft-play facilities capitalise on this intensifying effect. Their play components are not individually fascinating, but bolted together in an enclosed, child-scaled, three-dimensional labyrinth, they become irresistible. The same is true of the adult equivalent of soft play, cruise ships, and is what makes them more appealing than the meagre sum of their parts.
Of course, you have to be into it to enjoy it. Approached with the wrong frame of mind, a leisure world can come across as naff or even nightmarish. One can understand why that makes modern leisure providers a little wary of immersive, intensively themed attractions. Also, they are vulnerable to the tides of fashion. Who now appreciates Laser Quest, another pocket paradise of my youth? Gone the way of Vauxhall Pleasure Gardens and the Oxford Street Pantheon. But the rising popularity of escape rooms and interactive theatre experiences suggests that appetite remains.
Hopefully the Oasis can be saved. It is a place Swindon can be proud of. After all, I have had a soft spot in my heart for the town for years thanks to those days out. Meanwhile, I am pleased to note that a new typology of leisure world is due to appear in late 2021: Folkestone is getting a purpose-built, multistorey skate park. May they blossom across the land. Let city-centre car parks become skate parks, water parks, soft-play extravaganzas, laser quests, escape rooms …
Listing pending
At time of writing, Historic England was still waiting for the DCMS' listing decision for the Oasis. It will likely be decided one way or the other in the next few weeks. The Save Oasis Swindon campaign can be found at www.facebook.com/saveoasis/