Charles Jencks, renowned founder of Maggie's Cancer Care centres and author of The Language of Post Modern Architecture, was a thoughtful, approachable theorist and lover of debate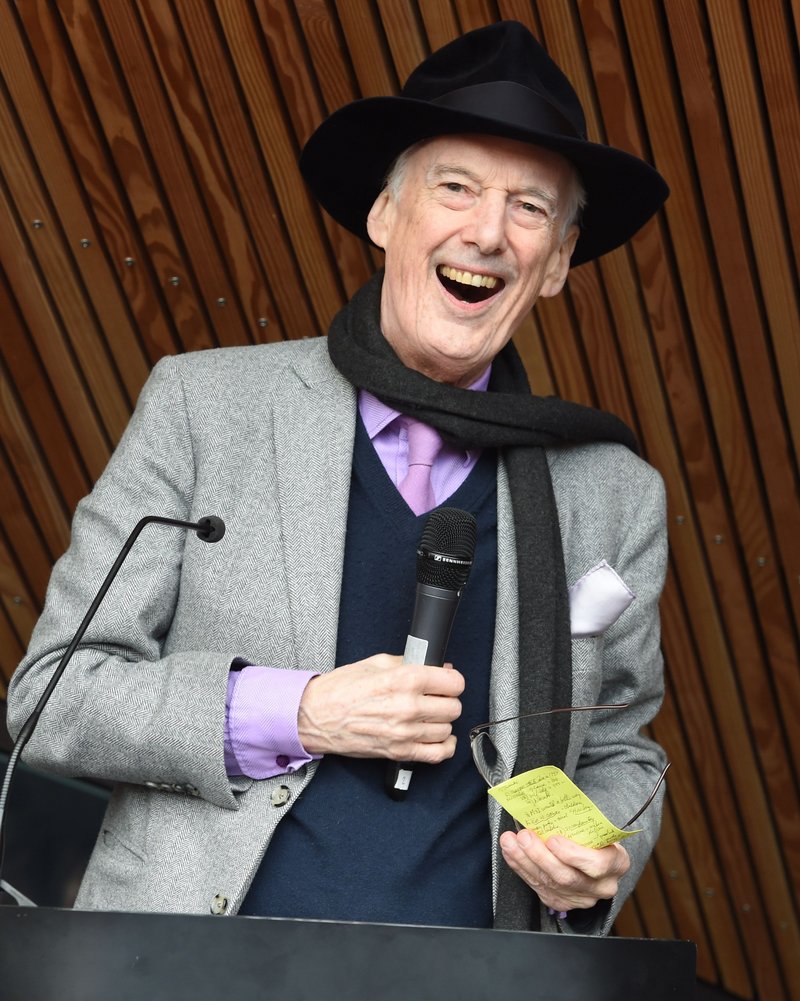 Charles Jencks in full flow.

Credit: Bill Fleming
Everybody in our world knew Charlie Jencks, or felt they did. If you hadn't met him personally you'd have been to one of his lectures, or benefitted from one of his often provocative back-of-hall interjections, or been involved in one of his large-scale landscape projects, or encountered him in his role of chief design client for the chain of Maggie's Centres set up in memory of his second wife, herself a landscape architect, Maggie Keswick.
If you hadn't done any of that you'd most likely have read one of his books, the likeliest candidate being his 1977 work 'The Language of Post-Modern Architecture' which was one of the most successful architecture titles ever, going through seven editions. This – along with his earlier 'Modern Movements in Architecture', derived from his Bartlett PhD thesis – was my introduction to the rapidly-shifting world of architecture when I entered it around that time.
Charles, always approachable, had few airs and graces but no false modesty – you always sensed he KNEW he was right, though this was forever arguable. A sociable man, he loved a debate, possessing that real American courtesy that likes to listen: so different from the brittle English public-school kind. He constructed a kind of rangy persona for himself – you could call it dandified and rumpled at the same time, typically involving brightly coloured cord suits and casually-flung scarfs, often topped with a fedora. Above all, he was a highly subjective cataloguer and categoriser of architecture, forever inventing and pigeonholing splinter-movements and influences, drawing flow charts to explain it all. His link-up with a sympathetic publisher – the late Andreas Papadakis of Academy Editions, now Wiley – gave him an almost tailor-made platform via both books and Architectural Design magazine.
Postmodernism was of course meant to replace the modernism that he claimed had died in 1972 with the demolition of the vast Pruitt-Igoe housing complex in St Louis, Missouri, by Minoru Yamasaki, just 20 years after it was complete. He was forever adjusting his worldview, happily later publishing a book on what he called 'late modernism'. But his original stance holds, I think: if we are not all postmodernists now, we are certainly mostly pluralists, and he was instrumental in promoting the growing acceptance of a richer variety of different styles. A third generation of postmodern architects is now making waves.
Unlike many theorists he also practised as a designer himself, usually in collaboration: for instance his own house, now grade 1 listed, was a work carried out with Terry Farrell and Michael Graves and also included much of his own furniture. He was an early and evangelical convert to the workability of MDF as a base material. It is intended that the house should become a museum, open to the public by appointment.
As a landscape designer his trademark – derived from Maggie's work – was the large-scale landform with pools of water in the interstices, organised along scientific-mystical 'cosmological' principles in which the helix and the spiral loomed large. Complexity theory also loomed large. Some of the gardens for the Maggie's centres are organised on these principles. For all their deliberately other-worldly appearance they are his take on the 'universe in miniature' concept of certain historic gardens.
Charles and Maggie (of the Jardine Matheson dynasty of tai-pan oriental traders) had the money and the property acres in Scotland to do this for themselves – their 'Garden of Cosmic Speculation' in Dumfries was the result – but private landscape commissions followed, for both wealthy individuals and public organisations. He found himself in charge of giant earthmovers shifting millions of tonnes of postindustrial spoil around to make his 'Northumberlandia' – land art in the form of a reclining pagan goddess, which opened at Cramlington in Northumberland in 2012. Google Earth is perhaps the best medium to appreciate it. He also dabbled in DNA-derived sculpture but this was by no means his best work.
His tally of Maggie's cancer caring centres – now 24 of them, 22 in the UK – are his and Maggie's main legacy. The first, at Edinburgh, was designed and later twice extended by Richard Murphy, based on Maggie's own concept brief. All the subsequent ones, no matter how many and varied the architects and how they interpret the brief, comprise the same basic ingredients. These are informal places of domestic scale, nearly always associated with a garden of some kind, where the kitchen table is at the heart of the plan and where various spaces from relatively public to private are provided: cancer support is also for the wider families of those directly affected. Usually placed close to hospitals, they are completely different in mission, feel and architectural quality. Architects include Frank Gehry, OMA, Zaha Hadid, Piers Gough, Wilkinson Eyre, Richard MacCormac, dRMM, Cullinan Studio, Carmody Groarke, Dow Jones and – winning the 2009 RIBA Stirling Prize – Rogers Stirk Harbour, for its Hammersmith Maggie's.
Jencks was born in Baltimore, Maryland, in 1939, graduated first in English Literature and then a master's in architecture at Harvard, then in 1965 moved to the UK, enrolling at the Bartlett for his PhD under Reyner Banham. His first marriage to Pamela Balding ended in 1973, and he met Maggie at the Architectural Association. They married in 1978 and she died in 1995. He married Louisa Lane Fox in 2005 and is survived by her and by his four children from his first two marriages.