Pritzker Prize-winning postmodern architect who asserted: 'Architecture is without purpose. Form does not follow function' aged just 29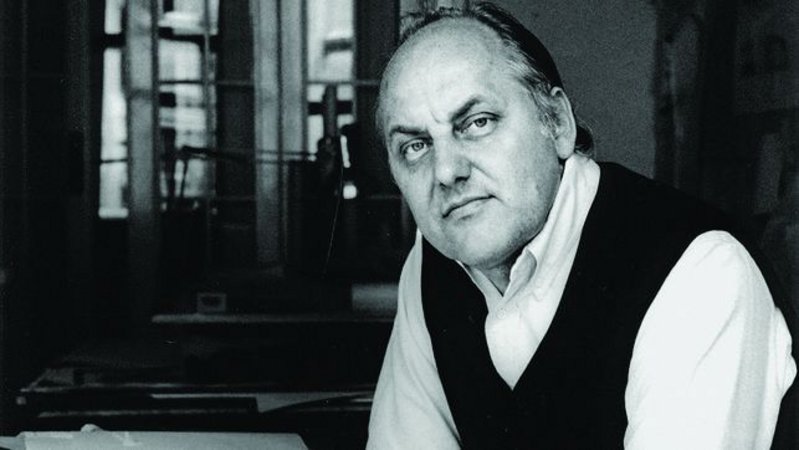 Hans Hollein (1934 – 2014)

Credit: Horst Tappe/keystone
You have to admire an architect who, as early as 1963, had the nerve to write: 'The shape of the building does not develop out of the material condition of its purpose. A building should not show its ­purpose. It is not an expression of structure and construction, it is not an enclosure or refuge. A building is itself. Architecture is without purpose. What we build will find its usefulness. Form does not follow function.'
The then 29-year old Hans Hollein, who has died aged 80, was a visiting professor in Washington at the time, a return following an earlier long sojurn in America to conclude his studies - first at IIT in Chicago, then at the University of California in Berkeley. Intrigued to find that the United States had no fewer than seven towns named Vienna, he had driven across the continent, using these towns as a random framework to guide his route. That route brought him into contact with the aged Frank Lloyd Wright and with Richard Neutra and Rudolf M Schindler, the all-American architect and the Viennese émigrés. Hollein chose to return to Austria rather than remain in America, his European sensibility however forever altered by the experience. What he did not want to be, as the quotes above make clear, was any kind of functionalist. For him, architecture had to reclaim its status as an art rather than a science. Hence, a year later, his famous collage 'Aircraft carrier city in the landscape' which challenged formal architectural preconceptions while simultaneously skewering militarism.
He was of course far from alone in questioning modernist orthodoxy – it was in the air at the time, with ­Robert Venturi and James Stirling among many others starting to be known for postmodern awkward-squaddism. And a postmodernist was what Hollein became ­after he started his own practice in 1964 – at first as a civil engineer rather than an architect, which adds practical piquancy to the romantic mix. Soon, however, he had begun to make a name for himself with little opulently idiosyncratic shops which Vienna has always generated. His Retti Candle Shop of 1964-5 led to the oft-cited 1972 Schullin Jewellery shop, the one with the artful 'crack' in its facade, a symbol of modernist decay which is also a characteristic flash of wit. Thin pickings for a nascent career perhaps, but in these early days he was also the editor of Bau magazine, writing for other magazines and teaching. He also became one of Alessi's stable of designers.
Hollein gradually became known for larger projects, his breakthrough coming with the Abteiberg Museum in Mönchengladbach (1972-1982) in which this contemporary art museum – playing, as so often, with geometry – dissolves into a hillside, landscape and architecture combining as a place of public resort. It still looks fresh today, unlike some of his later more overtly PoMo work such as the mixed-use commercial Haas House of the late 1980s, its brittle reflectiveness and broken grid patterning being more than a little intrusive right next to St Stephen's Cathedral in Vienna. At the turn of the ­Millennium he returned to a lifelong fascination – the buried building, a concept he had explored in a project for a Salzburg Guggenheim – with the remarkable ­Vulcania museum in the Auvergne, symbolic architecture conceived as a journey to the centre of the earth.
The only Austrian architect so far to have won the Pritzker Prize (in 1985, commended for his 'wit and ­eclectic gusto') this energetic wild man of architecture was also made an international honorary fellow of the RIBA in 1993. Predeceased by his wife Helene in 1999, he is survived by his children Max and Lili.
---
IN MEMORIAM
Peter Shaw Parkinson
Elected 1950, Wembley

Alistair Gordon Keddie
Elected 1951, Dundee

Francis Owen 'Jake' Brown
Elected 1952, London

Gerald Coleman Goldman
Elected 1954, London
Robert Findlay Gibson
Elected 1957, South Brisbane, Queensland
Ernest Norman Taylor
Elected 1961, Pinner, Middlesex
Peter Barry Udall
Elected 1962, Walton-on-Thames, Surrey
Alan William Walker
Elected 1966, St Neots, Cambridgeshire
Derek William Arthur Coverdale
elected 1966, Ipswich
Michael Patrick Spens
Elected 1969, St Andrews, Fife
Peter Burl Dowen
Elected 1979, Durham

K Kennet
London

Lisa Ingeborg Sainsbury
London
Horace Gordon Summerley
Elected 1946, South Africa
Harry Greenough Speakman
Elected 1934, Broughton-in-Furness, Cumbria
Richard Houston Dewar
Elected 1953, Forfar, Angus
Thomas Overbury
Elected 1948, Cheltenham, Gloucestershire
---
To inform the RIBA of the death of a member, please email membership.services@riba.org with details of next of kin