Historian, lecturer and prolific author – notably involved with the Twentieth Century Architecture series – who was made an RIBA Honorary Fellow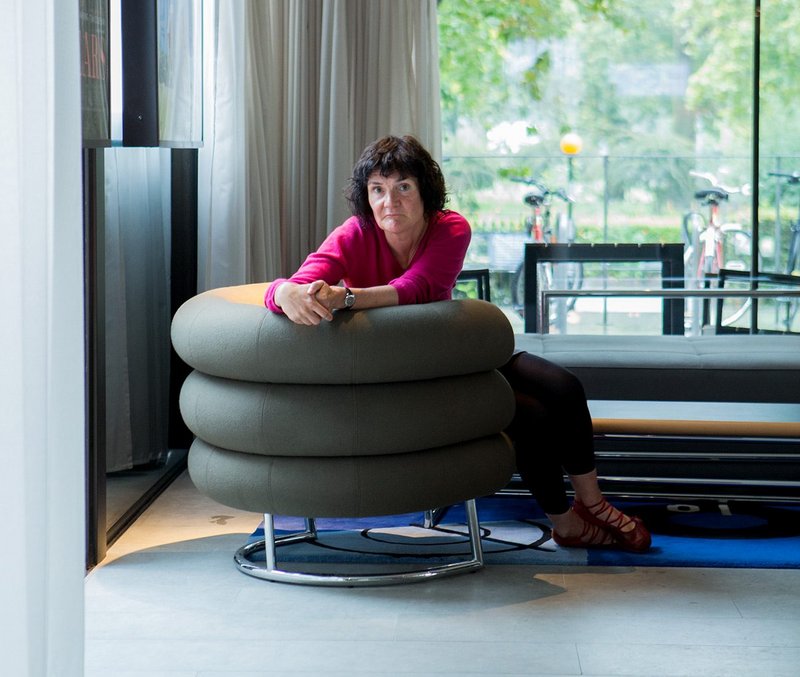 Elain Harwood

Credit: Wilde Fry
The historian Elain Harwood, who has died aged 64, was a tremendous force of energy which she devoted to 20th century architecture in Britain, chiefly the period after 1945. Born in Beeston, Nottingham, her love of architecture was sparked by a visit to the Nottingham Playhouse with her Brownie troupe. Proceeding to a history degree at Bristol, she ventured out with Reece Winstone's pictorial guidebooks to find buildings in obscure parts of the city.
After looking for a career in museums, she passed the Civil Service exams and joined the Department of Environment, landing in the newly-created English Heritage. Her interest was never exclusively limited to modernism; when she took the post-graduate diploma in conservation at the AA, her thesis was on Victorian asylums. She later took a PhD on the development of London's South Bank.
The listing of post-war buildings began tentatively in 1988, but with the establishment of the Post-War Listing Sub-Committee in 1992 Elain took on the role of processing research, which was carried out through printed sources, phone calls to architects and expeditions to discover what remained unmolested. Not all the sub-committee's recommendations made it through the double filter of EH's own Historic Buildings Committee and ministers who sought to curb excesses that would excite the press. EH managed this situation effectively with publications and exhibitions, and a more pluralistic view of the period began to emerge.
New Labour was generally hostile to heritage of all kinds, and conflicts arose in which Elain was sometimes caught up, with listing proposals left undecided for years. In 2002, the post-war programme was reduced to a reactive ad-hoc process. By that time, however, she had been commissioned to write what became the book Space, Hope and Brutalism, English Architecture 1945-1975, published in 2015. It was an exceptional opportunity that she grasped with both hands, accumulating facts from archives across the country, from interviews in which she became a valued friend of many retired practitioners, and from on-site inspections that were essential to her method.
Elain's published work could be piled almost as high as herself. Her single-author books included three guides to post-war listed buildings, the Pevsner City Guide to Nottingham, and most recently a popular series of style-focused books, including Art Deco Britain and Brutalist Britain. These were exceptional for the number of otherwise unpublished buildings that Elain visited by train and bike and photographed. She was invited to write for the first issue of Twentieth Century Architecture, the new-style journal of the Twentieth Century Society (C20), and became an indispensable colleague over a further 14 issues.
After the closure of the RIBA Heinz Gallery, it became more difficult to publish the kind of small practice monographs that had accompanied exhibitions there. In response, C20 and English Heritage worked with RIBA Publishing to launch the series Twentieth Century Architects. Elain was a key figure, working with me to commission titles, and contributing one on Chamberlin Powell & Bon. Now with Liverpool University Press, the series numbers 21 books, with more in the pipeline. John Allan reviewed them as 'mercifully free from twaddle', which might have been Elain's motto as a writer. Her work was recognised by the award of an Honorary Fellowship of the RIBA in 2022.
Elain was also an indefatigable lecturer to audiences at home and abroad. Pictures changed at pace as accurate names and dates were fired off, with occasional jumping with outstretched hand rather than using a pointer. She made many appearances on radio and TV, where her special combination of Derbyshire and Lancashire accents added authenticity. She was probably English Heritage's best-known public figure, although she preferred to work directly with her subject area rather than rise up the ranks to administrative heights. Further roles included work with Architects' Lives, the National Life Stories oral history project, and Cambridge University's Masters in Building History.
She is survived by her mother and her brother, David.
She is irreplaceable as a friend and inspiration to many, apart from the achievements listed here. She still had so much more to give.
Alan Powers is an architectural historian and trustee of the Twentieth Century Society