The self-taught historian and curator transformed the study of architectural drawings as well as writing notable monographs on William Chambers and Inigo Jones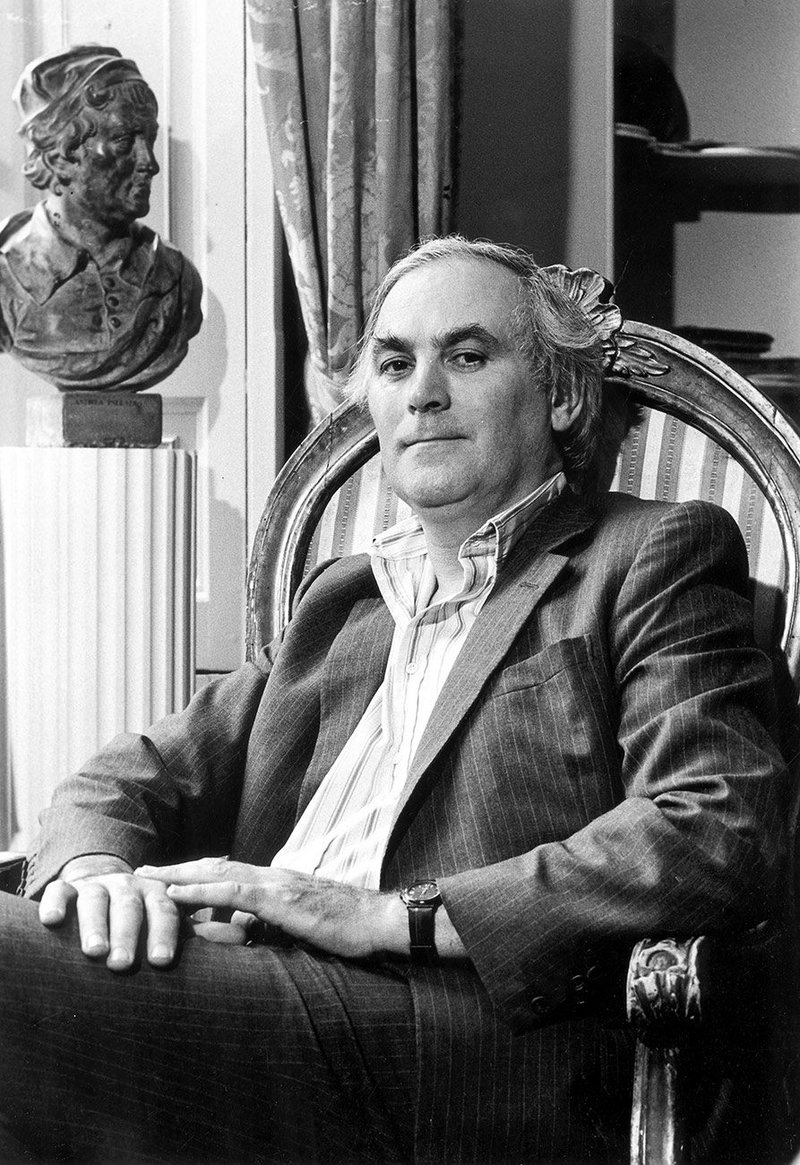 John Harris, pictured in 1980.

Credit: RIBA Collections
John Harris, who has died aged 90, was a self-taught historian and curator who led the RIBA Collections through a golden age and transformed the study of architectural drawings.
Born in Hackney to a housewife and an upholsterer, and raised in a dreary west London suburb, he rebelled against early expectations. Taking against school, he deliberately failed the 11-plus and left school at 13. When his father arranged for him to enter the family trade, he contrived to get the sack from Heal's. A different path opened up on jaunts with his Uncle Sid, who inculcated a love of fishing and exploring grand country houses. Supported by odd jobs and the dole, the teenage topophile was soon hitchhiking all over the country to 'snoop', visiting more than 200 crumbling piles, many abandoned after wartime military use. If occupied, entry was secured by charm and guile; if not, he'd go through a window.
National service took him to what was then Malaya, where he narrowly avoided court martial and did some shady business that paid for a disappointing stint at the École du Louvre. Real education continued by other means: cultivating wealthy Paris aesthetes, avid reading and trespass. On return to London, that zest and a refined connoisseurial eye earned a job with antiques dealer and decorator Geoffrey Houghton-Brown, in whose Chelsea house he lodged, and through whom he began friendships with eminent scholars. In 1956 their glowing references secured a post at the RIBA as assistant librarian.
On track to becoming a bona fide architectural historian, Harris began to write in earnest. His output would eventually total more than 25 books and catalogues, including notable monographs on William Chambers and Inigo Jones. An early commission was to help Nikolaus Pevsner with his volume on Lincolnshire, Harris taking the secular buildings and Pevsner the religious. Pevsner acknowledged that Harris's work involved a good deal of first-hand research, while his own did not. With clashing styles – one strictly methodical, the other led by boundless curiosity – their relationship was fractious.
It was in Lincolnshire, however, that Harris met Eileen Spiegel, a Brooklyn-born historian and expert on Robert Adam, whom he married in 1960. She survives him, along with their children, Lucian and Georgina.
Marriage coincided with a new role as the RIBA's first curator of drawings. Harris wrested control of the collection from the hands of often unsympathetic librarians and developed an extraordinary team of curators, including Alexandra Wedgwood, Margaret Richardson – later deputy curator – and Jill Lever, his eventual successor as curator.
Together with a crop of enthusiastic architectural historians such as Mark Girouard and Gavin Stamp, they unearthed little-documented holdings from a shed on the roof, the boiler room in the sub-basement and cupboards all over the building, and catalogued them in 23 volumes that appeared between 1968 and 1984.
Shrewd purchases and well-aimed appeals added many treasures, including works by Colen Campbell and Frank Lloyd Wright and the archive of Ernö Goldfinger. Requests to architects secured generous donations, often in great quantity. Additions included the archives of two major architectural dynasties, the Scott and Waterhouse families. Even the notoriously difficult Alison and Peter Smithson were persuaded to contribute.
'Harris transformed the collection from one that was essentially antiquarian and inward-looking in approach to one that looked outwards, backwards and forwards,' says Charles Hind, the present chief curator. 'The international reputation that it now enjoys is largely due to him; the RIBA owes him an incalculable debt.'
The greatest coup was relocating the burgeoning holdings to a house at 21 Portman Square, next to the Courtauld, after a chance meeting with its director – and Russian spy – Anthony Blunt in a Naples bar. Working with little money but abundant energy, he turned the compact outpost into a public forum.
Through Eileen, Harris knew many American historians and collectors, including Henry J Heinz and his wife Drue, who funded the first purpose-built gallery for architectural drawings in the world. Opened by the Queen in 1972, the Heinz Gallery put on more than 130 exhibitions over the next quarter-century, including the first shows on James Stirling and Norman Foster. Subjects ranged from Eileen Gray and First World War cemeteries to the conservation of pubs and railway stations. A flood of publications launched the careers of many young academics.
Jovial office lunches also functioned as an informal information exchange for the whole field. From the kitchen, Harris's influence spread outward in all directions. Save Britain's Heritage was conceived there, after the smash-hit V&A exhibition The Destruction of the Country House, which Harris co-curated with Marcus Binney in 1974.
He also advised Paul Mellon on the acquisition of drawings for the Yale Center for British Art, and made what Phyllis Lambert calls a 'nonpareil contribution' to her plans for the Canadian Center for Architecture. As founding president of the International Confederation of Architectural Museums – still flourishing today – his knowledge and enthusiasm were shared with institutions around the world.
Despite his success at the RIBA, Harris remained a natural maverick, and in 1986 resigned in protest at plans to return the collection to Portland Place. Prolific activity continued: snooping, campaigning, editorships and writing, including two memoirs, No Voice from the Hall and Echoing Voices. Peopled by rogues, grandees and sundry eccentrics, they are a portrait of a rich life, and a contribution to architectural history as great as any.