Influential, modest craftsman-architect and teacher best known for his own home and his alumni
John Winter, who died last month aged 82, was a highly influential yet self-effacing architect who deserves to be a great deal better known. The process of rediscovery began in the last year of his life, with a retrospective public interview with Adrian Forty at the Architectural Association, his beloved school where he had taught the likes of Jeremy Dixon, Ed Jones, Michael Hopkins and Nicholas Grimshaw. He also did building work at the school and built the back Members' Room and terrace, later remarking: 'Think how many famous architects have stood on that terrace.'

'Christopher Dean once called me the plumber of architecture – I'm interested in common-sense working solutions and don't really have any big ideas or concepts,' he said in an interview with Forty and Thomas Weaver published in AA Files. A typical remark, as was his comment on the kinds of buildings he liked: 'In Berlin it's all the rather boring buildings by architects you've never heard of that are the things to see. But maybe this is just me.' His friend James Stirling, he said, once characterised him as an architect of 'boring, in-between buildings'. 'What made it worse, he was absolutely right.'

Having worked in San Francisco for SOM and the Eames office, studied at Yale under Louis Kahn, and practised in the UK initially for Ernö Goldfinger, Winter had a broader international outlook than most at the time. He is known above all for two projects: his own 1967 house in Swain's Lane, Highgate, famously clad in oxidising Cor-Ten steel, and the rebuilding of Morley College, the adult education centre near Waterloo. He reached the shortlist for the latter because of the former: the college's principal, clergyman and academic Barry Till, admired the house greatly. The shortlist came down to two: Norman Foster (who had just completed his Fred Olsen terminal building in the West India Docks) and Winter. Till fruitfully chose Winter for his wraparound 1973 extension, which included an art gallery. The two got on well, and Till returned to him again a decade later for a further addition.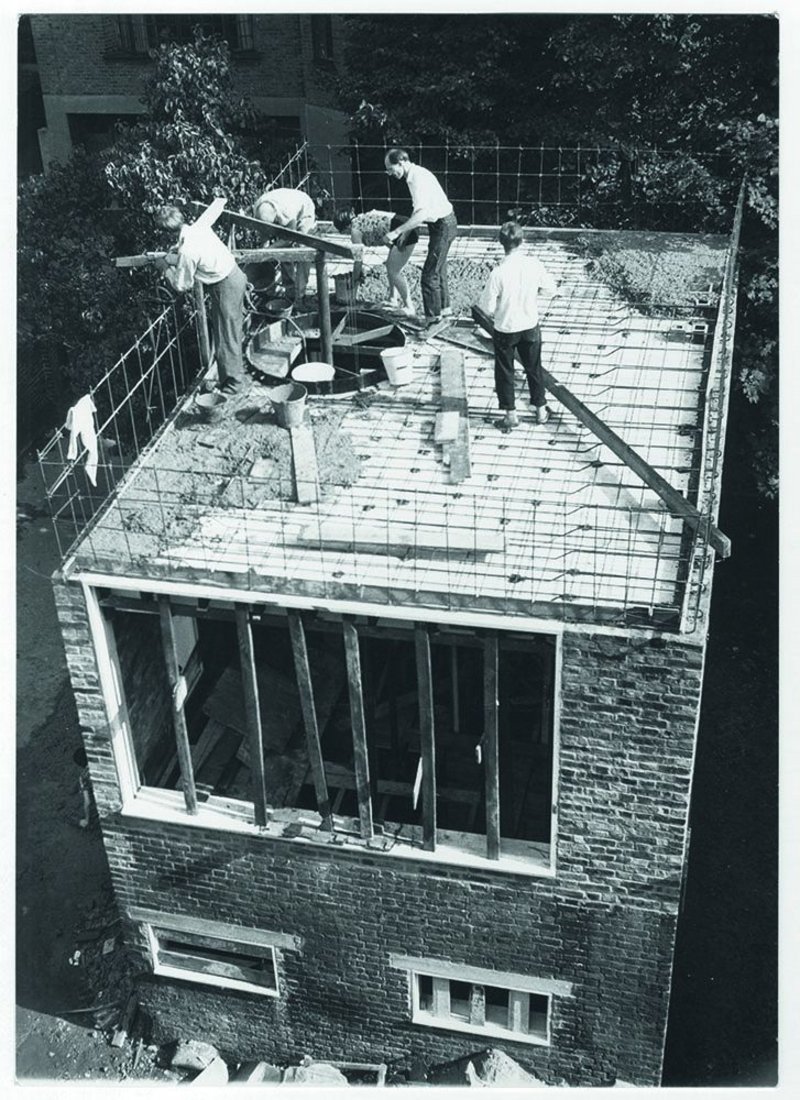 Credit: John winter
His first self-built house (shown here) was in the late 1950s overlooking London Zoo. Fresh from America, where self-building was common, Winter taught himself the necessary trades such as bricklaying (using recycled bricks from demolition sites) and concrete shuttering, using old floorboards. He recommended that all architects build their own houses as he did, to understand how buildings are made.

His one flirtation with the commercial office world came with his 1991 Mansell Street building on the City fringes, with architect Elana Keats. Much of that project, however, he left to his then junior architect Jonathan Ellis-Miller, who recalls Winter's surprisingly hands-off management style: Winter was however seen in the office as the fount of wisdom on matters both technical and aesthetic, commanding fierce loyalty.

It is a matter of regret that Winter's designs for Portsmouth's historic naval base, including refurbishment and new-build, were vetoed by the Prince Charles tendency. He was also adept at historic buildings – from Rochester Castle to Lubetkin's High Point. This craftsman architect is survived by his wife Valerie, and children Tim, Henry and Martha.
---
IN MEMORIAM

Thomas Francis Houlihan,
Elected 1973, Tunbridge Wells, Kent
Geoffrey Edward Bowles,
Elected 1950, Hassocks, W Sussex
Gillian Ruth Carter,
Elected 1943, Sturminster Newton
Christopher Bernard Martindale,
Elected 1941, Milton Keynes
Eleanor Barbara Jane Thomas,
Elected 1951, Hove, E Sussex
Aileen Shirley Thomson, elected 1948, London
Selwyn Vingoe Wyatt,
Elected 1950, Chipping Norton, Oxon
Dennis Ernest Saundery,
Elected 1952, Dunkeld, Perthshire
Antonia Van Oosten,
Elected 1984, London
Paul Chamberlain,
Elected 1986, Oxford
John Allan Morrison Green,
Elected 1950
Sydney Litherland,
Elected 1947, Bexhill-On-Sea, E Sussex
Michael James Maxwell Walker,
Elected 1977, Dover, Kent
Michael Peter Walker,
Elected 1978, Dartford, Kent
Ronald James Voller,
Elected 1939, Nundah, Queensland
Frederick William Hammond,
Elected 1954, Guildford, Surrey
Paul Skellorn,
Elected 1979, Hereford
Kenneth William Charles Reed,
Elected 1948 , Harrow, Middx
Henry Gatoff,
Elected 1944, Newcastle upon Tyne
Johannes David Prins Van Der Merwe,
Elected 1947
Robert William Sutton,
Elected 1949, Wymondham
Richard Ferrier Burbidge,
Elected 1949, Brentwood
Kenneth George Sperring,
Elected 1949, Halesowen
Shirley Barbara O'Keeffe,
Elected 1950, Bath
Audrey Mary Lees,
Elected 1950, Wirral
Harold Robert Stuart Ferin,
Elected 1951, Trowbridge
Audrey Margaret Aitken,
Elected 1953, Southport
Frederick Darnton Holister,
Elected 1954, Cambridge
John Crothers,
Elected 1954, Rochdale
David Sedgwick Helmar Fernback,
Elected 1955, St Albans
Alan Henry Richard Weitzel,
Elected 1955, Enfield
Bernard William Blanchard,
Elected 1955, Duns, Berwickshire
David Brian Blackhurst,
Elected 1956
Neil Bentham,
Elected 1960, Bristol
David Richard Burton,
Elected 1960, London
David Selby Martin,
Elected 1960, Rye, E Sussex
Benjamin Peter Howarth,
Elected 1961, Congleton
Michael Eric Phillips,
Elected 1961, Ludlow
Tejparkash Singh Brar,
Elected 1963
John Basham Field,
Elected 1963, Clitheroe
John Alan Wylie,
Elected 1964, Ely
Brian Henry Nicholls,
Elected 1964, Hemel Hempstead
Reginald Herbert Wigley,
Elected 1964, Maidenhead
Keith Adamson Ridley,
Elected 1968, Stockton-On-Tees
---
To inform the RIBA of the death of a member, please email membership.services@riba.org with details of next of kin