Prolific designer and recipient of many prizes including the Pritzker, one half of Roche Dinkeloo, which developed and built on Eero Saarinen's legacy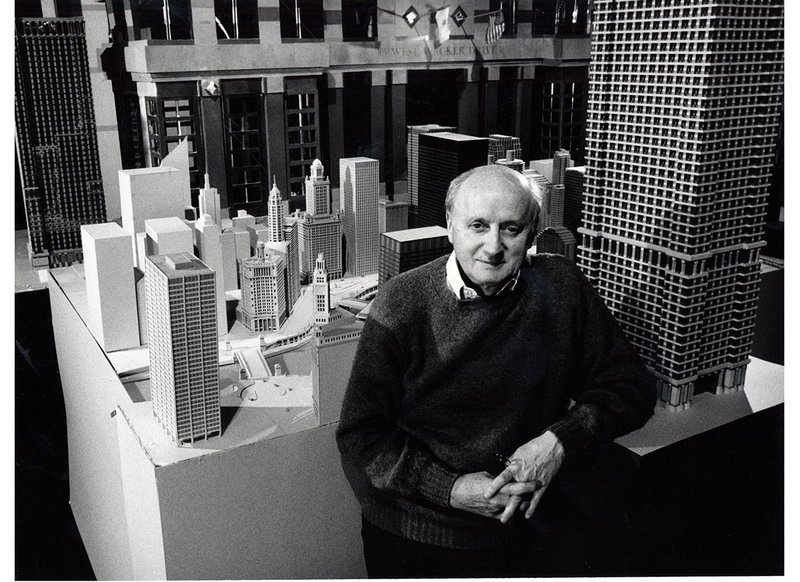 Kevin Roche.

Credit: John Dinkeloo and Associates LLC
Kevin Roche's life and career spanned an epoch of post-war American modernism in which he proved with great distinction that a celebrated personality-led firm of architects could successfully change direction following the death of its founder.
That founder was Eero Saarinen, and it was to his small office in Detroit that the Irish-born Roche gravitated in 1950, aged 28. Saarinen himself, then 40, was still building his reputation so Roche's influence in the practice over the next decade – from 1954 as Saarinen's principal design associate – was key. Following Saarinen's unexpected death in 1961, he and the surviving partners John Dinkeloo and Joseph Lacy completed a dozen outstanding projects – among them Saarinen's great air terminals for TWA at Idlewild (later JFK) Airport and Dulles International, the astonishing St Louis Arch, the Vivian Beaumont Theater at Lincoln Center, Manhattan, and the Deere and Company headquarters in Moline, Illinois.
Roche Dinkeloo and Associates scored its first competition win in 1961: the Oakland Museum, remarkable for its ahead-of-its time 'green' roof. Over more than six decades thereafter, Roche's diverse body of work included eight museums, 38 institutional and corporate headquarters, seven research laboratories, performing arts centres, theatres and campus buildings for six universities. His more than 200 built projects can be found throughout the United States, Europe, India and Asia.
Eamonn Kevin Roche was born June 14, 1922 in Dublin, Ireland, and moved with his family in 1924 to Mitchelstown where his father Eamonn Roche, a noted Irish Republican organiser and political prisoner, became on his release general manager of the town's creamery. The youngest of three brothers (a sister died during childhood), Roche studied at the School of Architecture at University College Dublin from 1940 to 1945. While a student he designed several built projects for the Mitchelstown Creameries including the cheese warehouse and the piggeries.
After graduation, Roche worked for the pioneering modernist Michael Scott in Dublin – notably on the Busáras central bus station – and Maxwell Fry in London. He came to the United States in 1948 to continue postgraduate studies with Mies van der Rohe at the Illinois Institute of Technology. In 1949, he worked on the United Nations Headquarters. Then came the move to Saarinen in Detroit, and later Roche Dinkeloo established itself in Hamden, Connecticut.
In New York City, his key projects include the Ford Foundation Headquarters, the Metropolitan Museum of Art, (where he developed the master plan and for nearly 50 years designed all the new wings), the Central Park Zoo, 60 Wall Street and the Museum of Jewish Heritage – A Memorial to the Holocaust.
Roche brought a strongly geometric approach to his portfolio of corporate headquarters and college campuses. While many of the projects such as France's Bouygues headquarters, completed in 1988, represented some of the world's largest campuses, others were more intimate, such as the delicately realised Wesleyan University's Center for the Arts in Middletown, Connecticut.
An early Pritzker Prize winner in 1982 and an AIA Gold Medallist in 1993, Roche had seen his work exhibited in the MoMA as early as 1968. He was a member of both the RIAI and the RIBA, returning to Dublin to build the city's tilted-cylinder convention centre of 1998 – 2010, a carbon-neutral building.
Roche is survived by his wife of 55 years, Jane Clair Roche (née Tuohy), his five children Eamon, Paud, Denis, Anne and Alice, their spouses and his 15 grandchildren. In his Pritzker acceptance speech he said: 'To build well is an act of peace. Let us hope that it will not be in vain.'