Colin Davies picks out landmark buildings that reflect the breadth of Michael Hopkins' ground-breaking work, from the flyaway lightness of a tented research centre to the Piranesian depths of a new tube station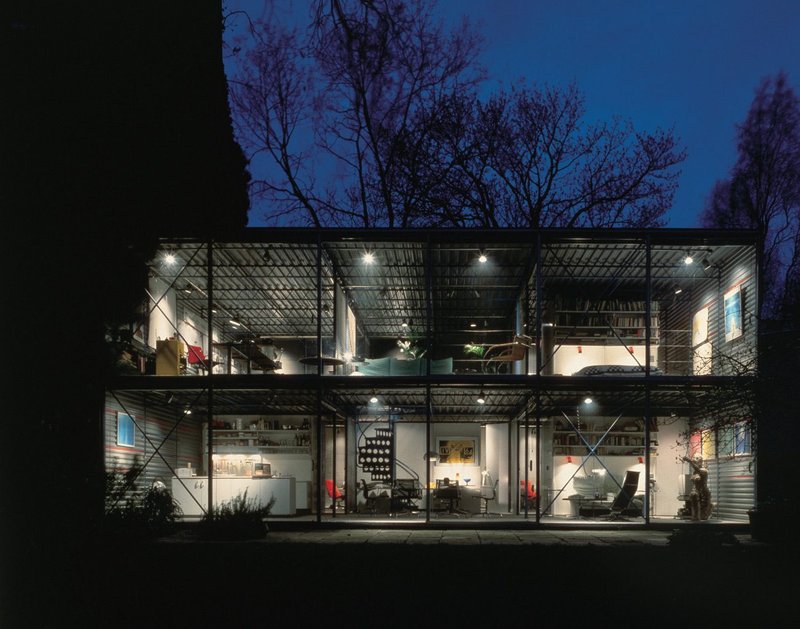 Hopkins House.

Credit: Matthew Weinreb
Hopkins House, London, 1976
The Modernist architect living in a Georgian house is almost a cliché. Michael Hopkins was the exception. This house was conceived as a test bed for the minimal metal and glass architecture of later industrial and commercial buildings. The components are few and simple: hollow steel columns, lattice trusses, profiled metal decking, wall-size panes of glass, venetian blinds, and practically nothing else. It is a simple box that sits below the street, with the entrance on the first floor. Originally it also accommodated the Hopkins' nascent office, without any obvious barriers between home and work realms. Vertical circulation is just round hole in the floor, in which stands a neat little spiral staircase.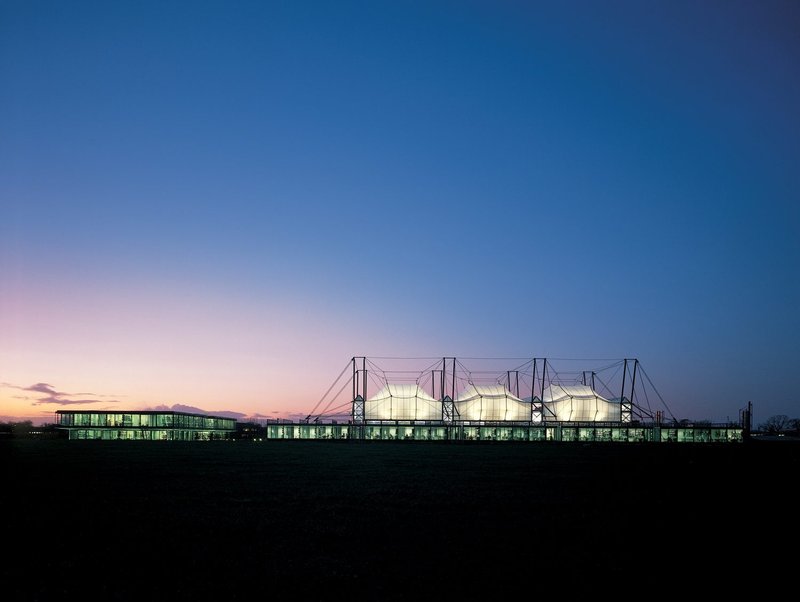 Schlumberger Research Centre.

Credit: Dennis Gilbert
Schlumberger Research Centre, Cambridgeshire, 1985
Standing in a green field outside Cambridge, this building combines administrative and industrial functions in an unusual way. The client's brief called for a drilling-rig testing station and a suite of offices and laboratories. One would normally expect these very different uses to be accommodated in separate buildings. Instead, parallel strips of office/laboratory space, housed in steel and glass buildings that are recognisably descendants of the Hopkins House, form the sides of the testing station, and its roof is a tent structure like a three-ring circus. One the 'rings' is a 'winter garden' and restaurant. This was Britain's first permanent Teflon-coated glass-fibre tent.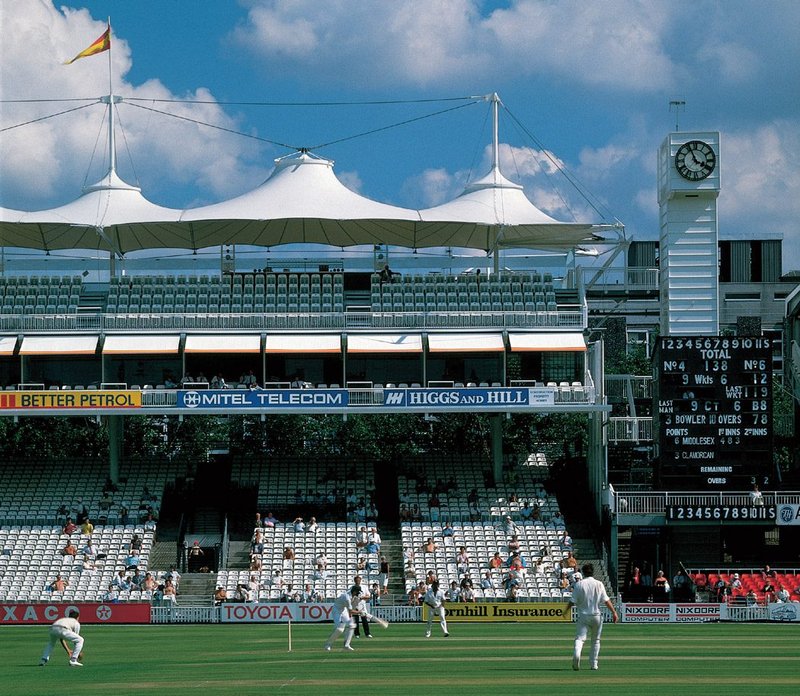 Mound Stand, Lord's Cricket Ground.

Credit: Richard Bryant/Arcaid
Mound Stand, Lord's Cricket Ground, London, 1987
The stand was built in two phases between cricket seasons to minimise disruption. In phase one, the existing, unfinished brick-arcaded base, designed by Frank Verity in the 1890s, was renovated and completed. (This encounter with traditional brickwork is often seen as a turning point in the development of Hopkins' architecture). In phase two, a daring triple-level, steel-framed structure was balanced on a single row of round columns which continue upwards as the guyed masts of a curvaceous fabric canopy. The festive character of this structure is often said to bring to mind the traditional tea-tent beside the village green.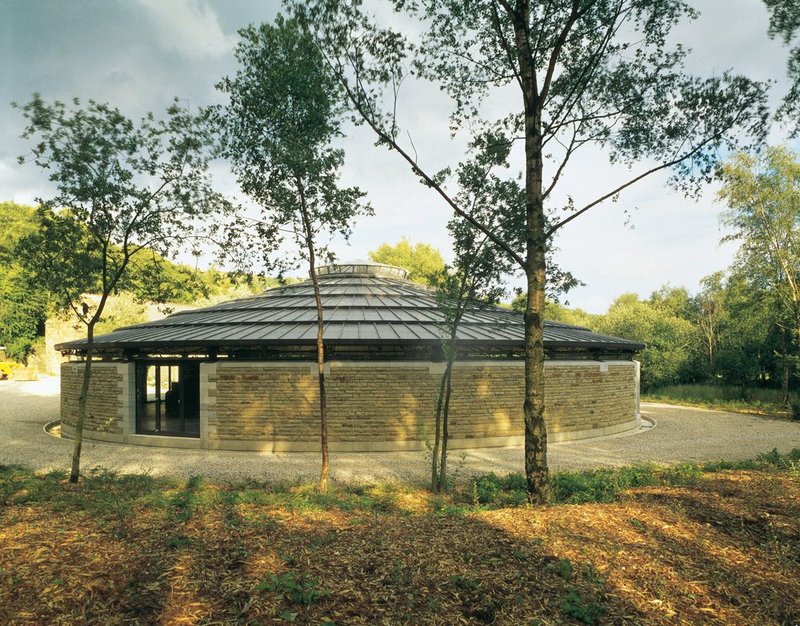 David Mellor Cutlery Factory.

Credit: Alastair Hunter
David Mellor Cutlery Factory, Derbyshire, 1989
This building is formally simple but structurally ingenious. Its circular, ground-bearing slab took the place of an existing old gasometer base, thus minimising disturbance of the rural site. A loadbearing drum of local stone with precast concrete details supports a kind of bicycle-wheel roof structure with a tensile rim and lattice trusses as spokes. At the hub, a second, smaller wheel, with its own rim and spokes, frames a skylight. The traditionally detailed lead roof is supported by a deck of insulated plywood stressed-skin boxes made by the client's own craftsmen. The internal space is uninterrupted by piers or columns. Even pipes and gutters have been eliminated: rain falls from the eaves to a concrete channel at ground level.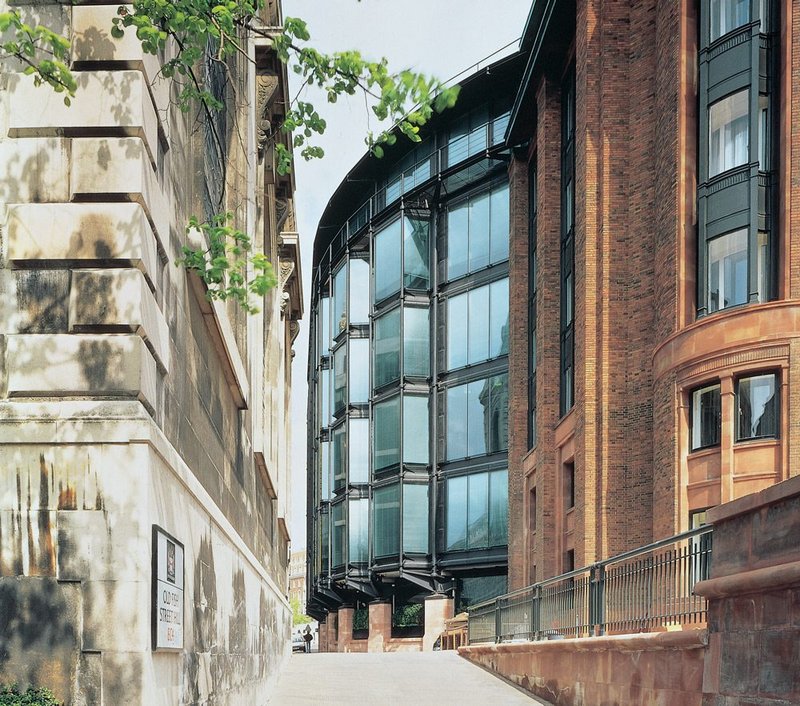 Bracken House.

Credit: Martin Charles
Bracken House, London, 1992
Sir Albert Richardson designed the original Bracken House for the Financial Times. It was completed in 1959. In the late 1980s, the FT moved to new building on the Isle of Dogs and Bracken House was converted for use by a financial institution. Hopkins respected the basic configuration of the Richardson building, preserving the handsome, classical wings but replacing the central octagonal print works with a stack of oval office floors. Externally this parti is closer to Richardson's original inspiration: the Pallazzo Carignano by Guarini. The windows of the new facade, framed in bronze, recall another famous old building, Oriel Chambers in Liverpool by Peter Ellis.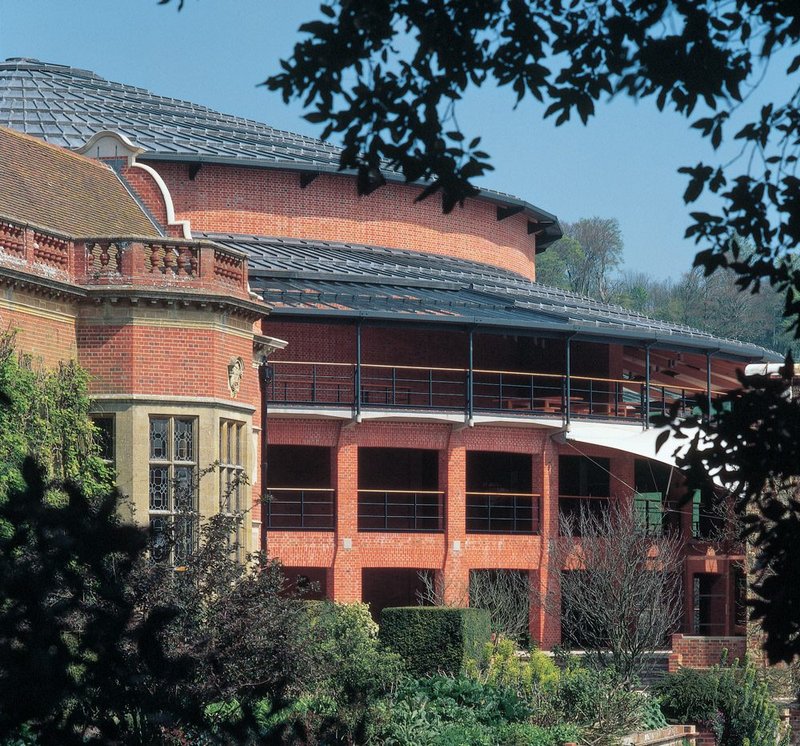 Glyndebourne Opera House.

Credit: Martin Charles
Glyndebourne Opera House, East Sussex, 1994
Hopkins' main aim was to build a bigger and better-equipped auditorium while preserving the garden-party atmosphere of the Glyndebourne tradition. The bulky oval of the new building somehow manages to park itself behind the neo-Elizabethan house without overshadowing it. Since the building is mainly used in the summer, fully enclosed foyers were considered unnecessary. The audience filters in through informal, inside-outside arcades and galleries. Loadbearing piers are built in a brick that matches the house. Inside, the auditorium is traditionally circular and triple-galleried. Concrete, brick and wooden surfaces are balanced and profiled to fine tune the acoustics. The lead-clad fly tower, with its crown of lattice trusses, is a surprisingly picturesque addition to this sleepy valley.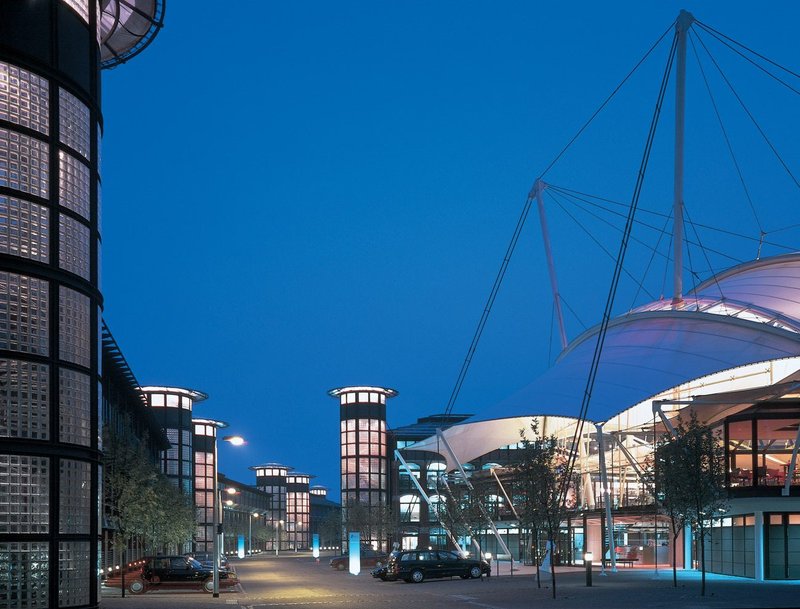 Inland Revenue Centre, Nottingham.

Credit: Dennis Gilbert
Inland Revenue Centre, Nottingham, 1995
This is not a single building but a whole urban quarter built on Castle Meadow, between the canal and the railway. Linear office blocks are arranged to enclose courtyards or semi-courtyards. Round, glass-block towers at the corners contain spiral staircases and also promote natural ventilation through shallow-domed, fabric 'hats'. The main structural materials are loadbearing brick and concrete. Brick piers were prefabricated and reinforced by steel rods. Convenient parking is provided in the streets between the blocks, and a fabric-roofed leisure centre with a sports court, bars and restaurants provides a focus for the working, or indeed the residential, community. There have been recent proposals to convert the complex into flats, a change of use that was always a possibility in the minds of the designers. It was grade-II listed in June 2023.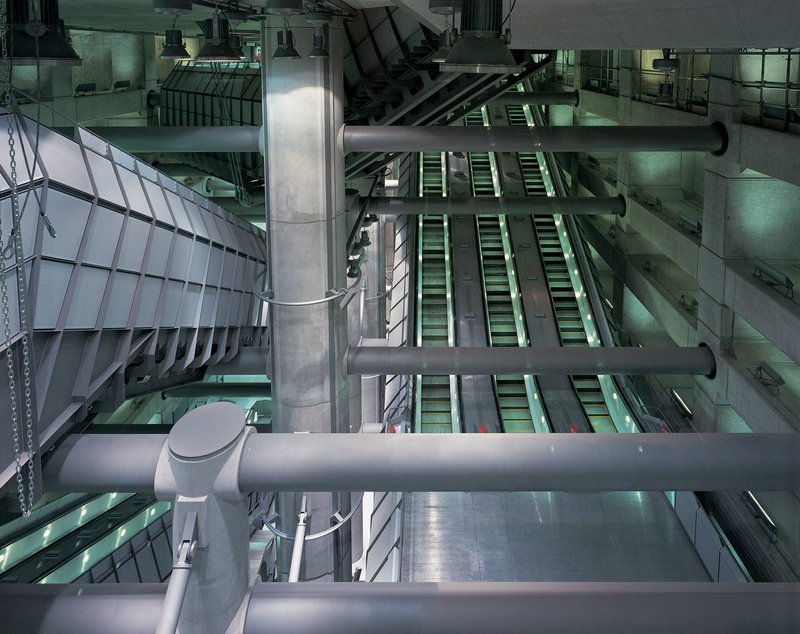 Westminster Underground Station.

Credit: Dennis Gilbert
Westminster Underground Station, London, 1999
'Piranesian' is the only word to describe this bare concrete underground cavern beneath Portcullis House. There was already a shallow District Line station on the site but a deeper excavation was required to gain access to the new Jubilee Line. It is essentially a big open box in which the various necessary escalators climb, dive and criss-cross on their way to and from the platforms. They are supported on round, horizontal flying-shores of solid steel that in turn are caught by fat concrete columns and weighty wall-frames through which the rough surfaces of the retaining walls remain visible. A trip on the tube becomes a sublime subterranean adventure.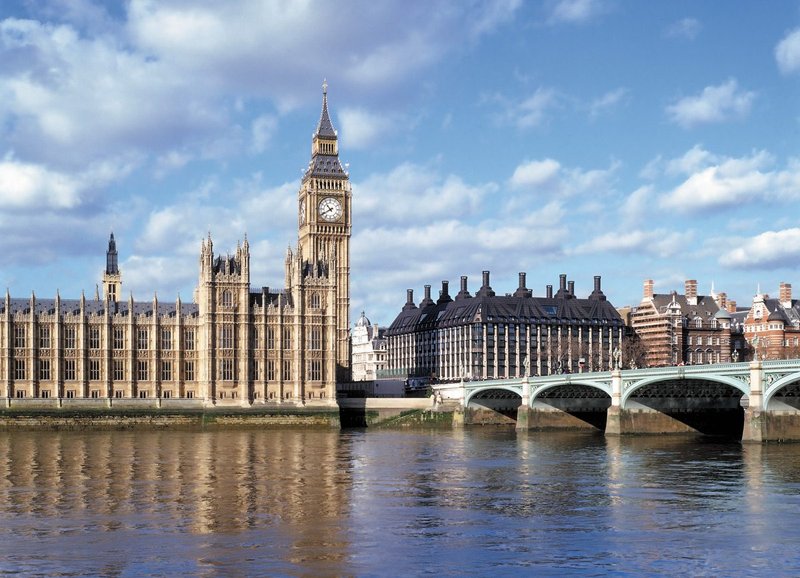 Portcullis House.

Credit: Richard Davies
Portcullis House, London, 2000
It was the requirement for a new Underground station on this corner site that opened up the possibility of a completely new extension to the Houses of Parliament, providing offices for more than 200 MPs and a suite of Select Committee rooms. Though structurally and environmentally complex, its form is essentially simple: a rectangular seven-storey perimeter building with double-banked corridors is wrapped round a central courtyard covered by a timber-framed glass roof. Externally, reinforced sandstone piers that taper upwards as the load decreases alternate neatly with ventilation ducts that grow fatter as they climb and gather more air. Spider-like profiles in the big pitched roof gather the ducts into tall chimneys, echoing the towers and turrets of the Palace of Westminster on one side and the Norman Shaw Buildings on the other.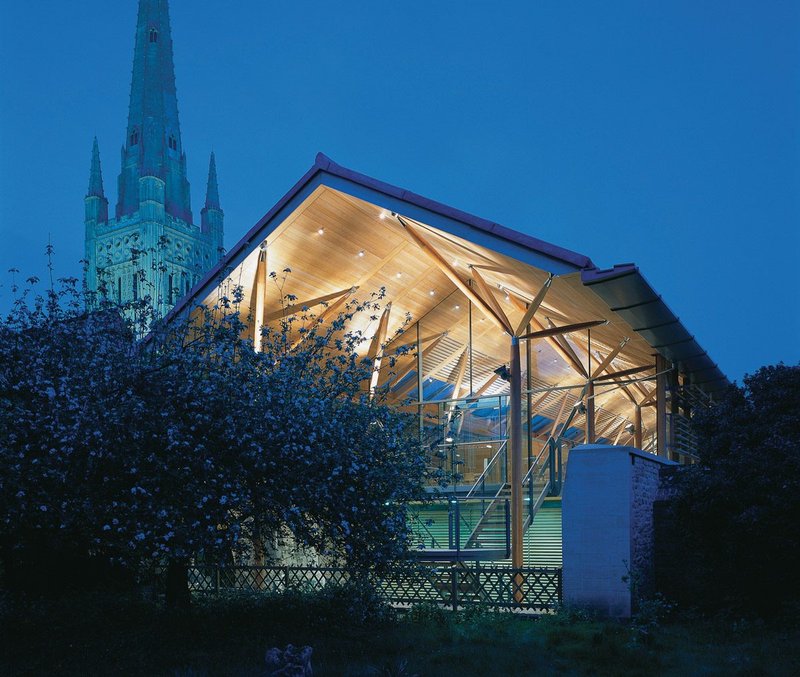 Norwich Cathedral Refectory and Hostry.

Credit: Richard Davies
Norwich Cathedral Refectory and Hostry, Norfolk, 2009
Built next to the outer west and south walls of the cathedral cloister, these new buildings make no attempt to copy the forms and textures of the existing, half-ruined structures. In places the old flint walls are repaired with carefully selected Barnack ragstone but the Hostry and Refectory are separate, lightweight buildings with double-pitched, wooden soffited roofs supported on the tips of four-fingered, round oak columns. Important public spaces such as the restaurant and the community room are on the first floor where they can enjoy the elegant structure and the views out through glass walls.
Colin Davies is an architect, writer and lecturer. He was professor of architectural theory at London Metropolitan University, and his books include High Tech Architecture and two monographs on the work of Michael Hopkins.
More on Michael Hopkins – Colin Davies on a ground-breaking career that spanned almost seven decades