Legendary and prolific master of his own brand of flowing modernism who inspired a generation. Norman Foster and Renzo Piano pay tribute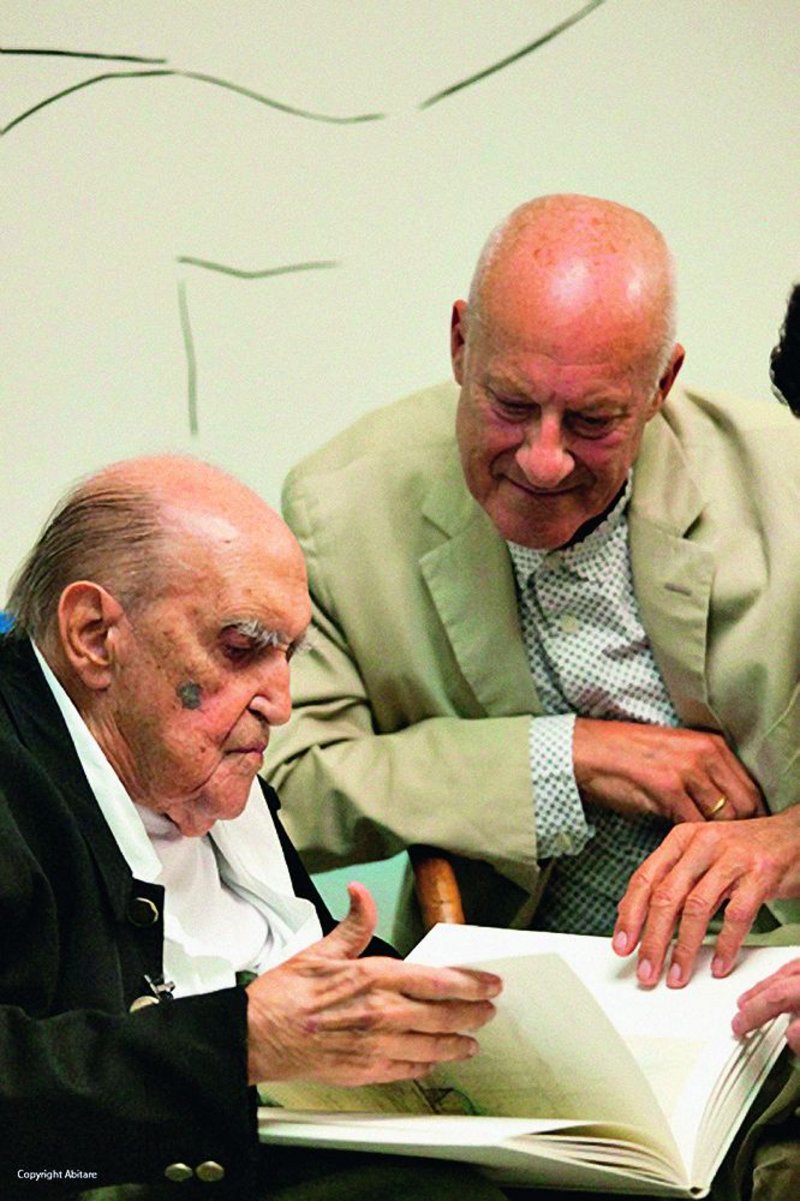 Credit: Abitare
The great Brazilian architect died on 5 December, a few days short of his 105th birthday. An active designer and communist to the end, he was master of a very distinctive, sensual form of modernism that exploited to the full the plastic qualities of concrete and which symbolised the post-war emergence of Brazil into what is now becoming a global cultural and economic force. Norman Foster wrote this tribute on first learning of his death.
---
I was deeply saddened to learn of the death of Oscar Niemeyer. He was an inspiration to me and a generation of architects. Few people get to meet their heroes and I am grateful to have spent time with him in Rio last year.

For architects schooled in the mainstream modern movement, he stood accepted wisdom on its head. Inverting the familiar dictum that 'form follows function', Niemeyer demonstrated instead that, 'When a form creates beauty it becomes functional and therefore fundamental in architecture'.

It is said that when the Russian cosmonaut Yuri Gagarin visited Brasilia, he likened it to landing on a different planet. Many, seeing Niemeyer's city for the first time, must have felt the same. It was daring, sculptural, colourful and free – like nothing that had gone before. Few architects in recent times could summon such a lively vocabulary and structure it into such a brilliantly communicative and seductive tectonic language.

One cannot contemplate Brasilia's crown-like cathedral, for example, without being thrilled both by its formal dynamism and its structural economy, which engender a sense almost of weightlessness from within as the enclosure appears to dissolve entirely into glass. And what architect can resist trying to work out how the tapering, bone-like concrete columns of the Alvorada Palace can touch the ground so lightly? Brasilia is choreographed more than designed; each of its fluidly-composed pieces seems to stand, like a dancer on its points, frozen in a moment of absolute balance. But what I most enjoy in his work is that even the individual building is about the public promenade, the public dimension.

As a student in the early 1960s, I pored over Niemeyer's work for stimulation, and 50 years later his work still has the power to startle us. His contemporary Art Museum at Niteroi, for instance, standing on its rocky promontory like some exotic plant, shatters convention by juxtaposing art with a panoramic view of Rio harbour. It is as if, in his mind, he had dashed the conventional gallery box on the rocks below, and challenged us to view art and nature as equals. I have walked the Museum's ramps. They are like a dance in space, inviting you to see the building from different viewpoints before you enter. I found it absolutely magic.

When we met last year we spoke at length about his work, and he offered some valuable lessons for my own. It seems absurd to describe a 104 year old as youthful, but his energy and creativity were inspiring. I was touched by his warmth and his great passion for life and for scientific discovery. In his words: 'We are on board a fantastic ship!'

He told me that architecture is important, but that life is more important. Yet in the end, his architecture is his ultimate legacy. Like the man himself, it is eternally youthful – he leaves us with a source of delight and inspiration for many generations to come.
---
Renzo Piano, talking to the BBC, added:

Architecture is a profession where you need a long apprenticeship. You never stop learning. This is something that Niemeyer kept saying, and I think he learned until the end, he was that kind of person.

As an architect you have to be a sociologist, a builder, a scientist, a poet, and to learn to do all those things well takes time. He was one of those people proving this. It was about integrity. In some ways he was more of a moral example, an example of life.

He was also very concerned about political life – and architecture is political in some ways – in the sense of doing things that belonged to the civic life of people in the city. Architecture is the art of making cities, not just making buildings. He was a good example of how architecture can be a noble job, a civilised job.
---
IN MEMORIAM

Paul Bernard Moore,
Elected 1969, London
Peter Anthony Bissmire,
Elected 1970, Ottery St Mary
Anthony Robert Kingsley,
Elected 1971, London
Keith Mallory,
Elected 1975, London
Nicholas John Xenakis,
Elected 1977, London
Brian Philip Bailey,
Elected 1977, Southampton
John Joseph Overy,
Elected 1974, Stansted
Robert Macgregor Cartwright,
Elected 1975, Birmingham
Ivan Simovic,
Elected 1976, London
Ronald Stewart Hore,
Elected 1977, Woking
Eric John Wakely,
Elected 1987, St Neots
Alfred Edward Bews,
Elected 1980, Woking
David Stewart Paterson,
Elected 1982, London
Jacqueline Angela Maria Pastina,
Elected 1990, Waltham Cross
Ron Smith ,
Elected 1989, Harlow
Chi Kwong Lim,
Elected 1988
Malcolm Patrick Chisholm,
Elected 1987, Belfast
Geoffrey Peter Hancocks,
Elected 1988, Wylam
Abigail Torr,
Elected 2004, Hove
Philip Charles Spratt,
Elected 2001, Bridgend
Richard Alwyn Brown,
Elected 2007, Bristol
Roy William Kenzie,
Elected 1958, Chichester
Leonard Beaven,
Elected 1949, St Albans
Ronald James Dyer,
Elected 1950
Robert James Mckinstry,
Elected 1949, Belfast
Vyvyan St. Aubyn Hubbard,
Elected 1954, Chichester