King of ladies' hairdressing salons who was not afraid to pitch for projects in unfashionable sectors, resulting in some of brutalism's highlights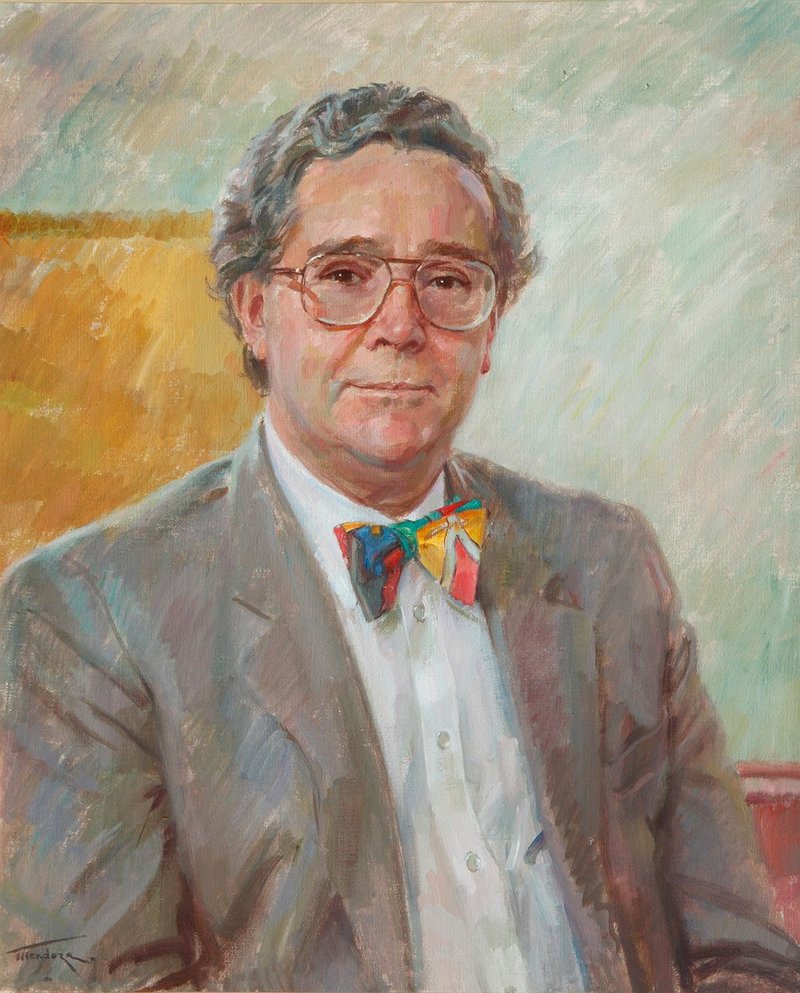 Owen Luder, painted in 1978 by June Mendoza

Credit: RIBA Collections
'The secret of life is being ahead of the game', said Owen Luder, who has died aged 93. In practice he proved adept at spotting social and economic change, and showed a knack for the business of architecture which he sought to share in his work for the profession – including two terms as president of the RIBA.
Harold Owen Mason was fostered until the age of three when his mother Ellen married Edward Luder. From the late 1930s home was the Old Kent Road, south London. 'It was rough and tough – villains' country', Luder later recalled, but made him streetwise. A technical scholarship won at 13 led to a three-year general course at the Brixton School of Building. 'Within three months', he later recalled, 'I knew I was going to be an architect'. Getting there took initiative and determination. Posting a 'situation wanted' ad secured the first of several jobs in practice, which combined with night school – and interrupted by army service – led to qualification, and his own firm at 28.
He thrived in evolving sectors overlooked by others, first as 'king of ladies' hairdressing salons', then in larger commercial jobs for clients who appreciated his ability to conceive a viable business case as well as his design skills. 'The so-called elite in the profession were too posh to get involved with dirty, nasty developers', he later said. Working fast and claiming considerable creative freedom, the Owen Luder Partnership put up offices and shopping centres from Bromley to Leicester during the 1960s, and opened studios in Harrogate and Newcastle.
In that fertile period, with Rodney Gordon as head of design, OLP completed what critic Jonathan Meades has called 'the three finest works of British brutalism'. At Eros House in London, an external stair and bold use of raw concrete gave the cheap office building a muscular sculptural character. Portsmouth's Tricorn Centre combined shopping and parking in an exhilarating megastructure of chunky decks and spiralling ramps, but fell victim to competition and decay and was demolished in 2004. Gateshead's Trinity Square, another craggy shopping centre and car park, was immortalised in the film Get Carter but demolished in 2010. Other losses include the Dunston Rocket, a landmark residential tower, but Luder remained sanguine about membership of the 'Rubble Club'. Notable survivors include Consort House on London's Queensway, a red brick tower and podium bristling with projecting balconies.
Scenting a downturn in the 1970s, Luder switched tack, absorbing the venerable firm of Young & Hall, which led to work in prisons and coal mines. After the 1973 oil crisis he landed projects in Iran and Saudi Arabia, and Nigeria's National Stadium in Abuja.
With success came a growing profile as an advocate for change in a profession he regarded as hidebound, snobbish and in thrall to local authority architects. He set up the Association of Private Architects, wrote columns calling for controversial reforms that have mostly come to pass, and in 1967 was elected to the RIBA Council. By the end of the 70s he wanted the presidency. Lacking the support of Council grandees who usually put forward candidates Luder took his campaign directly to the members, winning in 1981. 'He broke the old boys' network', recalls Maxwell Hutchinson, who assisted the bid, 'and helped to open up both the Institute and the profession'. With a ready smile and easy manner the bow-tied president was a charismatic and distinctive front man, but also a firm negotiator with government. He was elected to serve a second term as president in 1995.
By then he had swapped practice for roles in PR and consultancy, and stints as a director of Jarvis and chairman of the ARB. That left time to enjoy fast cars, Arsenal FC, photography and writing, and to relax at the house in Laugharne, Carmarthenshire, which he shared with his second wife Jacqui until her death in 2008. He first married Doris Broadstock in 1951, with whom he had a son, Peter, who died in early infancy, and daughters Jacqui, Kate, Sara and Judith, who survive him