County architect who transformed public service and redefined school design along environmental lines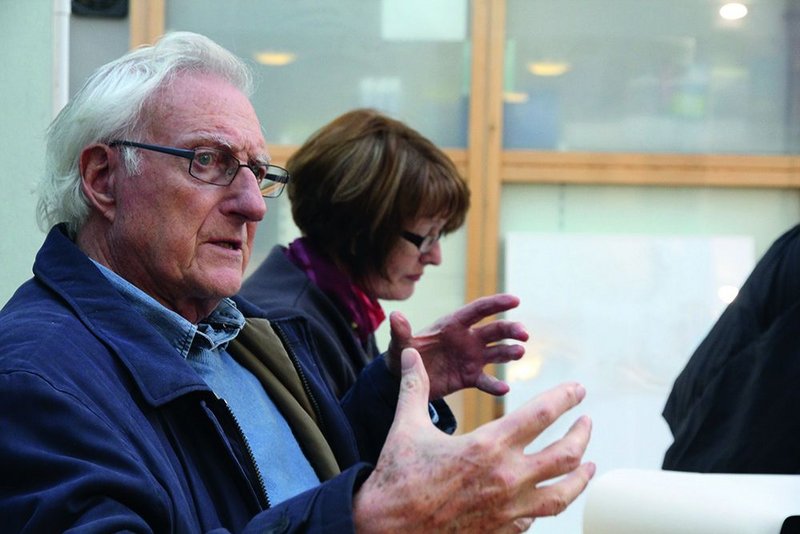 Credit: David Holden/Vinesh Pomal
In 1985 Colin Stansfield Smith wrote: 'Architects are the rightful custodians of the public estate because they have the capacity to introduce joy, imagination and wit into our environments.'

Arriving at Hampshire County Council in 1974, Colin inherited a vast estate of educational buildings, fire stations, old people's homes, libraries and schools. In 18 years as county architect, he not only redefined school design in the UK but also changed the culture of public service. To avoid bureaucratic systems he created multi-disciplinary groups, each responsible for all the existing buildings and projects in its geographic area regardless of type. He invested in talent and grew a great team who worked 'for Colin', not the Council.

His belief that the local authority mindset of efficient building production must be replaced with a commitment to the environment was happily shared by his great supporter, council leader Freddie Emery-Wallace, whose maxim always to be 'roughly right rather than precisely wrong' suited Colin's approach to the 'approximate' art of architecture.

Leading from the front, as he had done during more than 100 first-class cricket games for Lancashire during the 50s, he wore down committees by going on relentlessly about something slightly off the point and finding 'functional pegs' on which to hang his arguments – security, energy use, maintenance and so on – never the artistic or architectural reasons that he slipped through. He would win by stealth, by subterfuge, by confrontation.

In all my years working alongside Colin, first when he was professor at Portsmouth University School of Architecture, where we met in the 1990s, and later collaborating on various schemes, he often referred to one project that seemed to summarise his approach – Gosport's fairly modest 1984 Bridgemary Community School. Using the need for a new sports hall as a catalyst, Colin took bleak system-built structures set in a sea of tarmac edged by chain-link fencing and prepared a masterplan for the site. He tore up the fences and built walls to link the best of the existing buildings centred on a new courtyard. The new environment became a more compact campus engendering a sense of place – 'a walled garden, for growing children rather than just plants' was one of his favourite analogies.

Newlands at Yateley in 1979 was the first of the Hampshire 'big roof' schools to attract attention. The large pitched roofs had an environmental driver, bringing ventilation and light into deep plans. They could not have been further from system-built flat roof schools and became champions for 'critical regionalism'.

Now acting more like a private practice than a local authority office, Colin not only entered competitions and submitted work to the Royal Academy, but invigorated development by bringing in outside consultants like Ted Cullinan, Michael Hopkins, Richard MacCormac and Peter Aldington, plus engineers like Tony Hunt and Ted Happold.

Hopkins' 1984 Velmead School in Fleet was to spawn a move from brick and tiled pitched roof schools to elegant metal sheds, culminating in Colin's Queens Inclosure School in Waterlooville five years later. In 1991 Bordon Whitehill School saw a move to timber sheds – yet this diversity in style was entirely consistent for Colin, who was fond of being aligned with Isaiah Berlin's definition of a 'fox' who would draw on a wide variety of ideas, so long as it ended in quality.

He left Hampshire County Architects in 1992. I think it fair to say that he was exasperated by recent government disregard for high quality public architecture, for schools in particular, and could feel history repeating.

Colin maintained his commitment to improving the environment at Portsmouth School of Architecture by passing his knowledge to a new generation of architects.

He continued to design and I worked with him on a dozen or so schools in private practice (though only two were built), as well as a John Lewis store in his alma mater, Cambridge. Colin was wise, generous, warm and driven – he had an incredibly competitive edge and hated losing – so projects that ran aground in the exposed private sector were a constant frustration. He could take one's breath away with an insightful angle on a design issue, or with remarks like: 'When I had lunch with Nehru', or 'Siegfried Sassoon was a lovely man' or 'Now when I had dinner with Princess Diana, oh boy, she was sooo sexy'.
---
IN MEMORIAM

Christopher Shirley Knight,Elected 1949, London,
Dennis Bestwick,Elected 1949, Bakewell, Derbyshire,
Alan Beaumont Owles,Elected 1950, Guildford, Surrey,
Gordon William Hamilton Mechan,Elected 1951, Dundee,
Maurice Wilson,Elected 1951, Hexham, Northumberland,
David Nicol Barclay,Elected 1955, London,
Derek Joseph Montague,Elected 1958, Derby,
Bryan Rice Manley,Elected 1962, Cardiff
Martin Guy Leslie Andrews,Elected 1971, London
---
To inform the RIBA of the death of a member, please email membership.services@riba.org with details of next of kin