Repeated competition winner and consummate urbanist, for whom all buildings should first serve the street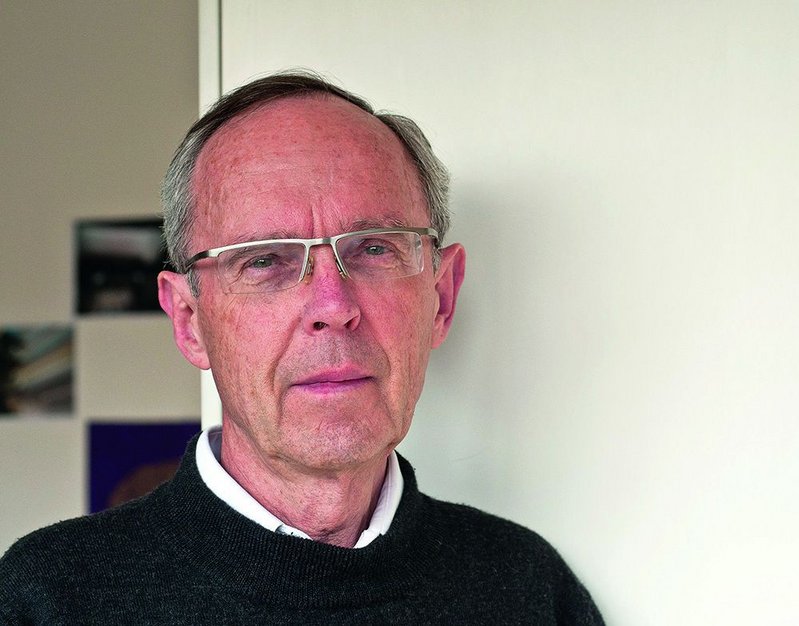 Credit: Andy Matthews | rick mather architects
Rick Mather was the American architect who arrived in the UK some 20 years before the 1980s transatlantic gold-rush, produced very different architecture from his compatriots, and was from first to last an individualist. More interested in urbanism and context than the standalone building, more at home with cultural, residential and educational work than commercial offices, he ploughed his own furrow of humane, European-influenced modernism. Not for him either the postmodern or high-tech routes, though some of his early work shows signs of influence by Aldo Rossi, and later he fruitfully dabbled with structural glass, collaborating with engineer Tim MacFarlane. Instead he was taken at first by the heroic modernism of the 1930s, gradually developing a distinctively Matherish style of his own.

Mather was unafraid of colour, texture, and sometimes sound – as in the trickling water features he designed for his series of Zen restaurants in the 1980s and 1990s. He was a good and instinctive gardener, uncommon among architects who too often treat planting as if it were an inert building material. His death in April from an asbestos-related cancer was unexpected because, although nearly 76, he had always been lean, fit and seemingly youthful.

At college in Oregon he had been introduced to Camillo Sitte's The Art of Building a City, and often spoke of Rasmussen's London: the Unique City. European urbanism attracted him: he moved to London in 1963 to study urban design and stayed. Working first on schools at Lyons Israel Ellis, then system-built housing at the London Borough of Southwark, in 1967 he won third prize with a fellow Oregonian, Don Genasci, for the new town of Espoo in Finland. The prize money provided some capital for his own first house and studio.

He finally set up his own practice in 1973. While teaching at the AA and other schools, he slowly became known for enlightened conversions, notably his own two 'upside down' houses with their loft-style living areas and roof gardens – and for a thorough sort-out of the AA's interiors including the famous bar. But it was not until the start of the 1980s, with a pair of ceramic-clad faculty buildings at the University of East Anglia, that he started to be seen as an 'emerging architect' alongside others almost a generation younger.

Then came the 1990s rush: after the UEA masterplanning job he won three important London museums in a row: Dulwich Picture Gallery, Wallace Collection and (with BDP) the National Maritime Museum, Greenwich. A great winner of competitions, his introduction to Oxford was a hall of residence at Keble: his relationship with the city culminated in 2010 with his remarkable, Stirling Prize-shortlisted Ashmolean Museum extension in Oxford, and its subsequent phases. He had earlier been Stirling shortlisted for his Klein House in Hampstead. After Keble, other universities – Southampton, Liverpool John Moores, Lincoln – signed him up.

Mather was drily witty, observant, busy. He ran a tight office, sometimes incredulous at the number of staff larger competitors threw at projects. Although he might be thought to have gone native in London, relatively late in his career he finally won a substantial job back in the US: his expansion of the Virginia Museum of Fine Arts, won in 2001, was completed in 2010 with SMBW Architects. He died with another big American project in hand: a 175,000ft2 addition to the Peabody Essex Museum in Salem, Massachusetts – coincidentally where his ancestor, Puritan clergyman Cotton Mather, gained notoriety during the Salem Witch Trials.

Mather's dedication to architecture as urbanism is summed up by the question he often asked: 'Does the building give anything to the street?' For him, the life of the street – the life of the city – was pre-eminent and all buildings should serve it, not stand hermetically aloof. For London, the undoubted popular success of the South Bank Centre remodelling, in progress since 2000, is due to his typically acute, deceptively simple masterplan. British architecture owes Mather a great deal.

The practice will be continued by his long-term colleagues, under his name. He leaves his partner, David Scrase.
---
IN MEMORIAM

Leslie Gooday,
Elected 1951, East Molesey, Surrey
Gerald William King,
Elected 1949, Milton Keynes
James Arnold Bath,
Elected 1958, London
Charles Anthony Hartridge,
Elected 1956, Cambridge
Harold Anthony Walton,
Elected 1949, Cranbrook, Kent
Herbert Dennis Marshall,
Elected 1949, Shrewsbury
Jeremy Arthur Thomas Goer,
Elected 1955, Walsall
Alan Stuart Mitchelson,
Elected 1960, Edinburgh
John Victor Organ,
Elected 1970, Havant, Hampshire
Timothy John Nutt,
Elected 1972, St Albans, Herts
Harish Chandra Sharma,
Elected 1980, Southall, Middlesex
Jane Ann Ferra,
Elected 1983 Harrow, Middlesex
Brian Leslie Leicester,
Elected 1947, Market Drayton, Salop
Alice Diana Kirsti Morgan,
Elected 1999, Edinburgh
Anthony Wells Swaine,
Elected 1944, Canterbury, Kent
---
To inform the RIBA of the death of a member, please email membership.services@riba.org with details of next of kin