Influential architect whose wide experience made him the obvious choice to be architect in charge of London's critically acclaimed Jubilee Line Extension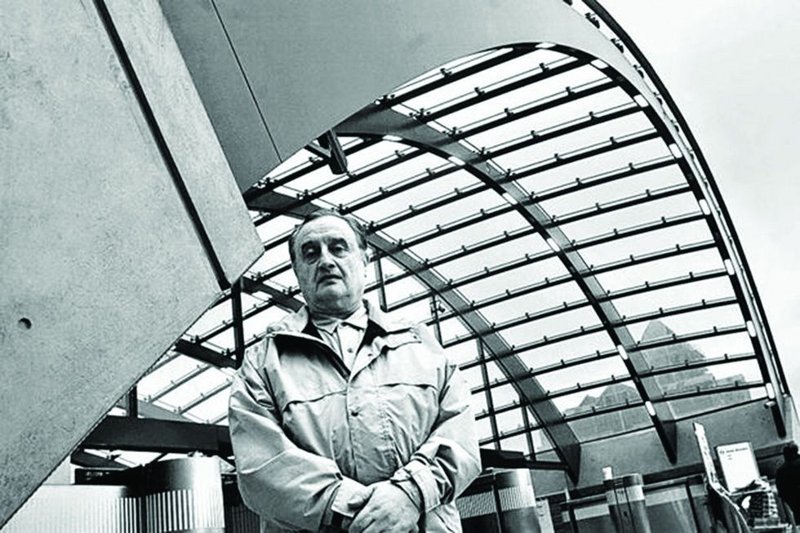 Roland Paoletti's poetic interpretations on the distillation of architecture and engineering design, his cultured analysis and wide knowledge, inspired and uplifted all of us who worked with him on the long campaign to transform station design in London Underground through the Jubilee Line Extension.
Not only that team, but the wider architectural community and all on whom Roland's influence had made lasting impact, were enormously saddened by the sudden news of his death.
Armed with the experience of designing 40 new stations for Hong Kong's Mass Transit Railway, and ­architectural values acquired by working with Pier Luigi Nervi for many years, Roland was invited by London ­Underground chairman Wilfred Newton to be architect in charge of the core team for the JLE, which would link the heart of London's West End with the Docklands and some of the capital's least prosperous areas. Having been away for 30 years, one of Roland's first priorities was to get to know the capital's architectural world, and to assemble the architectural team for the 12 (later reduced to 11) stations. He was very aware of the immense responsibility to persuade practices to take on the challenge of designing the defining station of the new millennium. The sensitivity and imagination required for Westminster Station, in the context of Big Ben, or to find a way of transforming the redundant gas site, in North Greenwich, for example, would have taxed anyone commissioning an architect. Roland knew he had to achieve this first essential step in a crucially short time, by making connections with the key individuals with whom he would collaborate.
Roland's brief to the assembled practices was that station design would derive from the civil engineering solutions to allow commuters to move between platform and street in the most efficient way, while emphasising quality of space and light. His talks with individual directors and project architects early on, often visiting their offices with little warning, had fired the designers' imaginations. We were soon to see the results, as sketched proposals, brilliant drawings and cardboard concept models flooded in to the office. There was no stopping from then on. By October 1991, in a detailed presentation, Roland enthused the London Transport Design ­Policy Committee, chaired by Newton, and secured the station ­designs – albeit on the terms of deferred civil engineering co-ordination – which were to follow.
Away from the public, Roland led by example and, with the in-house team at Dacre Street, designed Waterloo Station and developed the line-wide station components. At the same time the team examined and reviewed station standards and the material performance used for the entire extension project. The design process was ­aided by 3D models and lifesize mock-ups. For 18 months we developed the lighting boom design in a full-size ­tunnel mock-up in the London Bridge railway arches.
All who worked on the JLE, no matter when or for how long, have been tremendously inspired and touched by Roland's wisdom and his personal influence. His witty and poetic anecdotes helped us overcome many a design or political obstacle.
Although a public figure, Roland remained very private after his retirement from JLE. He never mentioned the well-deserved accolades for his bold approach and great contribution to British architecture. Few of us knew even when he finally married Nora, whom he met in his twenties, at their local church in Wapping. Our warmest regards go to his and Nora's relatives.
---
Sui-Te Wu worked with Roland Paoletti at the JLE from 1991 to the completion of the Line in 2000, and was JLE project architect for Westminster and Waterloo Stations
---
IN MEMORIAM
Hugh Llewelyn Davies
Elected 1952, Hounslow
Jack Platt
Elected 1953, BUNTINGFORD, Hertfordshire
Robert Best Jackson
Elected 1955, PETERBOROUGH
Ronald Ralph Jones
Elected 1958, DORCHESTER, Dorset
Eric Irving Linton
Elected 1959, ORMSKIRK, Lancashire
Silvanus Alfred John Silvester
Elected 1959, GLOUCESTER
Ian Smith
Elected 1961, DUMFRIES
Christopher Copnall Bennett
Elected 1963, NESTON
Patrick Athol Houlihan
Elected 1965
Jack Lynn
Elected 1966, BERWICK-UPON-TWEED
David Leonard William Sim
Elected 1968, MILTON KEYNES, Buckinghamshire
John Edward Barry
Elected 1968 MILTON KEYNES
Lloyd Frederick Stratton
Elected 1982, POTTERS BAR, Hertfordshire
Roger Southworth
Elected 1983, Sheffield, South Yorkshire
Adam Wladyslaw Wiktor Dudley
Elected 1984, EDINBURGH
Gerald Rushworth Beech
Elected 1947, ALRESFORD, Hampshire
David Barwis Nicholson
Elected 1970, LONDON
James Arthur Leslie Irwin
Elected 1948, ILKLEY, West Yorkshire
John Latham Harding
Elected 1949 , IPSWICH
Margaret Anne Feilman
Elected 1950
James Howard Bryant
Elected 1954, Australia
Clive Charles Plumb
Elected 1961, CHELMSFORD
---
To inform the RIBA of the death of a member, please email membership.services@riba.org with details of next of kin
---