Influential teacher, writer and practitioner inspired by Scandinavian architecture, artists and the modernist debate, one of the team that designed the Royal Festival Hall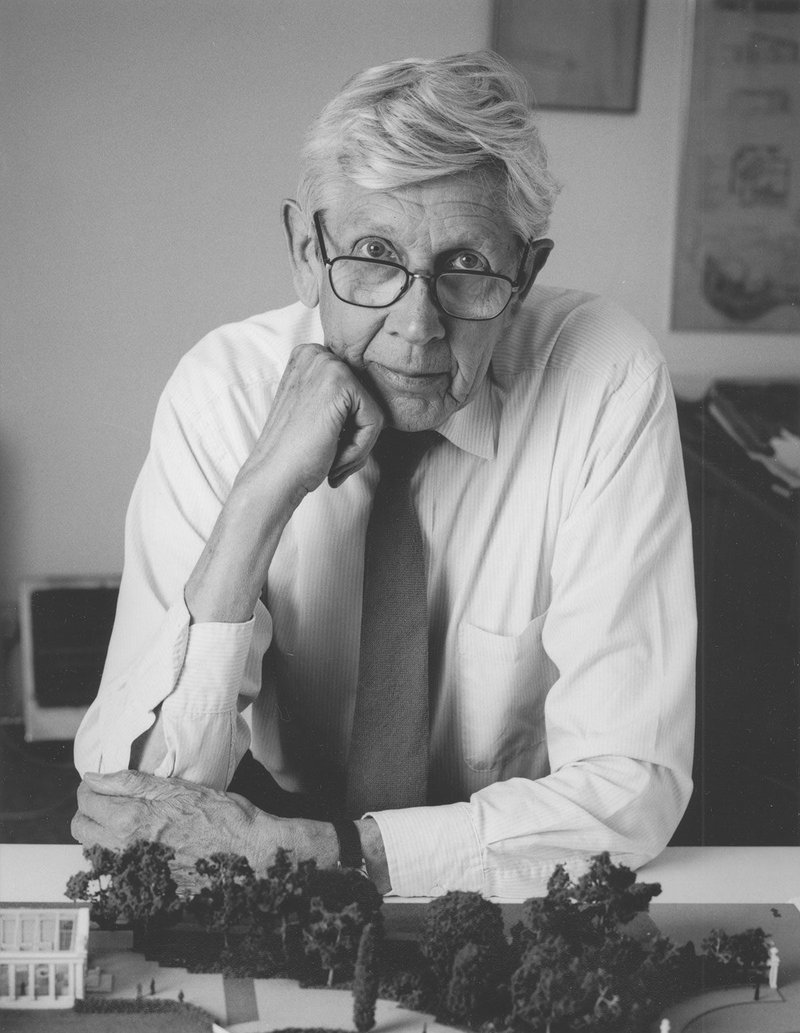 Trevor Dannatt RA, photographed by Rob Petherick, courtesy of the Royal Academy of Art, London.
Trevor Dannatt, who has died aged 101, was a Royal Academician, teacher and prolific writer, and a major figure in the generation of celebrated architects who qualified soon after World War Two. He was closely involved in debate about the language of modernism and 'humanist' architecture, which informed his many thoughtful and sensitive buildings.
Dannatt grew up in Blackheath, south London, and attended Colfe's school where his art teacher, Alfred Hallet, introduced him to the work of Le Corbusier. He studied at the Regent Street Polytechnic from 1938. 'Within a few weeks I realised what I wanted to do', he later wrote. 'I was "summoned by buildings".' In 1943 he joined Maxwell Fry and Jane Drew, moving on in 1948 to his former tutor Peter Moro, who was associate architect with Sir Leslie Martin at the London County Council Architects' Department, in charge of developing the Royal Festival Hall. In 1952, a year after its completion, Dannatt left the LCC and set up in private practice. He worked informally 'in association with' Martin and Colin St John Wilson, and in 1970 formed Trevor Dannatt and Partners. In 1994, his former student David Johnson became a partner and the firm was renamed Dannatt Johnson

Hotel and Conference Centre, Riyadh, designed by Trevor Dannatt & Partners, 1974.

Credit: Henk Snoek, Architectural Press Archive / RIBA Collections
Scandinavian architecture was a pervasive influence – particularly following visits to Sweden and Denmark in the 1940s and to Finland in 1956. Dannatt's accounts of that trip were published in Architectural Design and the Architects' Year Book, which he edited from 1948 to 1962. 'All embodying thought, care for the human dimension, creativity and plastic imagination, always well put together with colour and tactile sensibility,' he later wrote.
Like many contemporaries he benefited from the expansion of the welfare state, designing educational buildings such as a hall of residence at the University of Leicester (1960) and the assembly hall at Bootham School in York (1966). Private homes included the now-listed Laslett House of 1958. In 1967, he won a competition to design a conference centre and hotel in Riyadh, Saudi Arabia, and in the 1980s received a commission for the British Embassy there. His practice oversaw the transformation of the Royal Naval College Buildings at Greenwich into university accommodation, and was appointed consultant architect to the Royal Botanic Gardens at Kew.
Involvement and collaboration with artists, including his long-time friend Patrick Heron, also deeply influenced Dannatt's architecture and saw him accumulate a substantial collection of British and European paintings and works on paper, the major part of which was bequeathed to the Whitworth Art Gallery at the University of Manchester.
I was a student at the University of Manchester when Dannatt was visiting professor. It was a transitional time for the school, and at the start of my architectural education in 1975, the outgoing head had not been replaced, leaving a void. His appointment brought much-needed architectural leadership. He spoke of our 'inner landscape' of forms, patterns, ideas and experiences, not just of architecture but of all forms of art. This, together with his experience and profile, re-established the reputation of the school and formed a base for its future development. An elegant, lean figure around the studio, his quiet, thoughtful and erudite criticism instilled a confidence, particularly in this former student, and left memories that are still cherished.
In 1953 Dannatt married artist Joan Howell Davies and had two children, Clare and Adrian. The marriage was dissolved in 1991, and three years later he married cancer specialist Ann Crawford who survives him, along with his son and daughter.
---
Stephen Hodder is chairman of Hodder & Partners