A prolific designer, thinker and theorist and a great draftsman who was instrumental in the birth of the Venice Architecture Biennale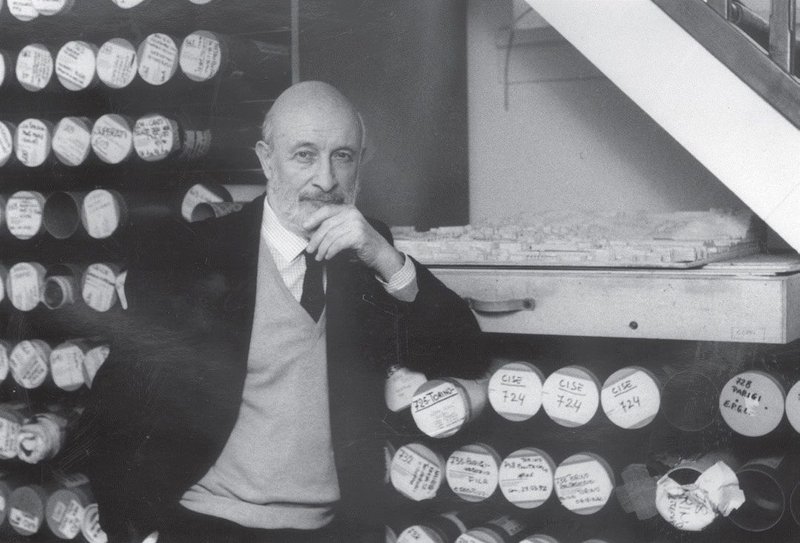 Vittorio Gregotti.

Credit: Gregotti Associati
Barely had Boris Johnson's warning on 12 March that people 'would lose loved ones' sunk in when architecture lost one of its most prolific designers, thinkers, theorists, teachers and writers to the coronavirus pandemic. Vittorio Gregotti, architect of the redesigned 1992 Barcelona Olympic stadium, died aged 92 on 15 March from Covid-19 in hospital in Milan, Lombardy, where he lived and worked, and which by then was the European epicentre of the crisis. Gregotti's career had been expansive, with 1,200 fully developed projects, 30 published books and countless articles for Italian newspapers over more than 60 years of uninterrupted activity. He completed his most recent project in 2015 – the transformation of a former iron factory in Follonica on the coast of Tuscany into a 268-seat auditorium for the Foundry Leopolda Theatre – and only closed his practice Gregotti e Associati in 2017 at the grand age of 89.
Born in 1927 in Novara, now a 100,000-population city west of Milan, in neighbouring Piedmont, Gregotti practised all over the world but lived his life in northern Italy. He was the son of a wealthy textile family and began working in his father's factory aged 14, where he started developing his astute social purpose and vision of the world, eventually becoming a member of the Italian Communist Party, the natural home of progressive individuals during the postwar industrialisation of Italy. He decided to pursue architecture following a visit in 1947 to Gustave, Claude and Auguste Perret's studio in Paris, graduating from the technical university of Milan in 1952.
From there Gregotti went to work at BBPR where Ernesto Nathan Rogers (cousin of Richard Rogers) was his mentor, before setting up in practice with L Meneghetti and G Stoppino, then on his own and since 1974 with P Cerri and H Matsui. His work advocated the relationship between buildings and their context, which he argued for in his 1966 book The Architecture of the Land (never translated into English). It sought to reconcile the design language of early 20th century modernism with the social, aesthetic and historic aspects of the traditional city and is visible in the monumental and epic nature of his buildings that convey a sense of grandeur and crescendo, materially complementing their surroundings.
His 140,000m2 Belém Cultural Center in Lisbon, built for the Portuguese Presidency of the European Council in 1992, is a miniature citadel constructed primarily of limestone. The Teatro degli Arcimboldi (completed 2002) opera house and concert hall is granite and plaster, while the 2007 Grand Théâtre de Provence in Aix is clad in soft yellow stone. Its bold interlocking cylindrical volumes and voids have a postmodern quality. Although Gregotti had a cultured vision of the built environment, and his buildings frequently extended across vast urban landscapes, he also designed stadia for Genoa, Marrakesh and Agadinia in the 1980s and 1990s, and masterplans for Pavia, Turin, the Crimea and Pujiang New Town in Shanghai. The thing these projects have in common is they are based on critical observation of the existing city.
Gregotti was also a respected editor of Casabella and the last architect to have had a significant project built in Venice – his 1981 Cannaregio residential neighbourhood and 1990 restructuring of the port. He twice curated the visual arts section of the Venice Biennale, in 1975 and 1976, devoting all of it to architecture and the built environment, a move that was instrumental in getting the Venice Architecture Biennale instituted in 1980. Gregotti held academic posts at the universities of Milan, Palermo and Venice; his most famous pupil is Renzo Piano. In 2000 he was awarded Italy's Gold Medal for Science and Culture. After his death, Italy's minister of culture Dario Franceschini described him as 'a great Italian architect and urban planner who has given prestige to our country in the world'.
Gregotti was a great draftsman and made an early conscious decision not to embrace digital culture. The Belém Cultural Center in Lisbon held a large retrospective of his work in 2018, curated by fellow Milan architect Guido Morpurgo, with an accompanying book. After dissolving his practice in 2017, Gregotti lamented the direction architecture had taken, telling La Stampa newspaper last year that 'architects are only creating images to amaze' and that it had lost 'the idea that this profession has at its base a collective product and must answer to specific social needs, tied to places and their history.'