Owner of the pioneering Aram Store, which showcased new work and exciting ideas, whose legendary knack for retail included the licence to produce Eileen Gray's furniture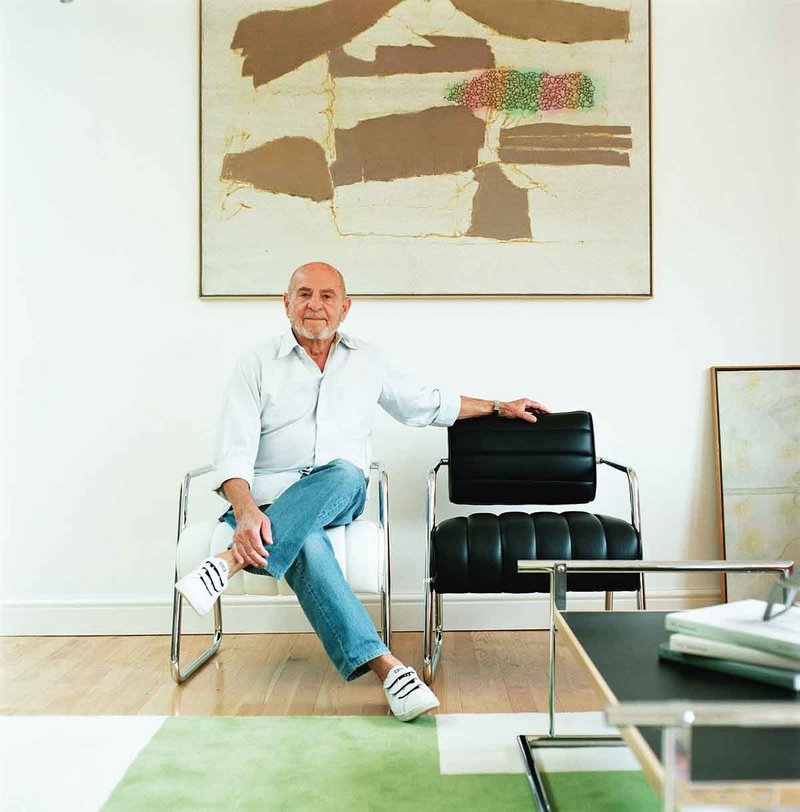 Zeev Aram was a man of great stamina and enthusiasm, whose warm voice and laugh filled the floors of his famous London design store. It is often said that the Aram Store is more like a museum than a showroom, and every day Mr Aram – as he was known to all who worked with him – would walk around his unparalleled collection of design classics and contemporary furniture, a master curator making minute adjustments to displays, introducing a new piece of art, checking the freshness of flowers.
Born in Transylvania, he was sent to a kibbutz in Mandatory Palestine, leaving at 15 to work with architect Hans Zelig before serving in the Israeli navy for seven years. In 1957 he met an English woman, Elizabeth Bunzl, and returned to London with her, marrying the following year. Both attended the Central School of Art, and Mr Aram graduated in furniture and interior design in 1960.
After working in the offices of Ernő Goldfinger, Basil Spence and Andrew Renton, he opened his first showroom on the King's Road in 1964. Its modern furniture, designed by the likes of Marcel Breuer and Le Corbusier, was initially dismissed as cold and clinical by a British public more used to reproduction antiques. The reaction didn't deter him, and he used his shop window to gradually build a following.
Upstairs he ran a successful design practice, Zeev Aram & Associates, but it was a knack for retail and knowing what his customers would want next that made the store his primary legacy. In 1973 rising rents saw him relocate to a former warehouse in Covent Garden, which he turned into a temple of modern design.
Recognising talent early was his pride and passion. Every year between 1988 and 1994, the showroom was given over graduates selected from summer shows up and down the country, launching the careers of designers including a young Jasper Morrison and a shy Thomas Heatherwick.
In 2002, the showroom expanded to an adjacent building, and Mr Aram had his prominent shop window back. The graduate shows got their own home in The Aram Gallery, an entire floor dedicated to showing experimental work by emerging designers. When I became the non-commercial gallery's curator in 2015, it already had a mythic quality. The stamp of Mr Aram's approval was as good as any graduate prize.
The gallery's purpose was to promote understanding of design, and to showcase new work and exciting ideas. What constituted new and exciting was a source of hot debate: it was hard to impress someone who had seen it all. Occasionally Mr Aram would deem something impressive enough to add to his own collection. Whether he was buying for himself or shaping the store's inventory, he was ahead of the curve in realising the potential in a product or designer. Most notably he persuaded the ageing Eileen Gray to grant him the licence to produce her furniture, and bold designs such as her E1027 adjustable table are now rightly celebrated as modernist icons.
Mr Aram regularly brought friends and family to Drury Lane for a quick tour and a long lunch; with Liz he had four children – Ruth, who sadly died in 2018, and Daniel, Debby and Karen, who survive him, along with 10 grandchildren. His charm and good nature made everyone feel at home in the store and gallery he worked so hard to perfect. Today the idea of a destination store is nothing new, but in the early 2000s there would have been nothing like it. There still isn't a place quite like the Aram Store. Or a person quite like Zeev Aram.
---