A critical shift took place in the development of architecture when a post-war blaze of High Tech swept aside the old ways of building. Hugh Pearman saw it happen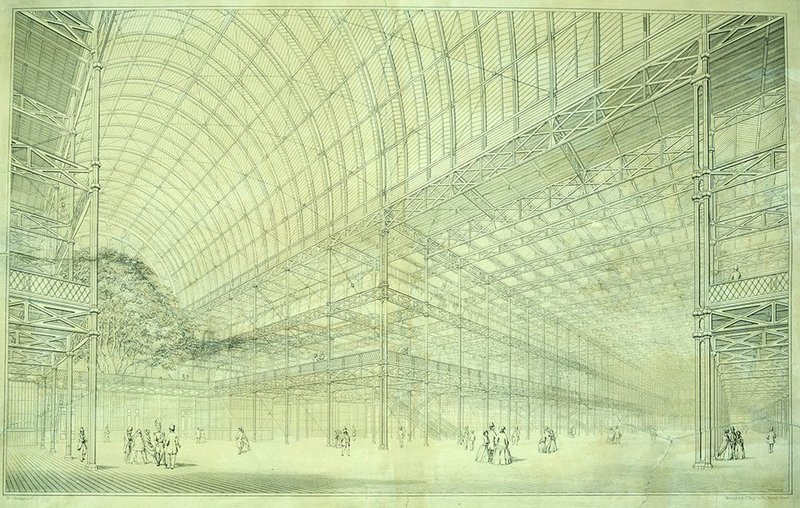 The Victorian inspiration behind much high-tech: Paxton and Fox's Crystal Palace, 1851.
This is a big moment for the RIBA's cultural outreach programme. The inauguration of its new Carmody Groarke-designed ground-floor gallery at 66 Portland Place – named simply The Architecture Gallery – takes place later this month (profile of Carmody Groarke, RIBAJ January 2014). With most of the administrative functions of the RIBA moving at the end of 2014 to a building a few doors up Portland Place, redesigned by Theis and Khan, this 80th year of Grey Wornum's building will be a pivotal one.
We'll assess the architecture of the Architecture Gallery in a future issue: here, we consider the subject matter of the opening exhibition, boldly titled The Brits Who Built the Modern World. This is a retrospective of the most fruitful period of post-war British architecture, the period when a group of determined, talented architects reinvented the way buildings were designed and built, and then moved on to international success. While we may need no reminding of the achievements of Norman Foster, Richard Rogers, Nicholas Grimshaw, Michael and Patty Hopkins or Terry Farrell – the central group in the show – this, remember, is aimed at the public. Indeed, it is tied in with a spring BBC 4 series of the same name, though it spreads its net rather wider. Spry though they all are, the group members are no spring chickens: the youngest (Patty Hopkins) is 71 and the oldest (Richard Rogers) 80. It's a timely moment to introduce a new public to this high-tech post-war, postcolonial generation and what they went on to achieve.
I was asked to contribute an introduction and a tailpiece to the book of the exhibition. Since my own youthful introduction to contemporary architecture happened exactly to coincide with the rise of high-tech, these extracts are part of what I found myself writing.
A mysterious shed
Sometime in the mid 1970s a friend and I, driving south from our north-eastern university, decided to make a detour to the University of East Anglia. We shared an entirely amateur liking for modern architecture, the more concrete-and-glass the better. The new National Theatre in London was about to open, and we liked that. But we knew of these earlier buildings by the same architect, Denys Lasdun: a new-wave university where students lived in space-age ziggurats set in a grassy landscape. We got there in my friend's aircooled primrose-yellow Citroen GS, which looked exactly right here, and duly marvelled at the ziggurats. Then, strolling around, we found something else.
It was still being built, but its metallic shell was in place. It was an enormous long hangar of a building, with glass ends and a frame of tubular steel spars, entirely unlike the Lasdun mothership to which it was tethered at an angle. We peered in at one end and speculated as to what it was for. Not teaching, not living, not a library or students' union, yet in a university: it must be some kind of sports hall, we concluded as we drove off. This was my first, unconscious, exposure to a building by Norman Foster. It was, I later discovered, the Sainsbury Centre, a combined art gallery, student centre and arts faculty. Somewhat altered and much extended by Foster over the years, always nurtured by the philanthropic Sainsbury family who originally donated their art collection to it, it is now a grade II* listed building.
That architectural moment marked the changing of the guard in British architecture. Lasdun's heavyweight approach had evolved from his 1930s youth, working with concrete-modernist pioneers Tecton. Foster's arose from a new sensibility: he had studied in America with another now world-famous architect, Richard Rogers, and later worked with him. The two had found conventional building techniques to be a messy, wet, almost Victorian business: why couldn't buildings be more like cars or ships or the construction toy Meccano, assembled from dry, prefabricated components? This idea was not new: as early as the Festival of Britain in 1951, architects were predicting a science-fiction future. But it took a while to arrive.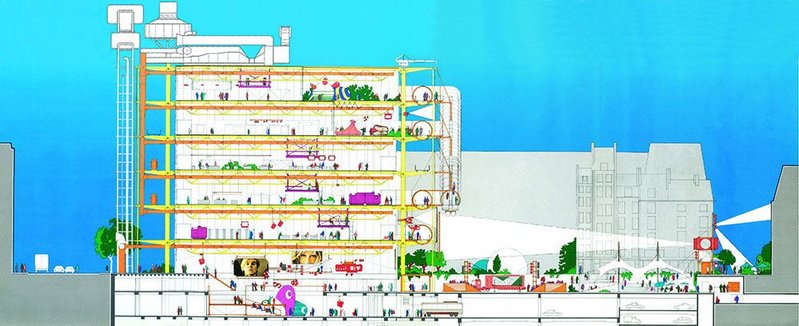 Cross-section of Piano's and Rogers' seminal Pompidou Centre in Paris, 1971-77.
High on High Tech
Along with many architects of the time, Foster had sat at the feet of visionary American engineer-inventor Richard Buckminster Fuller, an early environmentalist. It was Fuller, whose opinion was sought on the Sainsbury Centre design, who asked Foster the famous, oft-quoted question: 'How much does your building weigh?' The future, it seemed, was lightweight and clip-on. Over in Paris, Rogers was about to complete the Pompidou Centre with Renzo Piano, which looked like nothing that had ever been built before. And so I found myself entering a career of writing about architecture, just as what came to be known as High Tech was rising to international prominence.
When we talk about The Brits Who Built the Modern World it is this generation of architects – including Grimshaw, the Hopkinses and Farrell – that springs most readily to mind. Where older generations of architects, some of them in this exhibition, had had the Empire to provide a ready-made market, they did not – with the notable exception of booming Hong Kong. All the more remarkable, then, that they were able to export their approach to other nations, turn it into a global, and globally-recognised, commodity. Rogers was the first to internationalise, the Hopkinses the last, but by the 1980s, other styles and names were coming into play, with the likes of cool modernist David Chipperfield and the highly theatrical 'narrative architect' Nigel Coates, working in Japan. They had to: there was no work in the UK.
High-tech seemed able to surf over the retro decade of the 1980s, when much British architecture seemed to consist of ever more outré postmodern buildings. Most such exercises were doomed to early extinction though some proved exportable, notably in the hands of James Stirling (an influential teacher of the new generation as well as a great architect in his own right) and Farrell, who enthusiastically embraced post modernism. Stirling became big in Germany and America, as did Foster, Grimshaw and Chipperfield. Farrell followed Foster to Hong Kong, and eventually Beijing. More restrained modernism reasserted itself in the 1990s, but by the start of the 21st century it was stylistic open house and a remarkable new talent was making her mark on the international stage. Zaha Hadid's extraordinarily original buildings took a while to gain acceptance, but once they did, she found herself in demand globally.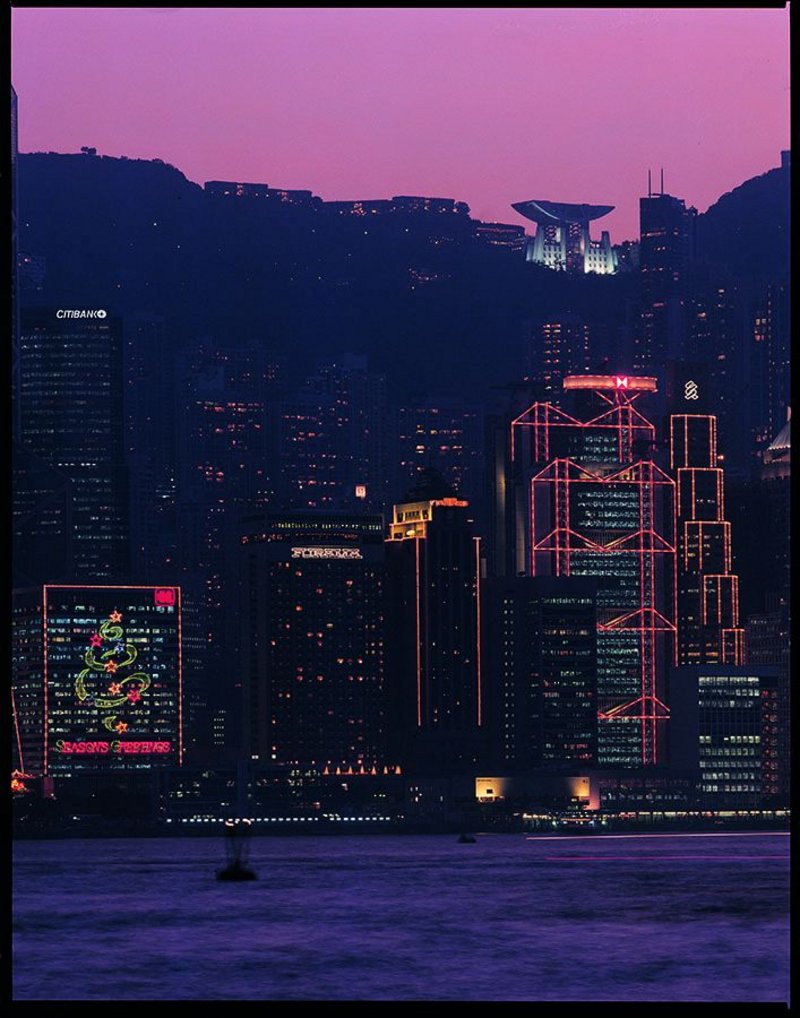 Brits in Hong Kong: Foster's HSBC headquarters, 1979-86 (foreground), is overlooked by Farrell's Peak Tower, 1991-95.
We are all waiting for the next architecture movement – one like that seismic shift from old modernism to high tech, when everything started to change. A Pompidou Centre moment, if you like
Next stop, the world
In 2014, the British architectural profession is globally spread as never before. Of the 27,613 readers of the RIBA Journal, for instance, more than 4,400 are based overseas. There are more members of the RIBA in Hong Kong than there are in Wales. There is also a Gulf chapter, while the USA counts as a 'region' with seven separate chapters of the Institute. To take just one of the game-changing practices covered in this exhibition, Grimshaw's New York office is in operational terms now two-thirds the scale of its London parent and is the practice's most cosmopolitan. 'This is a reflection on New York and in particular the schools of architecture,' remarks Grimshaw deputy chairman Andrew Whalley. 'We have quite large groups from South Korea and China but also Taiwan, Brazil, Colombia, Mexico and a large contingent from the UK and Australia.'
In common with other architects working internationally, the British have moved into the BRIC nations – Brazil, Russia, India and China – and, increasingly, into existing and emerging economic powers in Africa and Central Asia. Thus London-based David Adjaye is contributing buildings to Moscow, Washington, Oslo, and Ghana while a long-established award-winning multi-regional UK practice, BDP, trades also from Ireland, the Netherlands, the Gulf, India and China.
On a smaller scale, you find a practice such as Edinburgh-based Sutherland Hussey, a well-regarded firm with (like most of the others mentioned here) a Stirling Prize nomination to its name, suddenly working simultaneously on a micro and macro scale at opposite ends of the earth. 'At one point,' Charlie Sutherland wrote in the RIBA Journal in October 2013, 'we were planning the eastern expansion of Chengdu in China – with a total population greater than Edinburgh – while our only work in Edinburgh was a 25m2 allotment shed that was going through a difficult public consultation.'
Names such as these underpin the better known 'signature architects' from Britain who tend to make the headlines. Underpinning all this in turn is the RIBA-accredited system of architectural education, seen as an international gold standard. It is by no means immune from criticism back home, but overseas its emphasis on personal creativity is often seen as a desirable antidote to the more normal business of learning by rote.
Today architecture is in a state of complete architectural plurality. The backlash against the perceived decadence of the icon era, coupled with economic recession, led to a 'hair shirt' movement in architecture – keep it plain and simple – in many areas. A new wave of eco-architecture also came through in the first decade of the 21st century, from individual houses to complete city districts. And a new respect has emerged for old buildings, even relatively recent old buildings.
But we are all waiting for the next architecture movement – one like that seismic shift from old modernism to high tech, when everything started to change. A Pompidou Centre moment, if you like. I don't know what this game-changing building will be or where it will be. Logic suggests that it may well be driven by biology as much as by more conventional 'hard' technology. At times like this, architecture takes on religious characteristics: we seek the prophet who will show us the way. All I can say is that, given the fertile conditions in which architecture has developed in Britain since the 1950s, we might well start by looking in our own back yard.
---
The Brits Who Built the Modern World is at the RIBA Architecture Gallery, 13 Feb - 27 May
---