Shane O'Toole captivates with this collection of his writings from the tempestuous time of the 'Celtic Tiger' and subsequent crash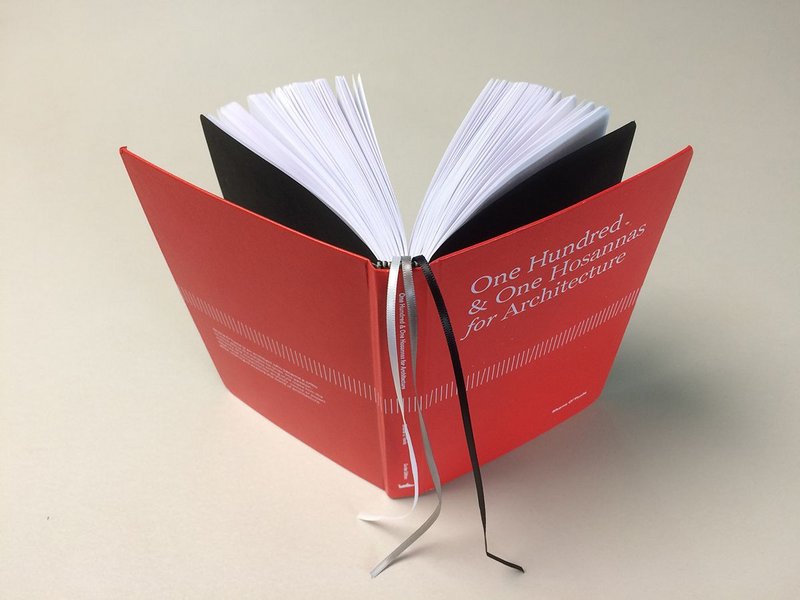 Worth it for the book ribbons alone surely.

Credit: Hugh Pearman
A book with three sewn-in bookmark ribbons: that's nice. Also a book on architecture without any pictures, that's brave. And finally, a book about architecture designed to resemble a breviary or missal, with radiused corners and the title 'One Hundred and One Hosannas for Architecture' – that's mischievous, in a country that has become somewhat disenchanted with its priesthood. For Shane O'Toole's book of collected critical journalism is all about Ireland and the Irish influence, sometimes direct, sometimes oblique. As you'll have gathered, it is delightfully different from just about any other architecture book.
O'Toole – no mean architect himself, and one who is also a curator and, obviously, writer – was for a while my Sunday Times colleague across the water. While I was in my second decade writing my columns for the English edition, O'Toole came on board to do the same thing for the expanding Irish edition, which has its own staff in Dublin. His editor there, Michael Ross, wanted someone to chart the reinvention of Ireland during the 'Celtic Tiger' boom. It was 1999 and Irish architecture, following the reinvention of the Temple Bar district by the confederation of young practices under the 'Group 91' banner, was in a good place. 'The flag was in the breeze,' writes O'Toole, quoting Kenneth Frampton in turn quoting Louis Sullivan on late 19th century Chicago in O'Toole's first ST piece, a book review of a Grafton Architects monograph.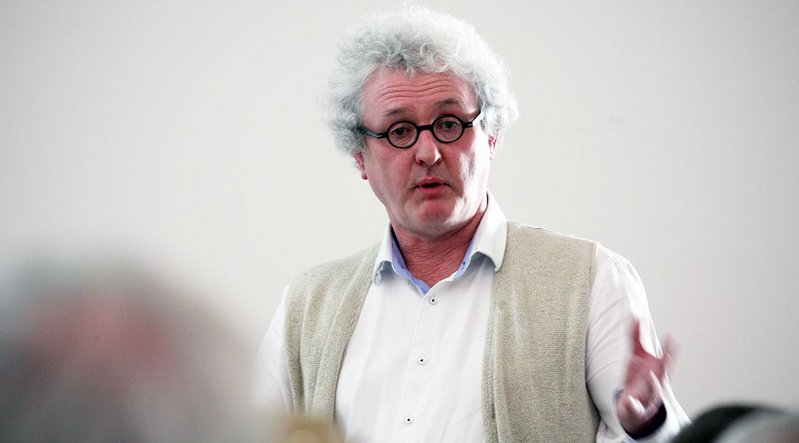 Shane O'Toole in full flow.

Credit: Alan Jones and Queens University Belfast
These pieces are generally short – three or four pages of the book normally does it, which is why there are 101. All in plain English, not critic-speak or architect-speak. They are not just the articles from his 10-year stint on the newspaper, but also from other media such as this one – the RIBAJ – Architectural Review, BD, Architecture Ireland, Irish Arts Review and so on. He reviews buildings, exhibitions, books, profiles people, considers history and typologies and also campaigns. As for example the item called 'The Architectural Curse of Bank Holiday Weekends' which details the remarkable story of the grade 1 listed late (1949) Art Deco Archer's Garage, cynically demolished over the June Bank Holiday weekend by a prominent hotelier who presumably thought his network of contacts would protect him. Not so: despite his protestations that he did not know it had recently been listed, he was obliged to rebuild it. O'Toole's article from June 2000 is written at mid-saga and he acknowledges the intellectual problem of building replicas but insists: 'Archer's Garage must be rebuilt if Ireland's planning system is to retain any credibility.' It was, in 2004.
The period covers the financial crash, of course: something mentioned in his review for the RIBAJ of Libeskind's Grand Canal Theatre, which opened in 2010: 'Had Daniel Libeskind's theatre been even six months later getting out of the ground, it is unlikely it would ever have seen the light of day, instead joining the growing list of projects that have been euphemistically 'pushed out' during the past year.' The financial crash all but destroyed the Dublin Docklands Development Authority: only the theatre with its Martha Schwartz landscaping remained and that, as O'Toole relates, got badly squeezed on space and finishes. The crash coincided with the end of his time at the Sunday Times in Dublin too. 'Critics at newspapers – architecture critics, in particular – are dying off even faster than print journalism itself,' he observes ruefully in his introduction. Amen, brother. But we carry on writing, and new voices, new enthusiasms, new publications, find ways through the fog. Meanwhile, if you want to read some of the best architectural journalism from that tumultuous period in Irish architecture, then let One Hundred and One Hosannas be your bible.
'One hundred and One Hosannas for Architecture' by Shane O'Toole, Gandon Editions, £20 approx
---