Other members of the 1950s grouping may be more famous, but Oskar Hansen's Open Form ideas sound increasingly relevant to today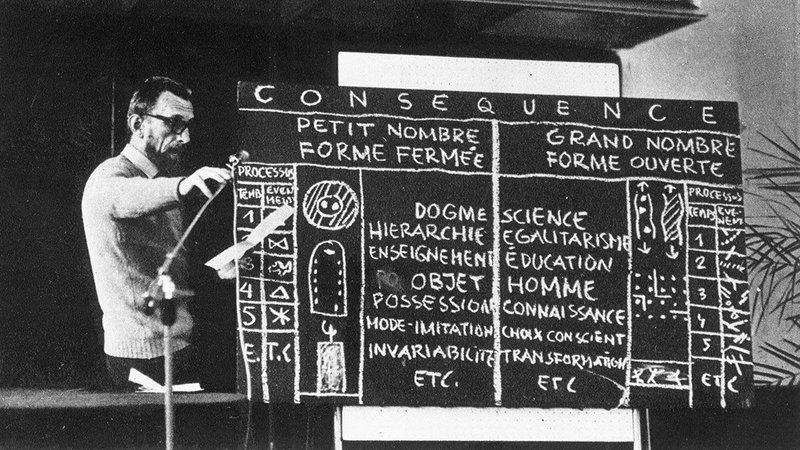 Oskar Hansen at AICA congress in Wroclaw, 1975.

Credit: Warsaw Academy of Fine Arts Museum.
User-led design, indeterminacy, adaptability – many of the ideas promoted by Polish architect, urban planner, artist and theorist Oskar Hansen (1922-2005) may not sound particularly revolutionary now. But when he formulated them as part of his Open Form theory in the 1950s they offered a fresh and radical alternative to the modernist status quo.
The subject of an exhibition opening on September 1 at the Yale School of Architecture, Hansen is one of the less widely internationally recognised members of Team 10, the group of young architects who formed a loose association in the 1950s in response to the modernist old guard of the International Congress of Modern Architecture (CIAM).
Not that he has been without influence: although Team 10 peers Alison and Peter Smithson, Aldo van Eyck and Giancarlo di Carlo found far greater fame and recognition, Hansen's teaching of his Open Form theory influenced decades of young architects who studied under him at Warsaw Academy of Fine Arts from 1952-83 and also at the Bergen School of Architecture, where Open Form is still part of the curriculum.
According to curator Aleksandra Kędziorek, Hansen is now gaining far wider recognition outside his native Poland. His Open Form theory was a response to what he defined as Closed Form – a hierarchical, fixed architecture that was more a monument to its architect than appropriate for its users. Instead, Hansen believed architecture should be a tool that could be appropriated and transformed by its users.
'Hansen advocated for Open Form designs that were more flexible, provided space for users' expression and could be adapted to their changing needs,' she says. 'He was convinced that the role of an architect is to create a background, architectural frame, that would expose the richness of human activities in space, but at the same time guarantee a lot of stimuli to enhance humans' creativity.'
To achieve this, Hansen devised the 'active negative' design tool, which Kędziorek describes as a sculptural recording of individual perception of architectural space.
The exhibition, which was previously shown in Porto and Barcelona, presents the Open Form theory and Hansen's application of it in different fields including exhibition design, mobile architecture, housing and urban planning. In the latter, Hansen developed the idea of a Linear Continuous System, envisaging a system of linear rather than centric cities stretching across Poland in parallel belts. The exhibition design, by Polish group Centrala, is devised as an Open Form experience with seven intertwining sections that allow visitors to freely choose their route through the space.
Hansen's work remains relevant today and can be seen as a prototype for open-source approaches to architecture, according to Kędziorek.
'His Open Form theory can be a compelling contribution to contemporary debates on the role of architect after the stararchitects, defining anew the architect-user relationship,' she says.
---
Oskar Hansen: Open Form, 1 September – 17 December, Paul Rudolph Hall, Yale School of Architecture, 180 York St, New Haven
Open Form has been organised by the Museum of Modern Art in Warsaw in collaboration with Culture.pl as part of the Campus Project, which aims to foster cultural relations between Poland and selected American academic institutions