Begun in optimism, the tale of post-war public art has some shocking passages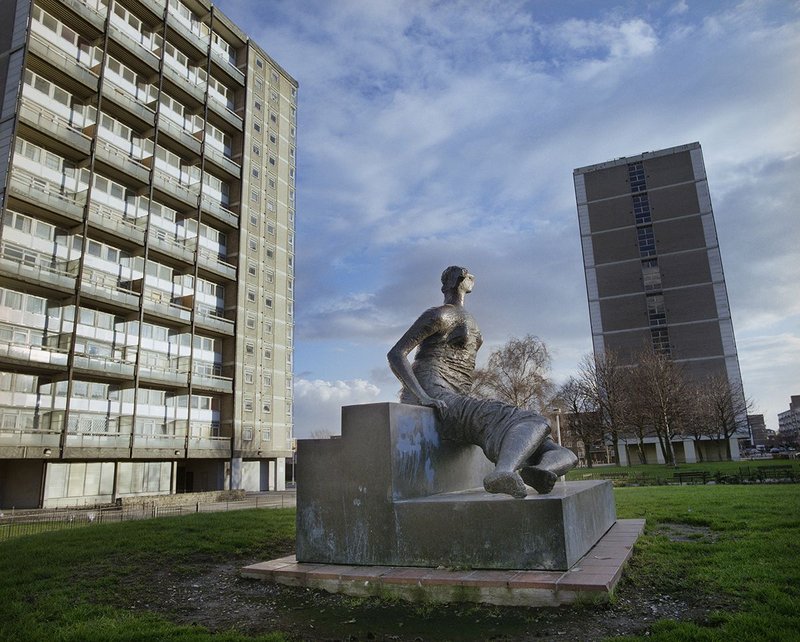 Art for public housing, at least briefly: Draped Seated Woman'Old Flo' by Henry Moore, 1957–58, Taken when still at Stifford Estate, London.

Credit: Historic England
Vandalism, vitriol, theft and destruction: public art inhabits a dangerous world, as is clear from Historic England's new exhibition Out There: Our Post-War Public Art.
Held at Somerset House, the exhibition focuses on the plentiful public art created between the 'brave and brutalist' years of 1945 and 1985, and the varying fates of this work. It is both an uplifting and dispiriting story. While the exhibition evocatively communicates the spirit of optimism and post-war emphasis on the value of public art within public space, it equally eloquently illustrates the threats to those artworks ever since.
A wall of shame at the end of the show documents some of the many lost artworks – stolen, destroyed, or removed from public view. At least some, like Barbara Hepworth's Two Forms (Divided Circle) which was stolen from Dulwich Park in 2011 and probably melted down, were enjoyed for many decades before being so tragically lost. Even worse was the fate of Barry Flanagan's fibreglass sculpture on Laundress Green in Cambridge, which was vandalised repeatedly when erected in 1972. What was left of it was permanently removed after only a month.
After viewing images of the art-rich environment of the Festival of Britain in 1951, it's shocking to learn the fate of many of the pieces produced for the event, which was one of the key patrons of post-war public art. When Labour lost the general election in October 1951, support for the festival and its legacy faded and the South Bank site was swiftly cleared. Only 14 of the 30 sculptures survived, along with a handful of the 50 murals commissioned. Perhaps it seemed a great idea at the time to turn the Skylon into scrap and souvenirs such as letter-openers.
Public art will always polarise opinion. Archive newspaper coverage and film footage show forceful, often negative, reactions to many pieces when they were first installed. Yet time often softens opinion. And enthusiastic campaigning by community and heritage groups has helped save many artworks, including Elizabeth Frink's Desert Quartet in Worthing.
Curated by Sarah Gaventa, this engaging show gives well-deserved credit to the great patrons of post-war art such as the school building programmes in Leicestershire and Hertfordshire. Who can imagine such an enlightened approach in today's no-frills school building programme? Several new towns were also significant public art patrons, notably Harlow, where the arts trust commissioned an impressive 65 pieces for Frederick Gibberd's new civic centre (of which seven were stolen), including Elizabeth Frink's charming Boar in the Water Gardens.
The London Underground has been a long-standing art patron, commissioning artists such as Eric Gill, Henry Moore, Jacob Epstein and Eduardo Paolozzi. Commercial clients are also highlighted, such as John Lewis, which most notably commissioned Barbara Hepworth to create a piece for its Oxford Street store. The Arts Council's Percentage for Art Scheme, set up in 1988, prompted new commissions in both the public and private sector.
Out There also considers the future for public art. Are temporary artworks the answer rather than the maintenance headache of some permanent pieces? Is this the smart way forward or a loss of nerve? Some of the last words in the show go to developer Stuart Lipton, who nicely sums up the crux of the matter, which both public and private sectors would do well to remember: 'There is a feeling that anything beyond function is indulgent and unnecessary. But it is about improving our quality of life.'
Out There: Our Post-War Public Art, until 10 April, East Wing Galleries, Somerset House, Strand, London
---