If it's not trad, he ain't glad. James Stevens Curl gets a lot of modernism off his chest in Making Dystopia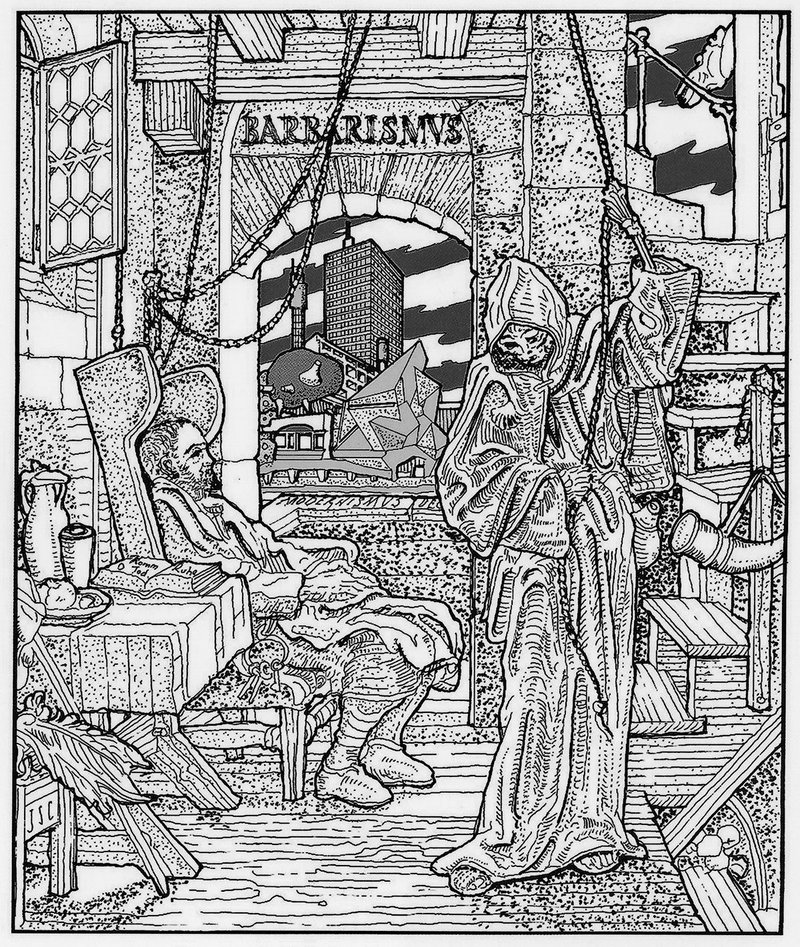 Curl's depiction of himself as author driven to death by the task of warning the world against the destructive powers of architectural barbarism. Drawing on Alfred Rethel's Death as a Friend.
All modernism is bad. It has been a disaster, a catastrophe. It's all barbaric, whether it's the late 1920s Villa Savoye by Le Corbusier with its devilish horizontal window bands and pilotis, or some shapeist bit of 21st century starchitecture by Libeskind or OMA or whoever. The fact that modernism has been on the go for a century or more, with all manner of stylistic and regional variations by all manner of architects, that it has itself become historic and worthy of preservation and listing, matters not a jot. The allegedly wholesale abandonment of traditional arch­itecture and the seemingly baffling global adoption of modernism ushered in all manner of horrible things, possibly including the various conflicts in the Middle East. Oh, and the Nazis weren't always anti-modernist. As for the Bauhaus – nest of vipers, and did you know that some of its alumni helped design the death camps?
This is the flavour of James Stevens Curl's latest book, an (obviously) anti-modernist diatribe that has very much a goodbye-to-all-that feel to it, a signing off. Curl, now 81, is a distinguished architectural historian and we are all very much in his debt for, among much else, his editorship of the indispensable Oxford Dictionary of Architecture. Perhaps because of this his editors at Oxford, assuming there were any, appear not to have touched his text which doesn't half ramble on and repeat itself. If this book HAS been edited, goodness knows what state it was in before. It's all isn't-it-appalling outrage which he ­attempts to justify through exhaustive and exhausting scholarship. And yes, there is solid scholarship here, evidenced by the fact that fully a quarter of the book consists of notes, glossary, bibliography, index. For instance his account of the Bauhaus is a good concise history of that influential institution, and of its progenitor Gropius whom he naturally loathes as a prophet of modernism.
Occasionally Curl lets his guard slip a little and sounds as if he is becoming slightly drawn to some aspects of the genre. He is somewhat on the side of Erich Mendelsohn, for instance: less so for his sleek architecture with its curvilinear motifs than for the fact that he was not considered International Style enough for Philip Johnson and Henry- Russell Hitchcock in their 1932 exhibition of that name at the then-new Museum of Modern Art in New York. Though Curl does have an evident soft spot for Johnson, despite or because of his gadfly style-shifting dilettantism, attraction to Nazism, etc. Of course attempts by some German modernist architects to find an accommodation with the Nazi regime, Mies among them, are condemned. But they can't win because when they finally escape the regime they carry the poison of modernism with them, and this modernism comes to be seen as anti-Nazi and so is widely adopted post-war. And this is naturally bad.
He dismisses Ruskin because he disliked the Baroque on the grounds of lack of 'truthfulness'
Curl can draw a little, and likes his symbolism. So the cover of the book is a circular illustration modifying one of Pugin's in 'Contrasts'. Here the 20th/21st centuries, represented by various modernist styles, are literally weighed in the balance against the civic buildings of the 19th century, and found wanting (in Pugin's case it was the 19th century found wanting compared to the religious buildings of the 14th century). But Curl is not terribly keen on Pugin because Pugin preferred Gothic to 'pagan' Classical, and had what for Curl was a suspect ideology in that his honest-construction, truth-to-materials mantra was later justified by the hated modernists and functionalists EVEN THOUGH Pugin's architecture is ABSOLUTELY NOT any kind of modernist precursor, because modernism rejected history, religion, etc. A religious sensibility in architecture is a good thing for Curl, though it's not very clear why. Probably just because it's to do with tradition. He dismisses Ruskin too because he disliked the Baroque on the grounds of lack of 'truthfulness' and so handed ammunition to the modernists who ALSO saw their mission in moral terms. Though not religious terms, which would have been preferable. Still with me? Curl quotes Osbert Lancaster describing Ruskin's writings as 'impenetrably obscure', and reading this, one begins to sympathise.
The closing image of the book is titled 'Knell for a Past, and Vision of a Barbarous Present and Future' (see previous page). Curl depicts himself dead, again modifying a drawing by someone else, in this case Alfred Rethel's 'Death the friend' of 1851. 'The author, exhausted by his efforts to alert humanity against architectural barbarism leading to Dystopia, has expired in his chair, but Death comes as a friend to continue ringing the warning bell: outside, exemplars of the international style, deconstructivism, blobism, brutalism, and ­Corbusier-inspired structures are seen against a sky filled with the flames of widespread destruction.' Neither drawing was made specifically for this book, and it's h ard to know how tongue-in-cheek all this is meant to be.
Generally, Curl elides correlation with causation. The world may be going to hell in a handcart – hard not to agree with that at the moment – but is that, actually, the fault of the architecture that the world has chosen? This is what he seems to be saying.
He quotes approvingly from Sir Reginald Blomfield's 1934 diatribe 'Modernismus' and clearly sees this book as its spiritual successor. Of course he makes no mention of Colin St John Wilson's 1995 'The other tradition of modern architecture'. He cannot: Wilson's achievement was to trace the line of softer, more humane modernism, more in touch with history, as exemplified especially by Scandinavian architects such as Alvar Aalto but also Scharoun, Wright and Rietveld; and harking back to great Victorian masters such as Waterhouse and Butterfield. For Wilson, a clean break with tradition was not necessary in order for this strand of modernism to occur: but Curl will have no truck with that kind of softy talk. Wilson and Aalto get the barest of mentions, presumably because this other kind of modernism does not fit Curl's thesis. So a glaring sin of omission means that the book fails in its purpose, but as an example of very extensive research carefully selected to try to prove an entirely subjective point, it is both a wonder and a proper caution.
---
Making Dystopia: the strange rise and survival of architectural barbarism By James Stevens Curl, Oxford, 592pp, HB, £45