Palladianism isn't just a matter of historical interest, as the exhibition at the RIBA's Architecture Gallery makes clear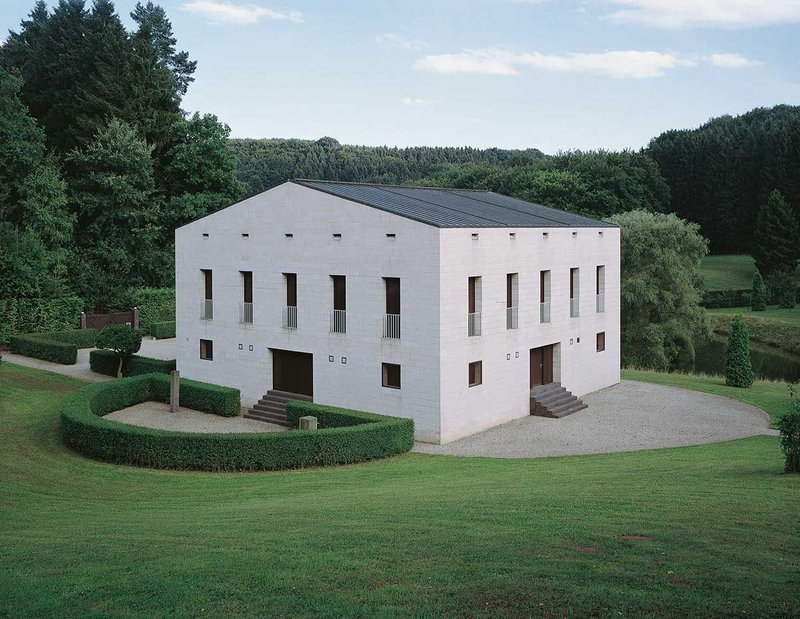 Glashutte, France by Oswald Mathias Ungers, 1985

Credit: Stefan Mueller
Palladianism might be regarded as a progressive sect within the broad church of neoclassicism, distinct from its more orthodox cousin Greek Revival. From its Italian origins it was further refined by its largely British adherents from Inigo Jones to Burlington and Kent, and re-exported: to Russia, to the colonies, above all to the United States where it mutated again. Eventually adopted worldwide, as a style and – one might dare to say – belief system, it has proved exceptionally adaptable.
This one might expect, given that its progenitor, Andrea Palladio, was a highly pragmatic and cost-conscious architect. For him the principles of antiquity that he laid out in his Four Books were perfectly capable of accommodating modern building requirements, whether that meant spacing columns more widely in his rural farmsteads so as to allow wagons in and out, or – most famously at the Venetian churches of Redentore and San Giorgio Maggiore – layering pediments and porticos of differing dimensions so as to provide satisfactory elevations for places of worship of very different proportions to their Greek or Roman antecedents.
This exhibition goes much further than the place where such accounts usually stop, which is the traditionalist country houses of a recognisably Palladian type being built today, that hark back to the 18th century boom and with certain exceptions have shown continuing evolution since Raymond Erith. We get Erith and Terry's 1971 King's Walden Bury house, but then the show bravely sets out to demonstrate more abstract Palladianism, informed more by proportion than decorative detail. This includes even that Swiss architect of exquisite modernist restraint, Peter Markli. In other words, does a building even have to look Palladian to be Palladian? If it's just a matter of classically derived proportioning systems (as used by Le Corbusier and Ernö Goldfinger among many others) does that count? Traditionalists say not.
The fact that this exhibition of 75 objects is designed by Caruso St John – modernists infused with a keen sense of historical continuity – suggests this is no ordinary outing for some of the most valuable items in the RIBA's Drawings Collection. They have designed the show to stand free of the walls of the ground-floor Architecture Gallery, so avoiding the fine-art associations of the vertical wall hang and suggesting that this is a living architecture, even if much of what is shown are not working documents. The gallery becomes a kind of Palladian interior, that's the idea. Perhaps that's a bit precious, we'll see. And you can't accuse Caruso St John of avoiding direct comparisons, because a film in the show directly compares a Palladio building – the foursquare Villa Caldogno – with their own landlocked, largely concealed Brick House of 2005 in London. There's chutzpah.
Post modernism gets a look-in, too. Regarded with suspicion by traditionalists who see it essentially as tarted-up modernism, it has its contribution to make, especially in the United States. Po-mo Palladianism could be seen as something of a satire on one particular aspect of the style in that certain elements (especially the pedimented portico) came to signify power and status and continuity, hence its widespread use on key civic buildings and on those commercial buildings such as banks which wanted to look somehow official and safe. The implied quote-marks of postmodern design, especially when irony overcame joyfulness, subverted all that. But Erik Gunnar Asplund is in the section too – postmodern before modernism, you might say.
Co-curator (with Vicky Wilson) Charles Hind made certain discoveries during his research, as in South Carolina where the main rooms of the Palladian mansions (often with double porticos, part of the American evolution) tend to be set up surprisingly high. A chance remark from a gardener helped explain this: the clouds of nibbling native gnats seldom rise higher than 15ft from the ground. This is gnat-belt architecture.
Hind notes that those channelling Palladio tend to adopt his elevations rather than his plans. Now as in his day, the architecture has to accommodate different uses. But there are exceptions: a set of 1960s modernist bungalows in Suffolk by architect John Penn is designed on strictly Palladian plans, each one a little temple set on a plinth. Meanwhile Belgian practice Office inverted the section of the Villa Rotonda and sank it for an underground house in Mongolia (never built).
In the UK, architect Stephen Taylor is represented for his colonnaded barns in Somerset which are more overt references to the Palladian system than some of the material in the show. The message is clear: 300 years after the English publication of Palladio's Four Books and his disciple Colen Campbell's Vitruvius Britannicus, this is anything but a matter of historical interest only. Palladianism is (very) arguably less a style than an operating system. Even subconsciously, it guides architects today.
Palladian Design: The Good, the Bad and the Unexpected is at The Architecture Gallery, 66 Portland Place, London W1, to 9 January 2016
---