A view of a calm construction site led to a personal installation and this abstracted vignette by Shubha Taparia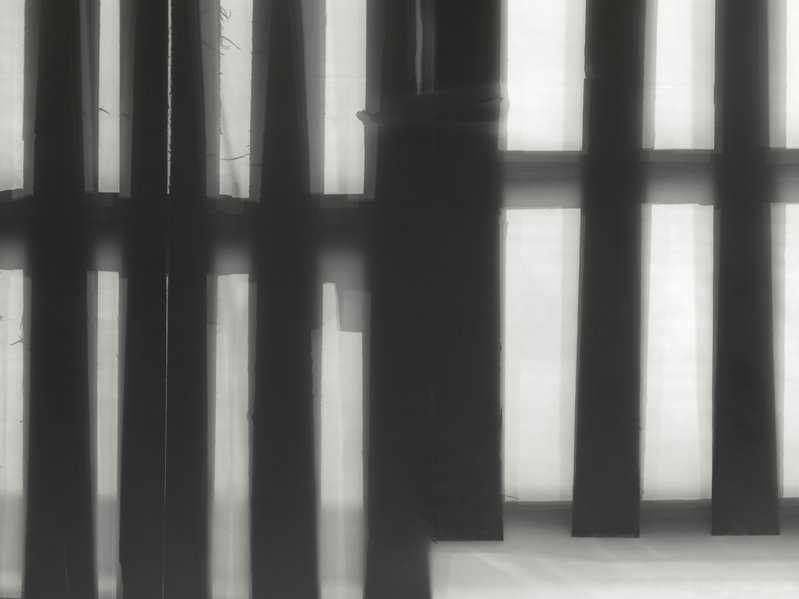 Pallets (From Silhouette of an Unknown Landscape).

Credit: Shubha Taparia
Artist Shubha Taparia's eureka moment came a few years ago when, in central London, she looked at the scaffolding surrounding a construction site, only to see the see the gubbins behind it highlighted in silhouette against its protective geotextile membrane. 'Construction sites aren't usually associated with calm but in the evening sunlight the building site took on a mantle of beauty all its own,' she tells me. It led her to become fascinated with the nature of the city's constantly changing urban landscape, with 'what is discarded and what remains'.
The phenomenon inspired Taparia to construct an installation within her own artist's studio, 28m by 10m in size and hanging 6.5m above the studio floor. Suspending scaffolding poles, ropes, stepladders, netting, pallets and timber boards from the studio's beams, Taparia projected the whole lot onto a massive stretched, geotextile screen below it – her aim being to create a piece with something of the agency of her original experience. Those coming to see the work would have to crick their necks, but the artist wanted that to be a deliberate, conscious act.
'Culturally, looking up has always had contemplative associations,' Taparia points out, rooting her work of prosaic materials by inference in the grand tradition of decorated ceilings and domes. The digital C-type print 'Pallets' is an abstracted vignette from this contemporary ceiling-scape.
Her next piece is inspired by the current state of Nash's Park Crescent in central London, half of which is being converted, under huge wraps of its own, into luxury homes for the super-rich. This will be in elevation, revealing the silhouette of everyday objects behind a giant curve of material – presenting her with another opportunity to diaphanously indulge in the 'suspense of these interim cityscapes'.