Christopher Nicholson's modernist hanger and clubhouse for the London Gliding Club incorporates a 27m long curved window for maximum views from the lounge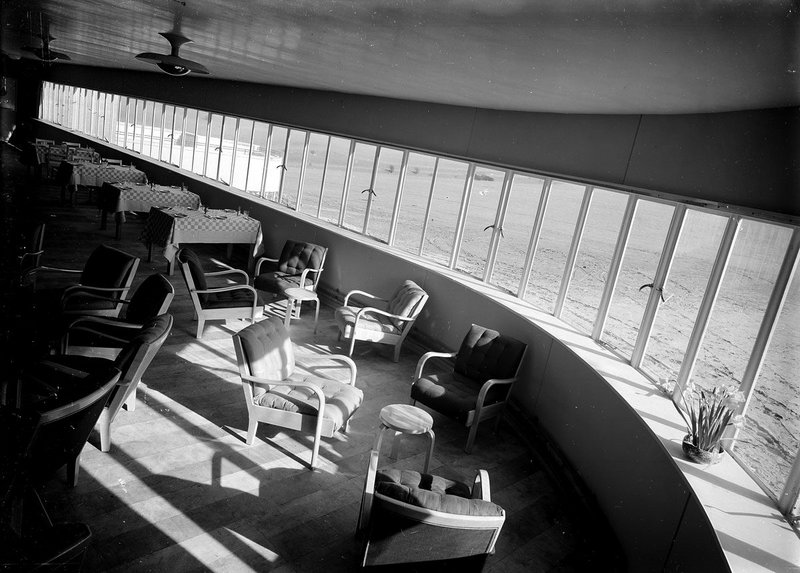 London Gliding Club, Dunstable, 1935.

Credit: Architectural Press Archive / RIBA Collections
The London Gliding Club was established in 1930, operating first from a farm near Guildford and then from Ivinghoe Beacon in Buckinghamshire. The club's activity was so popular that special trains were scheduled from Euston to Tring and a visit from the Prince of Wales caused such chaos on the local roads that the club was evicted for spoiling the public's 'peaceful enjoyment' of the landmark.
It settled permanently near Dunstable in 1932, and in 1935 the architect Christopher Nicholson designed a new building to serve as both hangar and clubhouse. The L-shaped building resembles a one-winged glider with a shelter for 25 gliders below and a lounge above to accommodate the equally important social activities of the club members. Its 27m long curved window allows maximum views of the launching, flying and landing taking place outside. The interior of the lounge was designed by EQ Nicholson, Christopher's wife, who had worked as an assistant to textile designer Marion Dorn before joining Nicholson's practice.
Christopher Nicholson was himself a keen pilot and club member. He died at the age of 44 in a gliding accident in Switzerland in 1948.