Self-help architect who looked at urban development and irregular settlement processes in the developing world anew, reinterpreting the role of the modern architect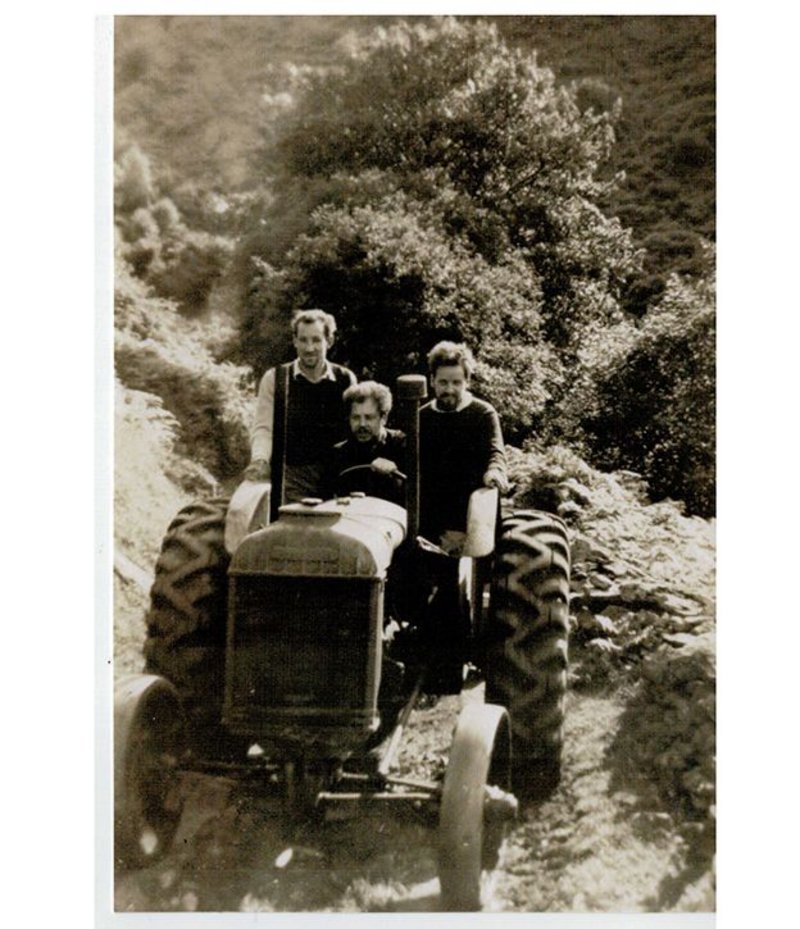 Pat Crooke, left, Andrew Derbyshire, right, and their client the composer Edward Williams in 1952.

Credit: Stephen Macfarlane
Pat Crooke, an important figure in self-help architecture, has died aged 91. He studied at the AA between 1944 and 1952. A visit to Switzerland was seminal. With fellow student (and then life-long friend) John Turner, Crooke met Sigfried Giedion in 1949. Turner recalled how Giedion was a supportive influence on his and Crooke's existing architectural thinking, namely 'on how we ought to be anarchists', and on the same trip they met architect-anarchist Giancarlo de Carlo in Milan. Such anarchism was fitting to the AA in the 1940s with self-help pioneers like Walter Segal and Otto Koenigsberger on the staff.
One anarchistic act was Crooke's decision to produce a joint thesis. With Andrew Derbyshire and John Voelcker, 'Zone' reacted against the planning of the New Towns, frustrated by the hardened bureaucracy and discouragement of creativity. Aiming to improve memorability, 'Zone' was devised as a micro-region divided into legible population groups. It adopted the Modulor to determine proportions of do-it-yourself parts and, in the student magazine PLAN, Crooke illustrated an amusing 'Modulor Monkey'. 'Zone' was shown at the Congrès Internationaux d'Architecture Moderne (CIAM) in Aix-en-Provence in 1953 and Crooke was a valuable contributor to debates about 'habitat' at CIAM meetings.
With Derbyshire, Crooke landed his first job in 1952: a house in Merioneth, Wales, for TV composer Edward Williams. Perhaps fatefully, this came to nothing. Rather, as Crooke told me in 2011: 'A succession of events led me willy-nilly into a particular field that came to occupy me entirely: the informally-explosive growth of towns and cities under staggering rates of rural/urban migration in developing countries.' He promoted community-based housing and local development action, challenging the usual government bias towards design and minimum standards as a solution.
It was during an internship with the Italian practice BBPR that Crooke's career took a decisive turn when he met Herman Samper, dean of architecture at the University of the Andes, Bogotá, Columbia. Samper encouraged him to assist with the university's early development. This included designing the house of the secretary-general in a hamlet near Villavicencio. In vernacular tradition, it comprised four linked pavilions built of hardwood poles from local timber with mud and straw walls and palm-thatched roofs.
From Bogotá, Crooke went to Arequipa, near Lima, Peru, in 1958, offering his assistance to Turner following the devastating earthquake. Crooke and Turner convinced the mayor that some of the money allocated to re-housing victims should be allocated to self-build schemes and they established a new pueblo joven (Peruvian 'young town' or shanty town). Crooke also worked briefly at the Ministry of Public Education in Lima helping rural dwellers build their own schools.
For several years in the 1960s, he taught at the Department of Architecture, University of Khartoum, Sudan, and in the mid-1960s began working as a consultant for the International Labour Organisation. Living in Ibadan, Nigeria by 1967, he produced a study of markets in small countryside villages that sought to improve communications and boost markets and trading. He soon after led a research mission for the UN, updating information on squatter settlements across 16 countries. Crooke later taught at the Development Planning Unit, London and at the Institute for Housing Studies, Rotterdam.
In the 2005 book Rethinking Development in Latin America, critic and self-help prophet Peter Ward observed that: 'Probably no one did more at the time to reorient our way of looking at urban development and irregular settlement processes than John Turner, Pat Crooke and other "barefoot" architects.' Faced with conditions in the developing world, Crooke reinterpreted the role of modern architect, less as a designer than an enabler, safeguarding people's freedoms to budget their own resources and shape their own environments.
This barefoot architect is survived by four nephews: Roland, Oliver, Patrick and Matthew Crooke, and one niece, Celia Clarke.