ABK joint founder whose early success with Trinity College's Berkeley Library was later blighted by the 'monstrous carbuncle' derision of the firm's National Gallery extension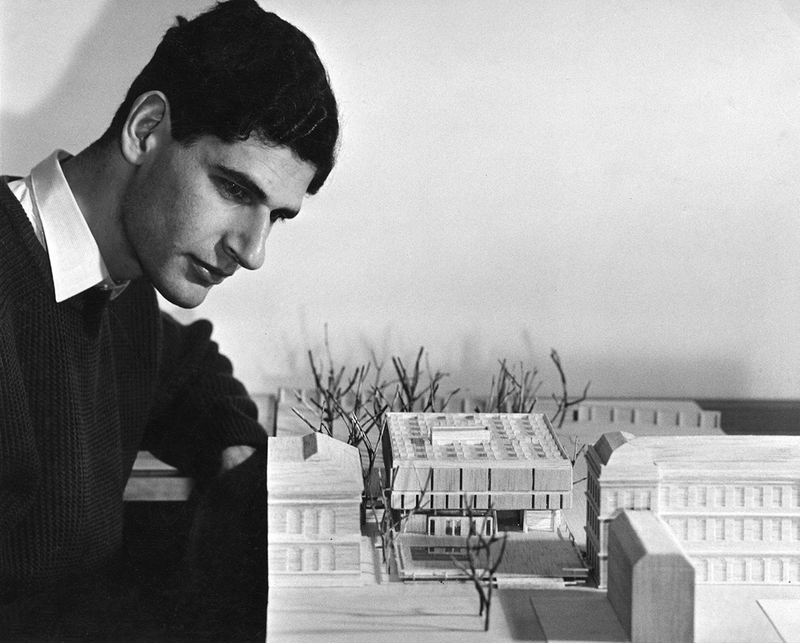 The 28 year old Paul Koralek with an early model of his 1961 competition winning Berkeley Library for Trinity College Dublin. Soon he was to radically change the design.

Credit: Architectural Press Archive / RIBA Collections
'It's a great privilege as an architect to be allowed to put a building on this planet of ours, to occupy a certain amount of space on it. One is setting the stage for what people want to do, need to do, CAN do. So there's a dialogue there: about how subtly the stage is set up to allow people to be what they are.'
Paul Koralek said this in October 2017 at the 50th anniversary of the opening of the building that had made his reputation as a young architect: the Berkeley Library at Trinity College Dublin. Aged 28, Koralek had won the 1960-1 international competition, one of 350 entrants. Previous competition entries had dissatisfied him and remained unsent but this, he decided, he would send in whatever he thought of it.
Having to his astonishment won, he travelled to Dublin and properly took in the site and the surrounding historic buildings. This immediately changed his thinking: his winning design – set back behind a podium plaza beneath which were the library stacks – had been visually a more lightweight composition of concrete columns and beams. He changed it externally into a much more massive, granite-clad affair and the building became a carved object, even its curved-glass windows (as John Tuomey pointed out at the event), give the impression of being sculpted.
By this time Koralek had joined in practice AA friends Peter Ahrends and Richard Burton, the A and the B of what became ABK. Together they interrogated and refined the design, which then turned out to be well over budget. Salvation came from the client, who suggested that rather than reducing the ambition and fine materials of the proposed building, the college should find more money, which it did. At an eventual construction cost of some £600,000, the investment paid off handsomely in the form of a durable and adaptable building that many acclaimed later architects – Tuomey and Niall McLaughlin among them – credit with inspiring them to enter the profession.
Koralek was quietly effective, and with ABK developed one of the most distinctive and original practices of its day – always at a fruitful tangent to mainstream modernism. 'It was an intense and lifelong collaboration that was first and foremost a friendship,' he said. And he could command: one of his first acts when the Berkeley library started on site was to condemn the first concrete work and have it demolished. After that, the work was exemplary. As his daughter Katy Ricks, puts it: 'A man of few words, he was patient and stubborn in equal measure.'
Ahrends and Koralek had both been child emigres with their families from the Nazi regime. In the post-war years much in architecture was being reconsidered from first principles, including the tenets of modernism. Having worked at first for the still-young Powell and Moya on nurses' housing in Swindon, he went on to a stint with Marcel Breuer in New York. From here he entered the Berkeley Library competition, and Breuer's influence is clear.
Many other buildings in Ireland followed, at Trinity and elsewhere – and the ABK name continues in a Dublin-based practice. But from London it designed buildings ranging from factories to libraries, a series of stations and bridges on London's Docklands Light Railway, and – a Koralek exercise in dealing with urban complexity – a top-lit John Lewis store in Kingston that straddles a ring road. ABK also designed the British Embassy in Moscow.
It is of course known for another celebrated competition-winning design, for the National Gallery extension in London – derided by Prince Charles in 1984 as 'a monstrous carbuncle'. Six months earlier Koralek had been made a CBE. He recalled that they had tried pointing out that a carbuncle was also a rare jewel, but ABK lost the job and the adverse publicity halted new commissions for a long time. Existing clients stayed loyal and jobs slowly returned: but one will forever wonder what the firm could have achieved without that huge, unexpected setback.
Paul Koralek is survived by his daughters Katy Ricks and Lucy Linderoth and three grandchildren. The surviving member of the original ABK trio is Peter Ahrends.