The Design Museum's inquiry into what design can do to tackle our waste crisis engages with inventive ideas and solutions as well as an array of shocking statistics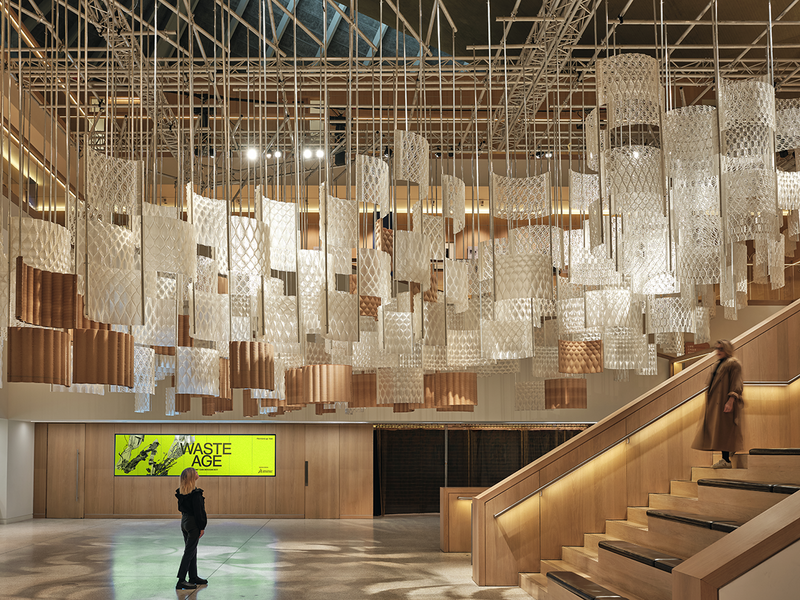 Aurora, an installation showcasing the use of bioplastic Polylactic Acid, created by Arthur Mamou-Mani and the Dassault Systèmes Design Studio. The installation is part of the exhibition Waste Age: What can design do? at the Design Museum.

Credit: Photo: Felix Speller
We have reached 'peak waste', as vividly conveyed at the Design Museum's new exhibition Waste Age: What can design do?
Even before we've got through the doors of the show, we are left in no doubt of the enormity of the problem posed by waste thanks to the bald, shocking stats at the entrance: one third to one half of all food produced for human consumption is wasted each year while our oceans are littered with 51 trillion micro-plastics and 25 trillion macro-plastics. Construction's role is significant, generating 1.3 million tonnes of plastic waste and making up 36.4% of waste in the EU through demolition and new build. In the UK, it makes up 6.7% of the carbon footprint.
This exhibition seeks both to show how such disastrous wastefulness has happened, and to 'explore what design can do to rethink the way we produce and consume'. Fortunately, for a subject of such huge scope, it is handled engagingly and is never dull. Design is by Material Cultures, which has – appropriately – re-used elements from previous shows along with low-impact structures and materials. Relentless statistics and in-depth presentation of a difficult subject are balanced with an extensive array of designers' responses to the problem, and artworks such as Edward Burtynsky's photos of waste landscapes as well as Ibrahim Mahama's installation inspired by dumps of European electronic waste in Africa.
We get a clear run-down of the different ways of dealing with waste over time, from chucking slops out the window to the first instances of factory waste in the environment in the 1800s, the first organised rubbish collections in Europe in 1875, and the emergence of a throwaway culture both on earth and beyond - space junk began in 1957 with the Sputnik. I like the way the scene is set with an acknowledgement of the appeal of plastics, including its golden period of innovation in the 1930s to 50s, which led to the creation of Nylon, Formica, Lycra, Polystyrene and polyethylene.
Changing attitudes to the 'take, make, use and waste' model are detailed, against the backdrop of growing environmental and climate change crisis and attempts by governments to respond.
The second half of Waste Age showcases the 'visionary' designers who are tackling waste reduction and material innovation in their practice. While not exactly designers to the rescue, this is far more upbeat on the potential for 'thoughtful' design to add value to and demand for recycled materials, whether old fridges, ocean plastics or textile off-cuts, particularly on the perception of how recycled materials look and can be used. While some have an appearance that celebrates their recycled nature, many do not make this the over-riding aesthetic, including Jasper Morrison's 1 Inch stacking chair made from 90% industrial waste and Snohetta's S-1500 made from discarded fishing nets, neither of which obviously originate from recycled materials. There are plenty of examples from the fashion world include Stella McCartney's use of NuCycl, an engineered fibre created from discarded clothing, and Econyl, a yarn made from ocean and factory waste. Renewcell's Circulose, made from cellulose from worn-out clothes, also seeks to produce a circular production loop for textiles.
When it comes to architecture and construction, Lacaton + Vassal's exemplary renovation of the Cité du Grand Parc housing in Bordeaux takes centre stage, along with the architects' views of demolition being a waste of energy, material and history: 'It has a very negative social impact. For us, it is an act of violence.'
Craft Lodge Studio's extraordinary studio and guest accommodation built around a ruin is included along with some films from Architectural Association students on building material re-use, but I was a little disappointed not to see more built examples on retrofit and re-purposing, which seem under-represented.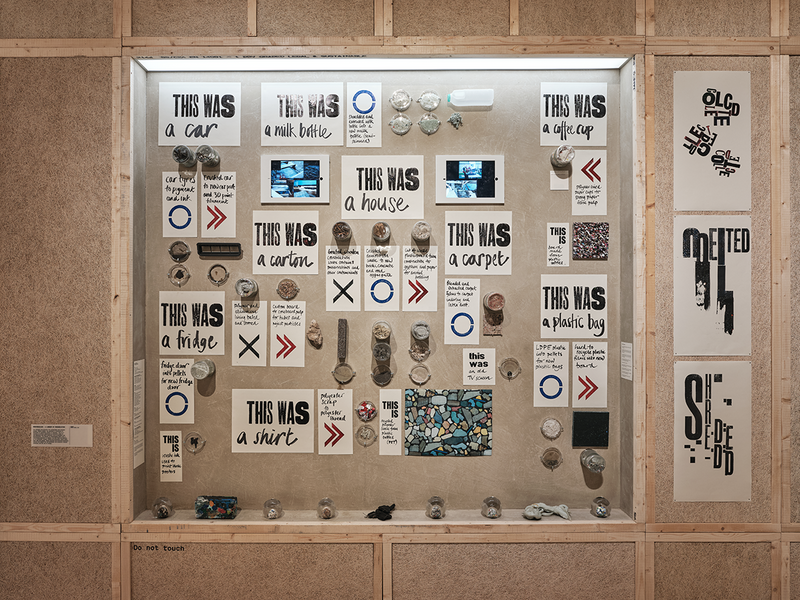 Rematerialize – A Library of Possibilities by Sophie Thomas, 2021, at Waste Age: What can design do? at the Design Museum.

Credit: Photo: Felix Speller
The exhibition does however include a number of innovative building products and materials such as Kenoteq's K-Briq, a closed loop brick which is 90% recycled, and Mario Cucinella Architects' Tecla dwelling, 3D printed from locally sourced clay. Plant-based materials featured include mycelium and cork, as showcased in the Cork House, designed by Matthew Barnett Howland with Dido Milne and Oliver Wilton. The bioplastic Polylactic Acid (PLA), which is derived from plants, is showcased in Aurora, a striking installation hanging outside the exhibition in the museum atrium. It is created by architect Arthur Mamou-Mani in partnership with Dassault Systèmes as part of a research project into the material and its potential as a substitute for oil-based plastic that can be 3D-printed, recycled and printed again in a closed loop.
If there is a conclusion as to the best way forward, it's that there is no single answer. Instead, we hear how diverse, simultaneous solutions are needed at global, national and local levels to tackle waste throughout the whole product lifecycle, whether through new materials to replace oil-based ones, longer life, repairability, disassembly or ease of recycling. With 40% of plastic currently used only once, endeavours such as the Ellen MacArthur Foundation's New Plastics Economy initiative to create a circular economy for plastics are needed more than ever.
And while the emphasis of this exhibition was on the designers' response, manufacturers and consumers have an equally important role to challenge entrenched systems and drive demand for new processes. Waste Age shows that we are all part of the problem – and the solution.
---
Waste Age: What can design do? until 20 February 2022 & Aurora until 14 November 2021, Design Museum, 224-238 Kensington High St, Kensington, London W8 6AG