Teenagers in east London not only designed the pavilion for Envision East in a competition for 14-19 year olds, youngsters are curating it too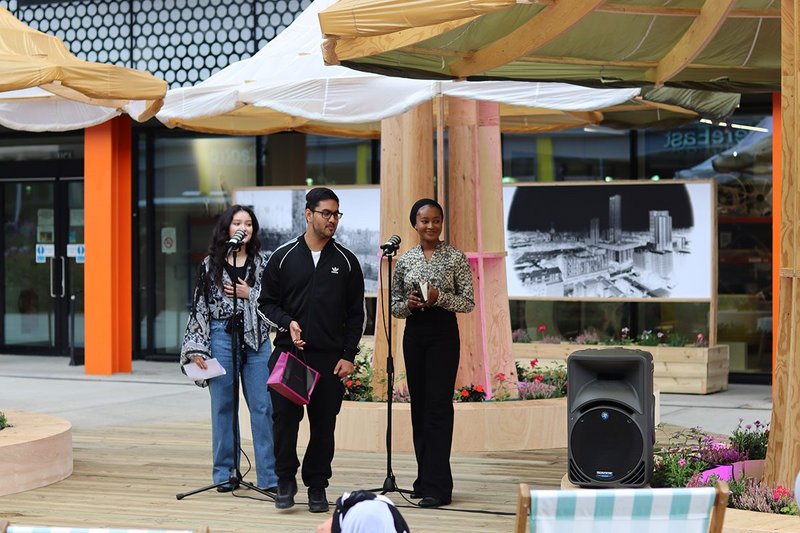 The People's Pavilion at Here East on Queen Elizabeth Olympic Park, London. Created to host the Envision East festival, the pavilion was designed by local young people Shahriyar Ahmed (18), Samira Elbahja (17) and Dellilah Jamal (17).

Credit: Luke O'Donovan
Young architects often get their first opportunities to build courtesy of competitions for temporary summer pavilions. The People's Pavilion, which this week hosts the 10-day Envision East festival at Here East on London's Queen Elizabeth Olympic Park, emphatically trumps this by being designed and curated by local youngsters aged just 14 to 19 from Tower Hamlets.
Entitled The Reverie, the competition-winning design is a cluster of tree-like structures and is the creation of Shahriyar Ahmed (18), Samira Elbahja (17) and Dellilah Jamal (17). Other entries included Watermelon Crush, inspired by a Harry Styles song title, which featured coloured panels spelling Stratford in Morse code, and Cat-Walk Colosseum, inspired by life in East London.
The initiative, billed as the first space fully designed and curated by young people, is led by social enterprise Beyond The Box Consultants in an effort to challenge the norms of who gets to design public space.
RIBA Journal Rising Star Shawn Adams of POoR Collective is one of the many collaborators on this impressive project.
'It's giving young people agency,' he says, adding that is a rare and empowering opportunity to build at such a young age.
He describes how teams of young people worked with architectural firms – Make, Hawkins\Brown, AHMM, PDP London, Morris + Company, Stephen Taylor Architects and TateHindle – on the design of the pavilion and with cultural organisations on the curation of the festival. In doing so, participants learnt valuable skills and insights into both worlds – in total more than 150 young people took part.
After a design development week with Urban Symbiotics, the design teams produced a design and model which were displayed in an exhibition curated by POoR Collective both outside Here East and online on the website. The winner was chosen by more than 1300 public votes, and construction costs raised by crowdfunding from more than 60 supporters.
'This project has truly lived out its goal of being a collaborative enterprise – it is a people's Pavilion,' said Beyond the Box founder and CEO Neil Onions.
While the pavilion may be ephemeral, the experience of the project will hopefully have lasting benefits for participants. It was always about the process rather than just the winning design – indeed members of other teams were invited to participate in the construction of Reverie in collaboration with engineers from Scale Rule.
'It's giving young people their first big opportunity in construction and design,' says Adams, who hopes the valuable experience of working on the pavilion and presenting their work may also give them the confidence and skills to get involved in their own local environment.
POoR Collective will be putting together a publication on the People's Pavilion project and will be evaluating in particular the process of meaningful co-design, something that Adams feels is not always clearly defined. The RIBA publication will offer best practice for collaborating with young people.