The Archigram co-founder hopes this retrospective of his drawings at Denmark's Louisiana Museum of Modern Art will present his work to a new audience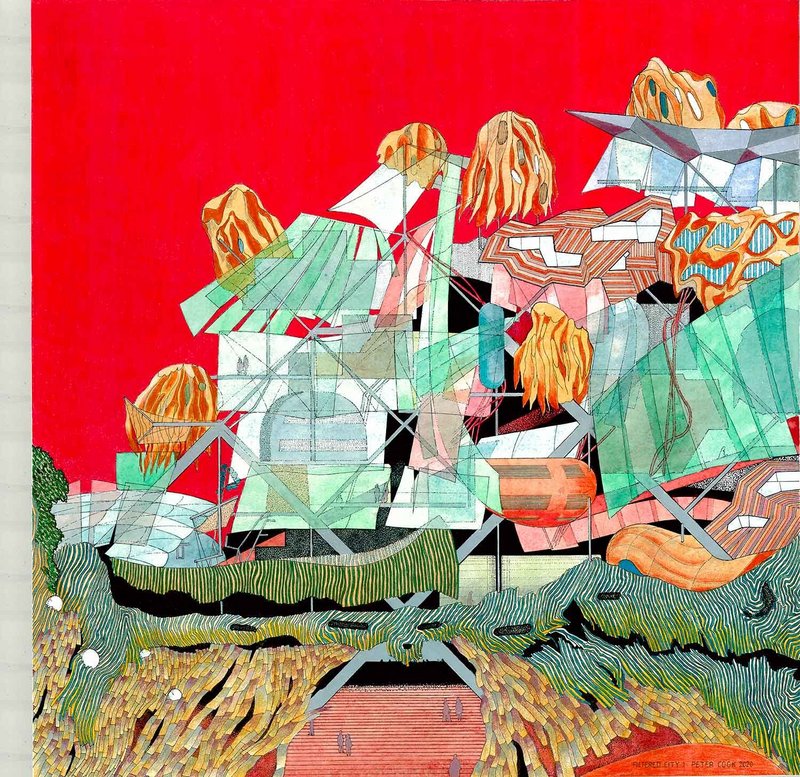 Peter Cook, Filter City, 2020. From Peter Cook – City Landscapes at the Louisiana Museum of Modern Art, 21 January 2022-8 May 2022
'I want them to enjoy it and come out with a smile on their face,' says Peter Cook of visitors to his new exhibition of drawings at Denmark's Louisiana Museum of Modern Art.
Observing that 'so much architecture is so pious', the veteran architect and teacher hopes that his engaging work will instead present a less 'stuffy' impression to those outside the profession. Certainly there's nothing pious about the exuberant drawings on show in Peter Cook: City Landscapes, which span Cook's long and highly influential career as a radical visionary.
Cook sold a large number of prints at last year's Royal Academy Summer Show and muses whether this has something to do with the pandemic, with buyers being attracted to his drawings because 'they're jolly and people want to be cheered up'.
Certainly his work has always been vivid, colourful, intriguing and a great deal more besides. This show, which features over 100 drawings, is he thinks the most extensive of his work to date, taking in some of the famous speculations of his Archigram days right through to very recently completed drawings, along with many more of his avant-garde projects along the way from his still-ongoing oeuvre – at 85, he remains busy with competitions and other work.
The exhibition is the first in the Louisiana's On Paper series to feature the drawings of an architect. With Cook's work primarily expressed on the freedom of paper rather than in built form (with notable exceptions such as Kunsthaus Graz in Austria), he is a particularly good choice.
Always, the drawing technique is merely the 'handmaiden' to the idea, with each drawing an attempt to work out an architectural idea in relation to a particular programme he has in mind. And what ideas they are, exploring many decades of imaginative propositions around the city and urban design. There are the fantastic, well-known provocations from his formative time with Archigram in the 1960s and early 70s, such as Plug-In City and Instant City, as well as several drawings from his Arcadia project (1976-8), which explored urban settings for a variety of contrasting lifestyles, and a number of projects for Berlin including Way Out West (1988). More recent drawings include Tuscan Hilltop Town (2019-20), a subject he admits to approaching initially from a 'cynical' perspective. The results suggest he clearly warmed to the theme.
The exhibition conveys his shift over the decades from what he describes as 'mechanical' then 'lyrically mechanical' through to 'combinatory' architecture. Here he explores the relationship between hard surface architecture and vegetation, as seen recently in Student Centre (2020) with its 'vegetated and transformable skins' and Filter City (2020 & 21). Tough Landscape – Friendly Forest (2021) incorporates architectural interventions in a jagged rocky landscape and is part of an ongoing project. As he has realised built projects – including Kunsthaus Graz and, with CRAB Studio, a Drawing Studio for Arts University Bournemouth – this built experience has fed into his drawing work. This symbiosis was nicely illustrated in lockdown when he spent a long time building an aluminium gazebo and realised that it was 'a quotation' of one of his new ideas for vegetated neo-geodesic architecture.
The exhibition also includes a section on towers – an ongoing interest of Cook's even though he 'is rather afraid of heights' and has never built anything over nine storeys. He likes to attempt a tower project wherever he's stayed in a place for a long time, and the results are typically distinctive. They include the Frankfurt Studio Tower (1984) conceived as a marker for the artists in the city, and São Paulo Tower (2003), in which Cook attempted to capture the exotica of Brazil. He's currently interested in the idea of a high rise positioned at the end of a village as an antidote to sprawl.
A detailed timeline spanning his many decades in architecture helps visitors navigate the work on show.
The Louisiana exhibition is likely to introduce Cook's work to a modern art clientele who may know nothing of his illustrious pedigree as an architectural visionary. Talking to him on the day of the opening, it's clear he relishes this opportunity to present his approach to architecture to a fresh audience. Who knows, he says, maybe visitors will be inspired by what they see to make some improvements to their house or even commission a building themselves one day.
Peter Cook: City Landscapes, until 8 May, 2022, Louisiana Museum of Modern Art, Gl. Strandvej 13, 3050 Humlebæk, Denmark
The catalogue Peter Cook: On Paper, edited by Kristoffer Weiss in collaboration with Louisiana, is published by Arkitektens Forlag.
You can read more about Peter Cook in Lives in Architecture: Peter Cook from RIBA Books and as an audio book Lives in Architecture: Peter Cook Audiobook | Peter Cook | Audible.co.uk