Will Covid-19 see Network Rail hit the buffers? Knowing how the railways have adapted to change since the 19th century, chair Peter Hendy says the business is well placed to evolve again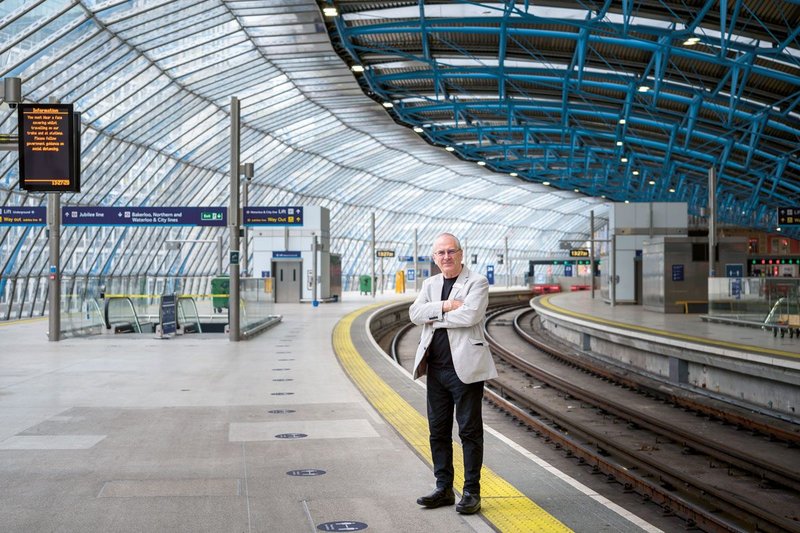 Hendy at the office – Grimshaw's former Waterloo International Terminal. He is overseeing a design renaissance on Network Rail.

Credit: Gareth Gardner
Sir Peter Hendy, former London bus driver and conductor risen to boss of Transport for London and since July 2015 chair of Network Rail, had only just arrived back in his office at London's Waterloo Station. For months he'd worked from home in the pandemic like most of the rest of us. Although he's not convinced by the experience. 'I've not been working from home – I've been living at work,' he says. 'You're on call from when you get up to when you go to bed.' In normal times Waterloo is the busiest station in the UK so from his eyrie there he can keep a daily eye on how the commuter return to work is going. When we video-spoke at the end of August, weekday traffic on the rails was light, very light even for that time of year. In fact, there'd been a reversal of the usual pattern nationwide, he ­reported: 'Our networks are most under pressure at weekends – we've had crush-loading conditions on trains to the seaside.'
That, though, was bound to change and not just because of reimposed social distancing and the end of the holiday season. In contrast to rail, road traffic (people in cars rather than buses) was already back to 90% capacity by the end of August, Hendy said. That's evidence of people trying to avoid being physically close to other people, breathing their air. But cars and roads can only absorb so much of the demand for transport, assuming it returns in anything like its previous form. It is just not possible for a large chunk of Waterloo's usual 95 million passenger movements a year to transfer to cars, say. So what happens? Hendy, always straightforward, doesn't pretend to know the future. 'It's hard to say what things might look like in five years' time. But historically the railway has always adapted to massively changing conditions in economic and social life, and it'll have to do it again.'
He expands on this – a 'fantastically durable' railway system largely built between 1825 and 1880 has been able to cope with two world wars in the 20th century, financial crashes, technological change, the explosion of car ownership from the late 1950s which contributed to a huge decline in passenger numbers and the radical 1960s pruning of the network instigated by Beeching. And then of course came the great revival in passenger numbers (doubling between 1997 and 2014) to the point that new stations are now being opened. Lines are being improved and (with large expensive hiccups and government vacillation) electrified. There is a huge investment in new rolling stock while previously closed sections of line – such as the Oxford-Cambridge link – are gradually being reopened.
There are new lines too, such as HS1 to the Channel Tunnel, the perennially-not-quite-finished trans-London express route Crossrail, and HS2, now being built to Birmingham – though its continuation northwards from there is less certain these days. Oh, and then there was privatisation and Railtrack with all its accidents and controversies but its successor Network Rail is a public body – no shareholders – while, he says, the train operating companies who run on its tracks and were bailed out by the government during the pandemic are now essentially contractors. However the public/private case develops – he predicts much closer integration though the 'nationalisation' word does not pass his lips – he's confident that his railway will weather this storm. 'Infrastructure investment is very long term. Look at Waterloo here, originally built for the demands of the Edwardian railway.' It's ­certainly been ­adaptable, and absorbed Grimshaw's International Terminal which itself has now adjusted to conventional railway use.
'The most interesting short-term questions are: what will cities look like if road capacity is already back to 90% and many people will only be attending work once or twice a week? It's already apparent that people are determined to have their leisure. Suppose it's the case that the rolling stock of the railway of the future is determined by peak Saturdays? Well, we've done that before.'
He's referring to the pre-Beeching era when railway companies and then BR held large amounts of rolling stock mainly for summer excursions – factory Wakes Weeks outings to Blackpool, cup finals, that kind of thing. That was one way the railway responded to demand back then. Today a large proportion of the rolling stock exists to serve morning and evening commuter peaks into cities around the country, but if there's a significant change in working patterns it can obviously be re-assigned.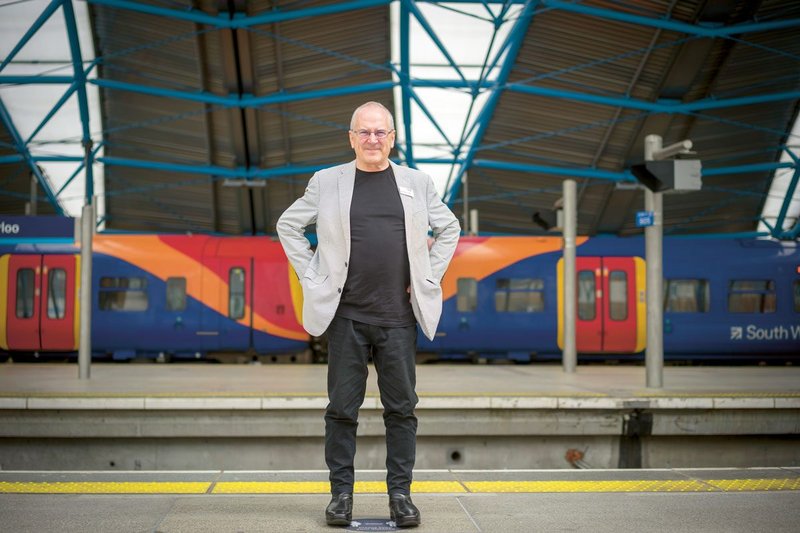 Hendy with the commuter trains at the normally-heaving Waterloo Station, London.

Credit: Gareth Gardner
As for leisure, there's already a move to encourage 'active travel' – lots more bikes are being carried on trains, and Hendy mentions the ScotRail initiative where carriages on the West Highland Line have been converted to securely transport far more of them. One can imagine more of that happening on commuter lines if the demand continues to build. And he's about to visit the branch line to St Ives in Cornwall, once threatened with closure by Beeching, now very popular. You can't park a car in heaving St Ives, he points out, but the railway can help: a big new park-and-ride development back down the line at the mainline junction station of St Erth, done with Cornwall County Council, has recently opened.
One of the reasons we're talking is that – arguably for the first time since Jane Priestman was design director in the closing years of British Rail and delivered Grimshaw's Waterloo International – there's a significant move going on to improve not just the trains, but also the railway environment for passengers and the general public. Outside the big terminals and interchanges (Hendy mentions Grimshaw's Stirling Prize-shortlisted London Bridge and FOA's Birmingham New Street as key recent transformations) the smaller stations have received scant attention in recent years. They were, Hendy reminds me, 'reduced to the absolute minimum' between 1960 and 2000, seen as being cost burdens rather than community assets.
He and his CEO Andrew Haines, who arrived from CAA two years ago, are, along with their engineering-trained head of buildings and architecture Anthony Dewar, 'passionate about architecture and design', he says – something that Hendy partially ascribes to the very strong design heritage of TfL.
They started with a 2018 international RIBA architectural competition for new footbridge designs: some of the existing designs, especially those incorporating lifts, were 'bloody hideous', he says. They are developing two of the winners. As for the neglected smaller stations – typically with not much more than the equivalent of a bus shelter on the platforms – the current RIBA competition aims to develop flexible, repeatable designs for new station buildings 'which we can be confident in and which communities can be proud of'. These days it may be all about prefabrication but a house style for station buildings was always part of the identities of the original railway companies. And he has just launched a new version of the famous BR 'Rail Alphabet' font, redesigned by Margaret Calvert and Henrick Kubel.
Hendy's personal history stays with him: he owns two Routemaster London buses which he drives for charity events, both around London and on his annual 'Imberbus' event to Imber, the abandoned village on Salisbury Plain that is under the control of the Army. It didn't happen this year for obvious reasons but last year 28 double-deckers plied the 23A route from Warminster Station, which he equipped with what is the westernmost London bus-stop sign. Naturally, he charters a special train from London to complete the experience.
That kind of thing is why people trust Hendy with what he always calls simply 'The Railway'. He's no apparatchik, he's the real thing. An enthusiast for public transport, he understands the history, wants it to be better, and makes good things happen. Let's hope he and his team stay long enough to get more of them done.