Peter Randall-Page complements Anning Bell's friezes on Birmingham's Bramall Music Building with a different, musical, approach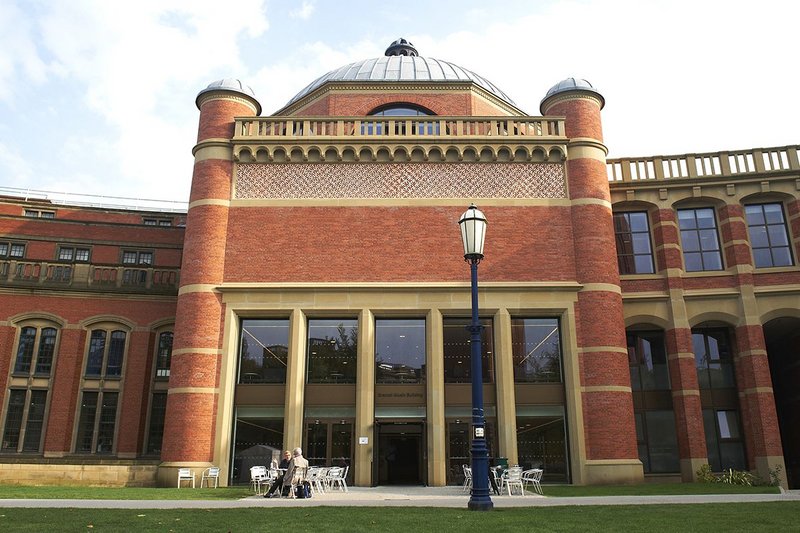 The finished frieze Theme and Variation on the Bramall building.

Credit: Jenny Lance
'It's quite a quiet thing, but hopefully not a one-liner,' says sculptor Peter Randall-Page of his 13.5m wide frieze Theme and Variation.
Situated high up on the Bramall Music Building at the University of Birmingham, the artwork of 900-plus tiles was conceived to complement friezes by Robert Anning Bell on the flanking buildings of Chancellor's Court. Designed by Aston Webb in 1905-9, these form a semi-circle that was finally completed with the Bramall building in 2009, designed by Glenn Howells.
With such august surroundings, the commission was a sensitive one that took several years of planning and execution, a process documented in a new exhibition in the Bramall.
After initial discussion over whether the new frieze should be figurative like those of Anning Bell, Randall-Page took a different tack altogether. Appropriately for the building, this was inspired by music, specifically the improvisation of jazz.
'My approach was to go completely with the spirit of the Anning Bell friezes but to do something very different. I'm interested in themes and variation and I took the grid of the tile as a structure and invented a set of rules I could improvise with.'
His system was for the line of the pattern to enter and exit at the middle of the sides of the tile, but to improvise wherever he liked in between – to create an abstract, frond-like pattern. Depending on how you look at it, the pattern resembles terracotta islands in a cream sea or vice versa. The effect resonates with the positive and negative pattern-play often employed by M C Escher. Seen from afar on the ground, the seemingly random individual patterns form a larger pattern over the whole frieze.
Randall-Page made each of the tiles by hand using the sgraffito technique that was also used on the neighbouring friezes. In this method, the pattern is created by dipping the tiles in a slip and then scraping it away to reveal the terracotta. The tiles were then assembled 10 rows high across the top of the facade.
'I liked the idea of doing something very handmade on an architectural scale,' says Randall-Page.
Although the frieze was meticulously researched and planned, it was only once it was installed that the sculptor knew for sure that it struck just the right chord within its august setting.
'I wanted it to blend in with everything quite discreetly. But if you get interested in it, it rewards more pondering.'
The making of Theme and Variation by Peter Randall-Page, until 27 Jan 2016, Bramall Music Building & Aston Webb Rotunda, University of Birmingham
---