Danish photographer Hjortshøj continues his exploration of the co-dependencies of natural and urban landscapes in his 2018 photograph of Fondazione Prada in Milan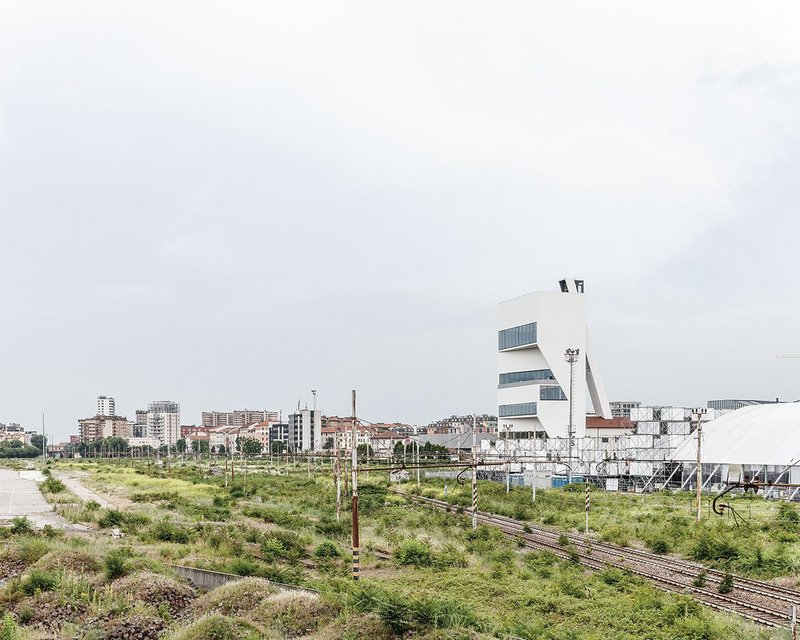 With a firm called COAST, photographer architect Rasmus Hjortshøj eschews more specific architectural fascinations. The subject of his PhD study is the coastal landscape of his native Denmark – notably Jutland, where North Sea winds add gnawing inhospitability to its cold, jagged rawness. While Danes might see it as one of the country's last 'natural' landscapes, Hjortshøj asserts that it too is a form of artifice – and, with its coastal structures and 'fake' sand dunes to hold back the sea, no less man-made. But far from despairing, he argues that it is a way of revealing the latent, crucial, co-dependencies of the natural and urban landscapes.
Perhaps there's a sense of that – and an edge – here too in his view of the Fondazione Prada seen from the post-industrial hinterlands of Milan's Porta Romana station. Here, OMA's Torre seems to puncture Hjortshøj's anaemic sky and funnel it down to bleach out the city. Only the vivid green of the goods yard, becoming a simulacrum of nature, stands out from it and the sky's horizon of concrete.
This site of rewilding, adds Hjortshøj, is itself on the verge of disappearance – the subject of a competition won last month by Outcomist, a team led by Diller, Scofidio + Renfro, to bring its 20ha back to good use. But what kind of park? And what may be lost in the process? There's an Anthropocene rub to philosopher Bruno Latour's hope in his essay 'Love your Monsters', where he argues for concepts of nature and humanity to no longer be seen as oppositional. 'He reminds us about Dr Frankenstein's creation,' Hjortshøj tells me, 'and how it wasn't a monster until he abandoned it.'