Imagination soars for Martine Hamilton Knight with her photograph of a winged Wyoming caravan against a clear blue sky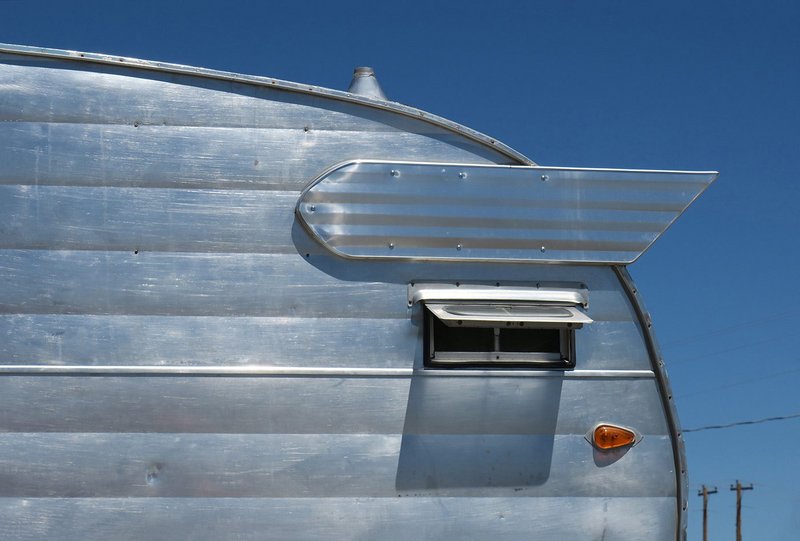 Caravan, Rawlins, Wyoming, 2015 Martine Hamilton Knight Canon G3X
Set in the foothills southeast of the Rocky Mountains, probably the only reason for anyone to go out of their way to visit the town of Rawlins would be to see its historic Wyoming State Penitentiary, by Salt Lake City architect Walter E Ware and completed in 1901. Now a museum, with his rash of vermiculation and heavy entrance arches set on short capitals, neo-Romanesque leanings crash with Scottish Baronial where circular turrets attempt a breakout at the top.
While photographer Martine Hamilton Knight, on a family road trip to the US, had chosen to visit the monument en route to the mountains, the real photographic destination proved to be 20 miles outside Rawlins. Off the interstate highways, traces of abandoned settlement abound; 'things get fascinating,' she tells me. 'The landscape feels familiar but entropic.'
Cruising along the road in the sunshine, her attention was lassoed by a dazzling glint emanating from a dusty side lot near an old garage, drawing her back until she pulled over. With its curious finials, it might not have been an Airstream caravan that had caught her eye, but in the day's clear azure, it seemed a worthy pretender to its Dymaxion legacy. Like Ware's turrets – quirks feathering the cap of the uncanny landscape.
Martine Hamilton Knight's show 'Pevsner on Camera' runs until 19 June and then 2 July-28 August at Lakeside Arts, Nottingham. Her forthcoming book 'Photography for Architects' by Routledge publishes in 2023.