Joel Rodriguez Davila explains his RIBA award-winning drone photograph of a slender bridge crossing the shallow reedy lakes of Cotopaxi National Park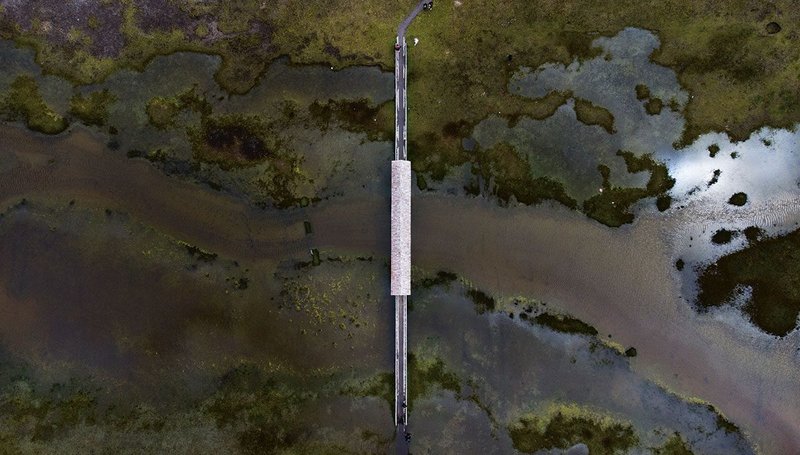 Enlace Sensorial Joel Alonso Rodriguez Davila, Cotopaxi National Park, Ecuador
Winner of the Americas region category in the RIBA's 2021 Global Architecture Photography competition, architect Joel Rodriguez's drone shot adds a sense of distance to an image already displaying the veneer of abstraction. His subject is a narrow bridge in Ecuador's Cotopaxi National Park around 50km south of the capital Quito. Renowned for its eponymous active volcano, sitting almost 6000m high above sea level, Rodriguez looked to the plains and not the peaks; the shallow, reedy lakes at the base of the sibling Rumiñahui at the Laguna de Limpiopungo.
A frequent visitor to 'volcanoes avenue,' Rodriguez has become well acquainted with the landscape and on one of his treks came upon this bridge of Eucalyptus wood, delicately spanning the shallow lakeside marshes where exotic llamas and alpacas might lazily graze. As someone fascinated by the works of Peter Zumthor, it was this anonymous bridge's simplicity that first caught his attention – but then the use of material that, he says, reminded him of the idiosyncratic and crafted constructional techniques of Chilean architect Alberto Mozó.
Rodriguez's interest in architecture as a tool to address social welfare and equitable distribution of wealth, extends here to rational use of resources and the bridge's perceived desire to touch the ground lightly. 'My composition attempts to transmit to the public the delicate intervention on the site, which beyond solving the problem of connection between both banks, allows a more intimate relationship with the context,' he wrote in his competition submission.
Head of the competition jury Iwan Baan agreed: 'This image shows for me the fragility of that landscape and how a lightweight architectural structure can connect the place – and the minimal impact it tries to have on that landscape.'
---
See winners of the RIBA's 2021 Global Architecture Photography competition here