Chilean photographer Francisco Ibáñez is fascinated by the strange scenarios created by British planning guidance, as his 'Unsustainable' Mayfair facade image shows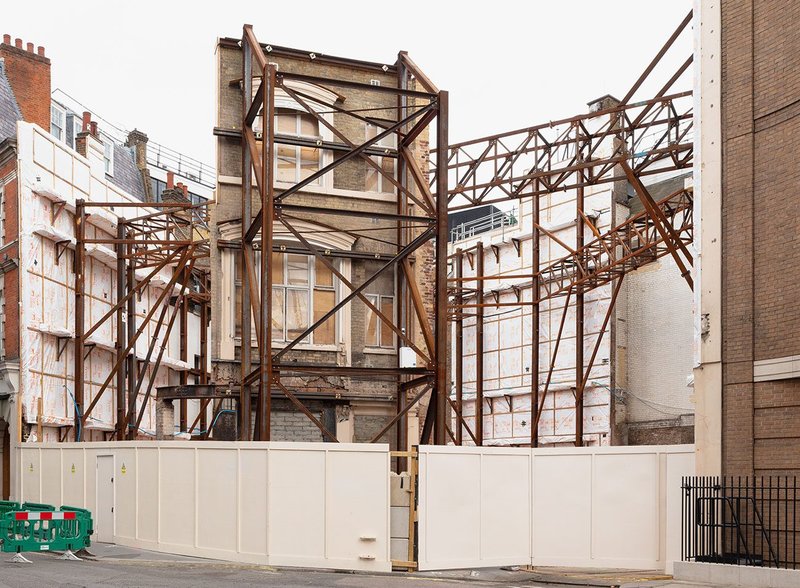 Francisco Ibáñez Unsustainable Structures 7 Mayfair, London 2018 Canon EOS 5 with Tilt-Shift lens.
Studying for a masters in urban regeneration at The Bartlett, Chilean architect and photographer Francisco Ibáñez began a pet planning project, cycling around London visiting building sites, to capture them in various states of demolition or erection. Unlike his own capital Santiago, where decisions to do away with or keep seem more cut and dried, here, he felt, guidance could lead to very strange scenarios indeed.
The project snowballed. Friends told him of sites they'd seen; or as he was photographing one, a local might tell him of another nearby. His book 'Non-Structures' has only 140 images but having amassed over 1000, Ibáñez felt the need to categorise them under headings like 'Obsolete', 'Ghost', 'Deconstructed', 'Naked'. This retained facade, propped by a frame that itself depends on party walls each side, he termed 'Unsustainable'.
Ibáñez considers this curio in Grosvenor Street theatrical; not just visually, but in terms of the stage it struts philosophically – whether its preservation was worth the effort, what its story will be once part of a new structure; or, indeed, if it is really 'real' at all. Such thoughts may come to the fore in his role helping Santiago city government regenerate the public realm of its Avenida Alameda. 'Construction sites are strange places,' he muses. 'While being transformed, they seem to disappear from the city's collective imagining until finished and then they're suddenly unveiled: new, different – but architecture again.