The photographer finds ruins relaxing, seeing a relationship with archaeology in his images of the landscape at rest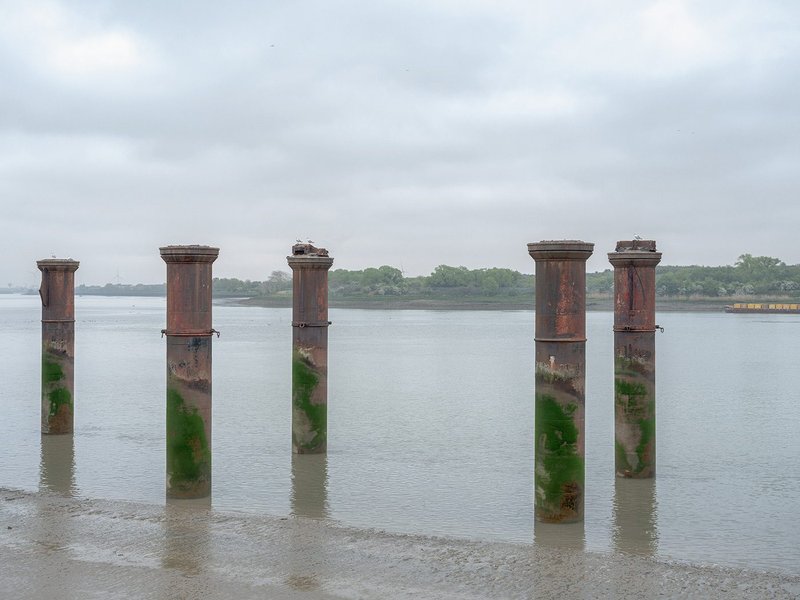 Michael Collins Beckton Gasworks Pillars No.2, London. 2022 Fuji GFX 100 with a 63mm lens
Michael Collins talks to me while on holiday in Boston's fringes, where ash and smoke from wildfires raging in Nova Scotia have channelled south to hang in the air and turn Massachusetts' limpid summer Moon an apocalyptic orange.
Perhaps it was once like that here at Beckton Jetty. From 1870 coal barges plied the Thames to feed what was world's largest gasworks for 100 years until its closure, when coal-gas production stopped and the gasometers finally ceased their inexorable piston. Now the site behind the jetty lies abandoned as a lorry park, encroaching development rising nearby to intimate a future.
'I find ruins of any kind relaxing – it's as if the landscape is at rest,' Collins tells me, adding that photography is, itself, a kind of archaeology; ironic, when that discipline provided the earliest and most enduring subjects for the camera during the great excavations in Egypt, Italy or Greece.
His view is that the British have an ambivalent relationship to industry, having to either recreate it as a theme park or obliterate its traces altogether, so I ask him if his image embodies a nostalgia for something past or just an expression of absence? The truth is even more benign. 'Whatever is going on in the world, this stands like some industrial Persepolis; mutely, as a river flows by.'