Christopher Hope-Fitch captures a multitude of colours in concrete by thermal-imaging the light as it strikes it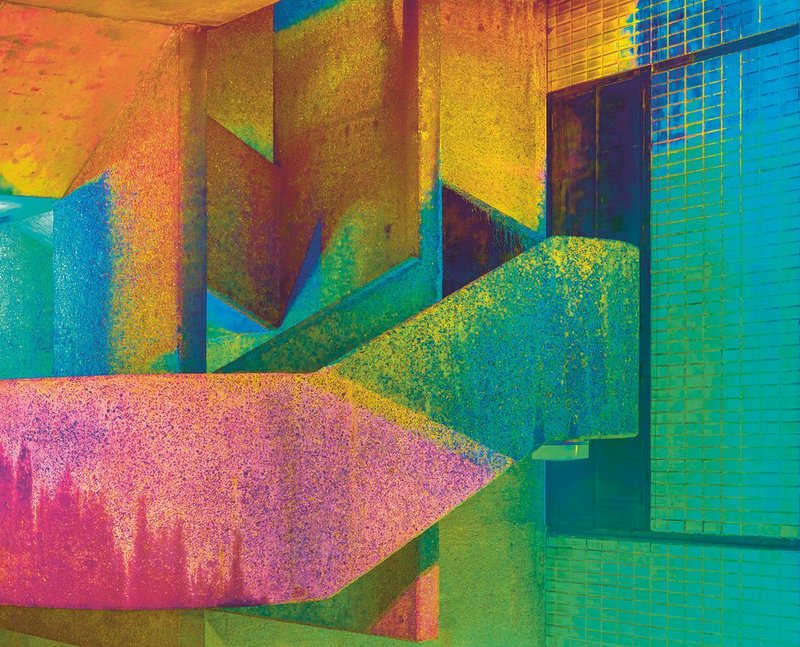 Photograph: Museum of London

Credit: Christopher Hope-Fitch
At first glance it looks like thermal imaging and, in a way, it is; but look again. What strange insulation arrangement would account for that diagonal line on the concrete balustrade or the curious, cold blue triangle trace on the insitu concrete pier?
This is an image from photographer Christopher Hope-Fitch's personal project Brutalism in Colour. His day job is producing lifestyle shots for Getty Images but perhaps it was 10 years spent in the black and white department of a specialist photographic lab in central London that prompted the urge to create these supersaturated images.
Of course, brutalism lends itself to black and white photography, its sculptural nature responding well to the play of light and shadow, while the medium binds the style in both time and perception. But it was during his nocturnal shoots in the city that Hope-Fitch noticed the delicate colours that its surfaces absorbed when illuminated at night.
This image of a staircase outside the Museum of London is the happy accident of sodium street lights mixing with the Barbican Highwalk's tungsten and the fluorescent light of the stair. 'A couple of the tubes were also on the way out and they go greener before they blow,' he says, though despite his Sony A7R2's 'incredible sensors', picking up the subtlest colour differentials, he wasn't sure what the result would be. So yes, it's thermal imaging; not of the structure but of the light that is striking it: the red, yellow, green and blue denoting the heat they emit onto a receptive surface. But there's a time limit to Hope-Fitch's chromatic experimentation. He tells me of a recent shoot in Portsmouth, with its new low-energy, bright white, LED street lighting. 'London's skies currently throw up all manner of colours in the process but at this shoot there was nothing – I was rather thrown by it,' he recalls.
He shouldn't be. What Hope-Fitch's work is marking is the end of an era, a cessation of the heat bleeds of the past and a time when sustainable LEDs will, by default, see a back to the future, nocturnal return of brutalism's signature monochrome.