Nikita Ghate found relief from isolation in Gloucestershire villages, photographing strangers who ceased to be so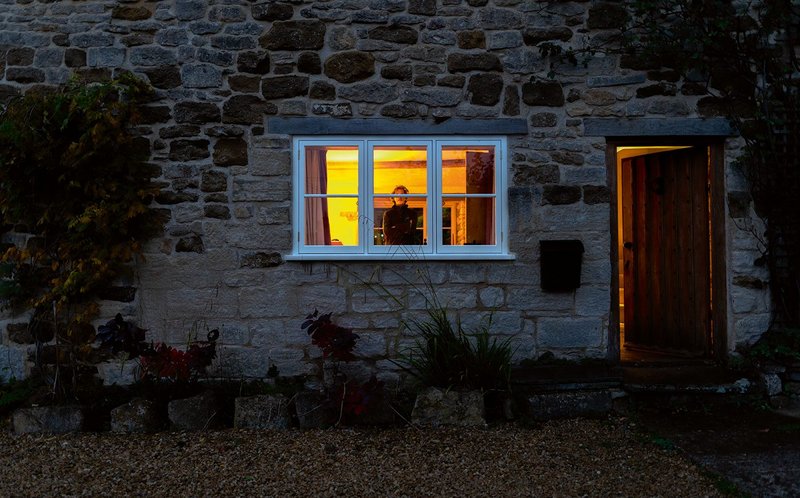 Nikita Ghate (Don't) Look Away Cheltenham, November 2021 Pentax 645Z with 35 mm lens.
Solace can be found in the strangest situations. For 25-year old Nikita Ghate, who had come to the UK for a photography masters degree after studying architecture at Mumbai University, it arrived through her thesis work. With London study prohibitively expensive, Ghate went to Cheltenham, but small though it was, its alienness to the life she had known still reinforced the sense that she was alone.
As a result she began taking long walks out to the surrounding villages in the early mornings and evenings, identifying her own sense of isolation with those whom she spotted through their windows in the twilight. It became a project. Using paper flyers and social media she sought anyone local who was prepared to be a subject. A few replied, and when she went to visit them for the shoot, it would be the first time she had met them.
The man in this shot, living in a remote house out in the sticks, confessed that had never spoken to anyone Indian in his life and despite Ghate telling me of his 'interesting' views on colonialism, she recalls the encounter warmly: 'It started with me forcing myself to feel comfortable speaking to strangers and then them not being strangers anymore.' They even all attended her end-of-year show. In that final series of 10 portraits, subjects had been directed to act as if she were not present. But not in this shot; here, he is staring straight at her. The comfort of strangers indeed.