Gone are the magnolia paint and clumsy additions to John Soane's country mansion. It's gloriously engaging after detailed restoration by Jestico+Whiles and Julian Harrap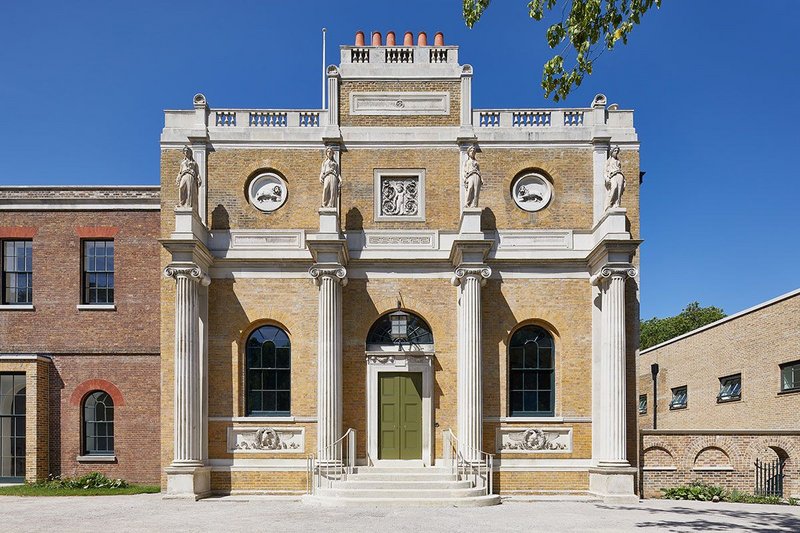 Pitzhanger Manor, Ealing, London (2019) designed by John Soane and reworked by Jestico + Whiles and Julian Harrap Architects.

Credit: Andy Stagg
I was always rather underwhelmed when visiting Pitzhanger Manor, the country retreat of the revered John Soane. After the fantastic intensity of Soane's Aladdin's cave of a London home - now the Soane Museum – the Ealing mansion fell distinctly flat. Not only was it distinctly empty of artifacts, but after major extensions and alterations and a century in the hands of the local council, its Soanian character had been sadly eroded.
'It was very difficult to see Soane in the building,' admitted Clare Gough, director of the Pitzhanger Manor & Gallery Trust, which with Ealing Council has just overseen a £12 million restoration of the grade I listed building. Now, she adds, 'it's got its soul back.'
After visiting the splendidly rehabilitated Manor, it's impossible to disagree. The difference is startling. With judicious removals and meticulously researched restoration and reinstatements, the team of Jestico + Whiles with Julian Harrap Architects has revealed Soane's 1804 design anew. It turns out it was always in there, just very well concealed beneath later additions and lashings of municipal magnolia paint.
As with many mucked-about heritage buildings, the restoration was an ethical minefield, especially since Soane's own design was not a single pure vision but a partial demolition and redressing of a 1768 Manor designed by George Dance (to whom the young Soane was a pupil) with new outbuildings.
In 1800 Soane purchased the Manor, which was then very much out in the country, and set about transforming it into a country retreat for him and his family where he could lavishly entertain visitors.
Soane created a dramatic main entrance graced with caryatids from which visitors progressed through an impressive ensemble of spaces decked out in bold colours and rich, sometimes exotic decoration. Reception rooms and bedrooms were housed in the main house with a sunken colonnade leading through to a separate new block housing kitchen facilities. Beyond this was Soane's assembly of mock 'ruins'. As well as the caryatids, the house was dressed in elegant fluted pilasters at the north facade, and topped, it is believed, with a roof lantern of coloured glass. To the rear, the house sported an impressive conservatory and looked over extensive, landscaped grounds of what is now Walpole Park. Although his design was largely complete by 1804, Soane continued to make minor alterations until he sold the manor in 1810.
Subsequently several major changes had a drastic impact on Soane's design. First, in 1844, a Victorian infill replaced the colonnade, obliterating both the handsome north facade and views of the park beyond. Then in 1901, a pitched roof rear extension by Charles Jones on the other side greatly enlarged the ground floor of the original Dance wing. The same year saw the conservatory was demolished. In 1939, the kitchen block made way for a public library extension, which has latterly been used as gallery.
As well as providing appropriate visitor facilities, the restoration challenge for the design team was how to steer a course through this architectural complexity. They made the bold choice to restore back to 1810 – with a few well-considered exceptions – which meant removing both the Victorian and early 20th century additions. Although the latter wasn't without its uses, Soane's design had to be given precedence in order to allow the historic house to be restored and shine as the key heritage exhibit.
'It's not fashionable these days to demolish anything. But some layers are more significant than others,' explains Judy Allen, associate at Julian Harrap Architects.
And here Soane clearly wins.
'Soane was a visionary architect,' says Jude Harris, director of Jestico + Whiles. 'Some of what he was doing would be innovative today. He was willing to push boundaries. His very idiosyncratic style is, I think, still relevant two centuries later.'
This 1810-focused approach was only possible if the visitor facilities could be located away from the restored Soane house. As well as retaining and refurbishing the gallery wing, which now also includes retail and ticketing, the key solution was the creation of a sympathetic, flint and brick-clad new café/restaurant building, designed by Jestico + Whiles a respectful distance away in the Manor's walled garden.
The boldness has paid off. Removal of the suffocating Victorian addition has freed up the main Manor building by revealing once again its north elevation and views through to the park and in doing so, giving it space to breath. And at the rear, removal of the overlarge Jones addition has restored the hierarchy between the elements. Amid myriad interventions, the other main moves were to reinstate the important colonnade, conservatory and roof lantern, each the result of exhaustive research. Rather than delivering a historic building polished to within an inch of its life, traces of past interventions are clear while still ensuring, says Allen, that it reads as an architectural whole.
'As we uncovered it so much of the soul was there. We could see how Soane had changed the design in his own time. So much was revealed,' she says.
The architects were hugely helped by the wealth of material on the house design in the Soane Museum archive, and by Harrap's specialist expertise after many years of restoring the Soane Museum itself. However these visual references were not without their challenges, since some included elements that Soane turned out to have either later changed, or never realised in the first place. The only way the team could know for sure was through a forensic investigation of the building that informed decisions on everything from paint colour to window position.
There are so many highlights – the startlingly vivid colour scheme, the Chinese-style wallpaper in the upper drawing room that took six months to hand paint, the reinstated trellis-design Library ceiling, the hand-carved Portland stone Doric colonnade with its copper-topped roof. Restoration of the 'Tribune' tall entrance vestibule is particularly impressive, and reminiscent in atmosphere to that of the Soane Museum. Long gone is the magnolia, replaced by the original dark, dramatic colour scheme, while high up, the design team discovered boarded-up reveals that once housed amber and primrose coloured glass. This has now been reinstated.
It's a surprise to learn that Soane rarely stayed at Pitzhanger after putting so much energy into his country retreat creation. Yet despite selling up after just 10 years in 1810, it was evidently in his thoughts for much longer – in as late as 1832 he commissioned an idealised aerial perspective of what he'd wanted to achieve there.
Back to 2019, and as the revived Manor welcomes its first visitors the big decisions have clearly paid off. This restoration has, quite literally, liberated Soane's design by removing the shackles of the additions and allowing it to take centrestage within its new landscaped setting.
Yes, there is now an entrance fee (some times are still free for locals) but there is so much more to enjoy, assisted by the new visitor interpretation. And these days, I doubt that any visitors to Pitzhanger Manor will go home disappointed.
---
IN NUMBERS
1 conservatory
1 roof lantern
4 Coade stone urns on the roof
4 Portland stone columns in the colonnade
251 years since Dance's original manor was finished
Credits
Client Ealing Council with Pitzhanger Manor & Gallery Trust
Architect/lead consultant Jestico + Whiles
Conservation architect/heritage consultant Julian Harrap Architects
Landscape architect J&L Gibbons/
Structural engineer Ellis & Moore
Services/M&E engineer King Shaw Associates
Interpretation designer Ralph Appelbaum Associates
Historic landscape advisor Sarah Couch Historic Landscapes
Main contractor Quinn London