This highly enjoyable exhibition takes you back to your childhood, showing the importance of play in shaping our development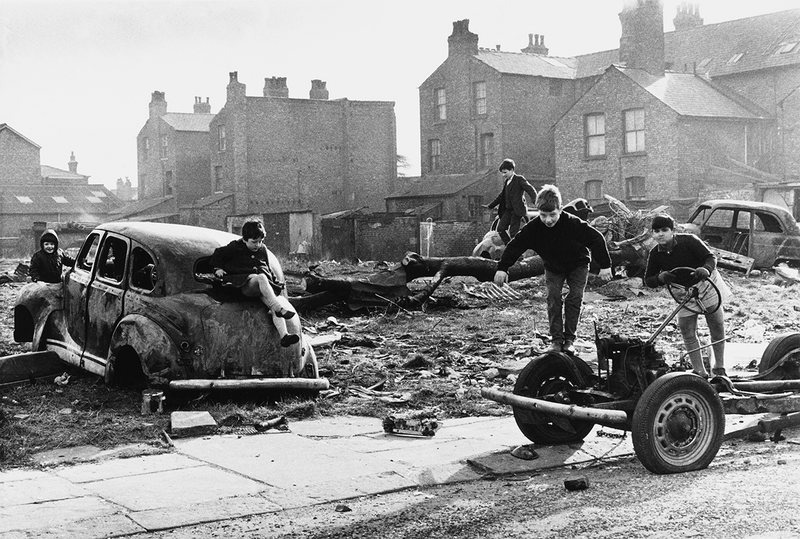 Manchester, 1968 [image of children in abandoned cars] by Shirley Baker.

Credit: 2019 Nan Levy for The Estate of Shirley Baker
Play, according to the renowned educator Friedrich Froebel, is a free expression of what's in a child's soul. The founder of the Kindergarten movement in 1839, Froebel emerges as very much the star of the Wellcome Collection's fascinating exhibition Play Well. This considers the impact of different forms of play in our lives, and looks at how it has been influenced by both educators and societal change over the last 150 years.
The show starts by establishing the importance of play as a means of learning, co-operation and building self-esteem, as well as a way of expressing emotions and empathy, and as a retreat from trauma. And while it is not something that has to be learned, play does require the right conditions to flourish.
Froebel understood all this very well. A significant chunk of the show is dedicated to his 'gifts' – a set of 20 sets of play objects designed for different ages from young babies (dangling colourful pom-poms) to toddlers and infant-school age children (paper folding, paper weaving, sewing, building shapes). Buckminster Fuller, who went to a Froebel kindergarten, recalled playing with a building set of spindly wood and sun-dried peas – and it's interesting to see this gift alongside an image of one of his famous geodesic domes. We learn that Frank Lloyd Wright, also Froebel-educated, wrote about the importance of playing with the gifts to his understanding of form. Froebel's teachings were also an influence on key Bauhaus figures Paul Klee and Johannes Itten.
Other key figures featured include Margaret McMillan, founder in 1917 of a pioneering nursery school in Deptford with an emphasis on open-air play, which extended to outdoor naps and overnight camps. The Reggio Emilia pre-school and primary schools set up by Loris Malaguzzi in Italy, which treat play as one of the foundational structures of learning, are also explored.
The exhibition looks at the use of play therapy to help children express themselves in ways other than words, and the positive role that Play Labs, set up by non-government organisation BRAC in lower income countries, can have in places such as refugee camps. The use of play to process trauma is evident in Mark Neville's photos of a child in eastern Ukraine, taken as she used dramatic play to process the shelling of her city just a short time after it happened.
By its nature, much of the exhibition content is enjoyable and easy to relate to. It's fascinating to listen to and watch the archive films and recordings of children at play and see how playground games continue to evolve to reflect popular culture (including the incorporation of moves from games such as Fortnite into playground games and mobile phone jargon into clapping songs. Government films from the 1950s, in which the narrator urges parents to let their children (particularly girls) to play outside even if that means getting messy, and promotes the value of appropriating everyday items for imaginative or projected play rather than expensive prescriptive toys, still seem salient today.
There's a touch of nostalgia in the toy section, which takes in bears, Lego and Barbie with a look at gender stereotyping – something that could have been a whole exhibition in itself. The inclusion of the Barbie Liberation Organization, which in 1993 replaced conventionally sexist Barbie and Ken toys with hacked non-stereotypical versions, is a treat. Meanwhile the ToyLikeMe toys, which includes disabled characters in its ranges, shows that progress towards inclusive products has been made.
The section on risk will be of particular interest to architects and designers working in this area. The message is clear – that children respond well to non-prescriptive play settings – there are great photos by Bert Hardy of boys from the Gorbals in Glasgow playing among the gravestones in a cemetery, while Nigel Henderson's photos of 1949-55 capture kids playing on bombsites. Similarly, Shirley Baker's images show children at play on derelict sites in Salford.
There's an excerpt from Dutch architect Aldo Van Eyck's 1969 manifesto on play in the Harvard Education Review – he believed that play should be built into the very fabric of the city. In his own playground designs he used abstract and simple shapes that could be appropriated as desired, rather than play equipment that could only be used in one way. Examples from UK adventure playgrounds, including some of the 100 set up by landscape architect Marjory Allen between 1948-77, very much encouraged children to take risks and overcome them.
The exhibition explores how as a society, we've limited children's freedom to roam and opportunities for self-guided play. A film by David Bond explores the meagre green space on an inner-city estate, and finds that teenage residents had, somewhat depressingly, hardly ever ventured to a nearby park, partly because of apprehension over who they might meet. Refreshingly though, the show ends with a look at gaming not as a contemporary evil in contrast with traditional play, but as a new kind of play space with opportunities for forging friendship and collaboration. There's also room for the increasingly popular LARP (live action role play) games, with scope to take part in this at certain times and days.
From 1959-74, Dutch artist Constant Nieuwenhuys spent 20 years on the design of New Babylon, a utopian city designed specifically to facilitate play. While that may be rather too much to ask for, creating spaces with adequate recreational facilities (rather than the all too common 'no ball games' signs) should surely be seen as an investment in the sustainability of any new community. Anyone who needs convincing may think again after visiting this enjoyable and pertinent exhibition.
Play Well, until 8 March 2020, Wellcome Collection, 183 Euston Road, London NW1 2BE