Mayor of Bristol and former RIBA president George Ferguson has spent years getting the city ship-shape for a devolved and sustainable future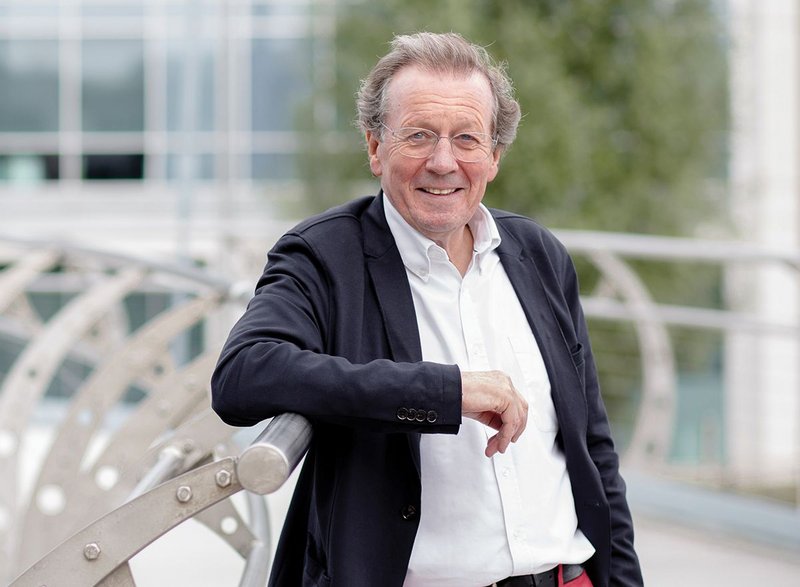 If you know central Bristol you have probably walked on, travelled on or stared at something George Ferguson has fought for. Not necessarily as mayor.
You know those cranes opposite the Arnolfini that mark out the dock from a distance? Ferguson helped buy them off the scrap merchant the city had sold them to. When the embarrassed city bought them back the money was invested in the Yellow Ferry Company. This saw the first of many such boat services to ply the waters of the docks and is now a community interest company with many small scale local shareholders.
'The seventies was a fight to save the docks from being stripped,' Ferguson explains. 'The eighties where when we really started trying to get to grips with the harbour.' He took on the Tobacco Factory in Bedminster as developer, and as an architect with his practice Ferguson Mann, and turned it into a thriving arts venue and bar – and above it apartments, including his own. When he didn't like harbourside proposals at Canon's Marsh by Arup for Crest Nicholson he suggested Bristol Venice as a counter proposal. The experience of all these battles came together when Ferguson became Bristol's first directly elected mayor in 2012. He is now nearing the end of his first term.
When I first met George, early in the millennium, he was trying to bring people as well as buildings to the RIBA as its new, red-trousered president. He brought verve and energy and a real engagement with place, not simply buildings. He wanted to change things for the better. Those energies have now been returned to his own city.
Of course he has only been mayor for just over three years; he has been living in the city for 50. It was plans for a major ring road to carve up the city that first drove him into politics as a 'kid councillor'. He is still inspired by Jane Jacobs' writings – she was his first text as an architecture student in Bristol.
Transport has continued as a gritty theme since Ferguson became mayor; the city was the only one which voted to have a directly elected mayor in the referendums across the UK that year. He campaigned to have an elected mayor and said from early on he would stand if the opportunity arose. He reckons that as an independent he could steal a march on party rivals. It might not be so easy in the 2016 elections in May.
'Last election I was a surprise. This time I will be the target.' He laughs ruefully at the idea of the election leaflets of 70 plus would-be councillors all aimed fairly and squarely at him. 'I am to blame for everything.' It is said with irony but only a little, he accepts responsibility for what has happened on his watch – though two of the most controversial city changes were not initiated by Ferguson, the Metrobus and the 20 mile an hour speed limit on the city's roads. 'I didn't bring it in but I champion it,' he says. It made his fine for breaking a 30mph limit early last year all the more embarrassing; he hangs his head before shaking away the memory.
'Change is really tough for us,' he admits. 'I have a collective noun for those who resist change: Adults'
The Metrobus, a government-backed £200 million investment for fast routes into the city, is another scheme that started before Ferguson's term. He re-routed it and believes it will be much better as a result. It received planning in August 2015. Alongside it, finding a park and ride site north of the city proved another contested issue – and it took a court order to remove protesters from the treetops in Stapleton. Ferguson dismisses this loss of land as trivial in the greater scheme of things. He is convinced the Metrobus will be 'transformational'. It is not surprising to him that this causes intense debate. 'It's a complex historic city,' he says. But travel is something that – as in many cities – holds the key to unlocking many problems from straightforward congestion to health through air quality and increased walking and riding, and even housing through access from further reaches of the city.
Like most architects Ferguson has a professional appreciation of the importance and benefits of change – that huge disruption can pay off. But he knows not everyone feels the same way. 'Change is really tough for us,' he admits. 'I have a collective noun for those who resist change: Adults.' Ferguson says he is trying to address the language of change. If a road is closed to cars it might be better described as open to people. And his preference for offering positive alternatives has been demonstrated through the past few summers with traffic free days in certain areas entitled Make Sundays Special – taking former London mayor Ken Livingstone's advice on using the temporary to at least get things started.
Local politicians have always been subject to the spotlight from the local press and nowadays it spreads further on blogs. Ferguson has suffered a regular stream of accusations of hypocrisy, nepotism, unfounded rage and sheer incompetence. These are painful, there is no doubt about it, particularly those that relate to funds going to his daughter's organisation. But they have to be put aside to lead a city, Ferguson relies on a cabinet drawn from across the parties and getting the budget through the councillors is a juggling act, not to mention having to cut £35m from the operating budget for 2014 – savings made in council office consolidation and ways of working, though front line services inevitably also suffered. More cuts are looming.
What is also on the way is devolution. There have been City Deals which pass over some tax to some cities – Manchester has been first to negotiate a more significant tranche of powers. Ferguson is already dealing with many of the areas name-checked in last autumn's devolution bill – transport, planning and housing – but central government is offering more power over these now. He thinks there is no doubt that city government can be quicker to respond, more likely to see the problems – and answers – than national government which is a more theoretical practice. To prove the point he need only cite the bedroom tax and lack of government awareness about what housing stock is on the ground to move downsizers into. As elsewhere central government's freezing of social rents has drastically cut Bristol's the ability to build new homes, though Ferguson is buying housing to turn it social and start to reduce the massive inequities that house prices have opened up in this relatively wealthy city. Housing raises his ire. And it's one very strong reason for pushing for the devolution deal for Bristol and Bath city region – and ultimately recognition as a city region with Cardiff and Newport too – a Great Western Powerhouse up there with the Northern Powerhouse.
Listening to Ferguson, as phrases like entrepreneurial city, the internet of things, open datasets, smart city etc trip off his tongue – you wonder quite how many visions and initiatives a mayor can keep spinning. 'It probably comes together in one sentence,' he says. 'The big vision is making a healthier, environmentally friendly, fairer city. Or in one word "Resilience".' For him it is about the longer term; without denying the immediate, it encompasses both social and infrastructure, it reminds you to build your flood defences and to ensure the form draws tourists and benefits business too.
So where are the icons that this architect-mayor has commissioned? If you are looking for a strictly architectural legacy there isn't one. Yet. However, the Bristol arena, designed by Feilden Clegg Bradley Studios with Populous and due to complete spring 2018, is more important to Ferguson to put Bristol on the map and as a part of the Temple Enterprise Zone. Here attracting investment (and good people) is the game, along with improving the entrance to the city for the many who arrive by train. The new Homes and Communities Agency-funded Arena Island Bridge will help by linking the city to the Arena on its old diesel depot, as will negotiating changes with Network Rail for major improvements to the station, ahead of electrification of the line and reduced journey times to London and Cardiff. As well as major tenants in the zone, such as Price­waterhouseCoopers, smaller firms are being encouraged, the shared work space of the Engine Shed is proving popular, with stylish firms booking out metro-retro office and meeting space. Hab Housing has also moved in locally.
The council itself has bought the concrete frame – the old sorting office – that stands beside Temple Meads Station. 'It makes it more Beirut than Bristol, and that is an insult to Beirut,' remarks Ferguson. This is a strategy that the council is increasingly using to give more control than planning can offer. And like his other projects he wants to carry this through the next three years as mayor. It seems that politics brings out the entrepreneur and architect in Ferguson.
---