It was worth the wait for No 1 Poultry to be listed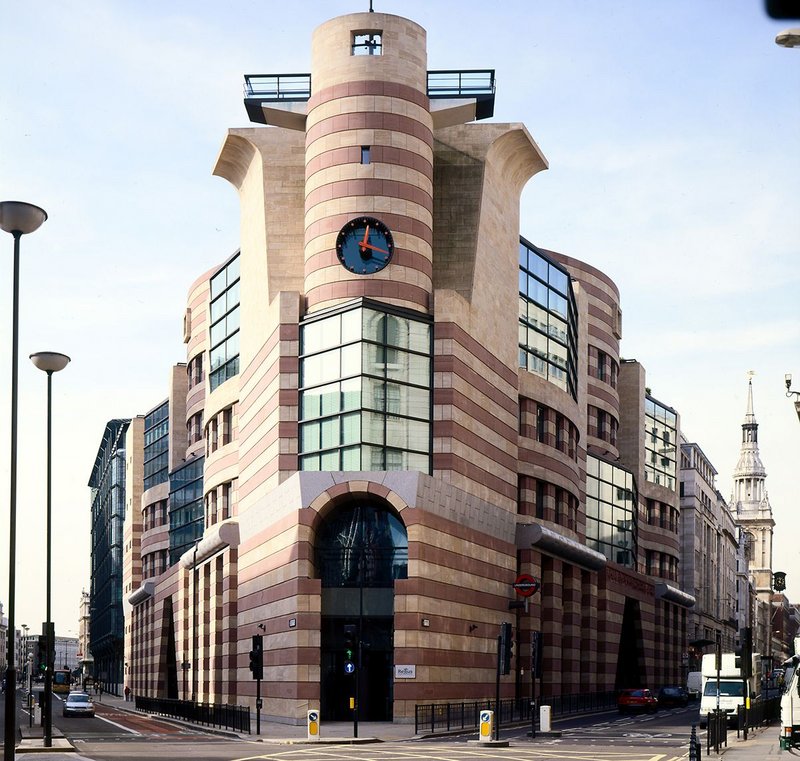 The big fat Pharaonic hen of Poultry.

Credit: RIBA Collections
'It's frenetic, composed of equal sized blocks of stripe, glass and stone with their hierarchy all jumbled up and restacked like pieces of a child's toy. In stark contrast to its neighbours, there's no small-scale detail: nothing narrower than a curtain-wall mullion. And it's a banal curtain wall. Hard to believe it had the same designer as Stuttgart did, let alone Leicester.'
'It is a good and interesting building, publicly permeable, multi-layered, the antidote to most commercial speculations of the time. But it is also 1980s post-modern (PoMo) in style. The style is not yet old enough to have come back into favour. So the big fat Pharaonic hen of Poultry – look, you can see the folded wings, and its beak, and it sits on a circular nest – must bide its time. It is generally regarded as a late aberration by a once-great architect. Besides, the design replaced an unbuilt slab by Mies van der Rohe, an architect openly worshipped by devotees. No, it is just not done, to like Number One Poultry.'
'An unsurpassed example of commercial post-modernism, on a monumental scale, intricate in its planning and rigorously scrutinised and executed… a striking symmetrical composition on a tightly constrained site, exemplifying Stirling's work in its exploration of space and movement through interlocking geometrical volumes and its use of materials, colour and motifs, and exceptionally carrying this through to a dynamic interior space.'
We are now on PoMo version 4 or thereabouts. It's not going to go away, it is not somehow ideologically incorrect, and like all movements it will continue to evolve
That first quote is by an architect amicably disagreeing with me about Stirling and Wilford's Number One Poultry on Facebook, the day after it was listed. The second is from a piece I wrote in 2009, 'The dark knights return: four profoundly unfashionable buildings in London'. The others being Sir Terry Farrell's MI6 building, Sir Michael Hopkins' Portcullis House and Sir Colin St John Wilson's British Library.
And the third quote? That's from the official listing notice, issued on 29 November, 2016, announcing that the Poultry block – having been rejected for listing a year ago – was henceforth listed grade II*. Meanwhile in 2015 the British Library was listed grade I. Two up, two to go. I can wait.
Today PoMo, being associated in the UK with the commercial tat, Mockintosh and the like, of the later 1980s, is still the style that dare not speak its name – despite all the work done in the interim by architects ranging from Piers Gough's CZWG through the members of FAT to younger practices such as AOC and DK:CM. Since its origins as a movement can be traced back to (shall we say, since Pevsner did) the 1950s, then we are now on PoMo version 4 or thereabouts. It's not going to go away, it is not somehow ideologically incorrect, and like all movements it will continue to evolve.
But right now we are at one of those architectural moments. Just as raw-concrete brutalism, having been in the depths for decades, suddenly became ultra-fashionable, so now it is the turn of PoMo. Too late for some good examples: John Outram's magnificent brick-temple 1985 Harp Heating HQ in Kent was recently demolished. But at least Poultry – which itself controversially replaced some pretty decent listed buildings – is now unlikely to follow it.
---