Exhibition explores a time when artists had 'to make sense of an entirely altered world' after the Second World War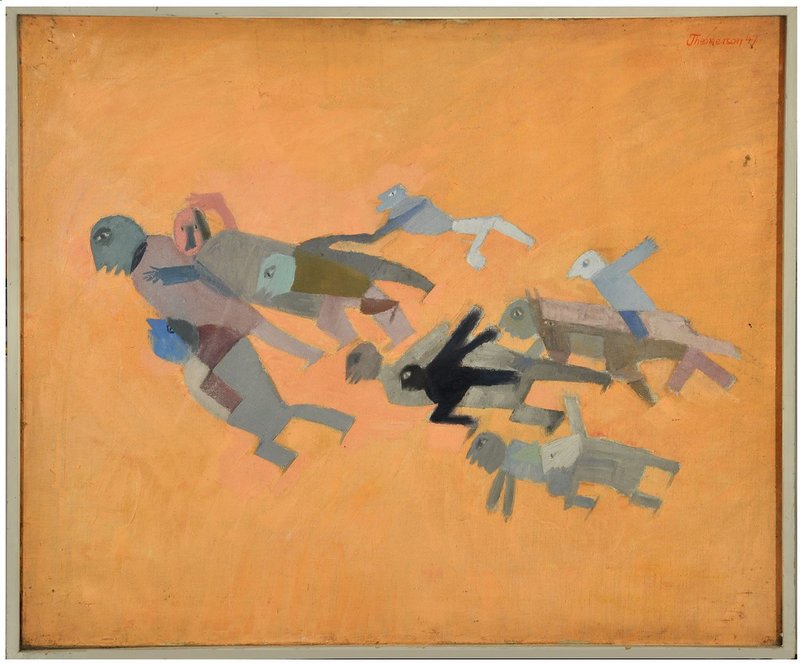 Franciszka Themerson, Eleven Persons and One Donkey Moving Forwards, 1947. Collection of the Themerson Estate © Themerson Estate 1921. From Postwar Modern: New Art in Britain 1945 – 1965, Barbican Art Gallery until 26 June 2022.
As a bombsite redevelopment project itself, London's Barbican Centre is a particularly appropriate venue for Postwar Modern: New Art in Britain 1945 – 1965.
This powerful exhibition explores the response to the aftermath of the Second World War through the work of 48 artists, including many refugees displaced by the conflict.
While the main focus is painting and sculpture, the show has a broad scope, taking in ceramics by Lucie Rie and Hans Coper, highly evocative photography, and architecture in the form of a single project by Alison and Peter Smithson. Plenty of familiar names are represented including Lucian Freud, David Hockney and Francis Bacon, but there is also work by lesser known artists – one of the aims of the show in revisiting this fertile period was to bring the work of important but marginalised artists, including many women, to the fore.
It was a time, we learn, that artists had 'to make sense of an entirely altered world'. This exhibition shows the multiplicity of their responses, whether exploring fear, vulnerability and confusion or embodying more positive themes of endurance and regeneration as society sought to move on, despite the heavy cloud of the Cold War.
Organisation of the 200 works into themes helps to make sense of the diverse material. In Body and Cosmos towards the start, John Latham's Full Stop (1961) depiction of what appears to be a partly disintegrating black hole, is a sombre opener although visitors read that Latham viewed an ending necessary for new life to emerge. We emerge into Post-Atomic Garden, a space reflecting on loss and renewal. This is perhaps the most arresting part of the show. Three standing figures by Edward Paolozzi are unsettlingly unfamiliar totems of cold metal and machinery parts. His grenade-like Contemplative Object (Sculpture and Relief) is even more threatening. The idea of the disturbing hybrid is also present in Elisabeth Frink's Harbinger Birds of 1961 – we learn how growing up near an airbase during the war she used to scavenge for bits of shrapnel and bullet cases. Artists from the Independent Group are extensively represented in this show including John McHale, whose rather more benign First Contact painting portrays a family watching television, the figures depicted in collages incorporating machine parts.
A very different approach to the body was taken by Hungarian émigré Magda Cordell, who later married McHale. Her vivid and colourful paintings highlight the vulnerability of the body and its internal organs.
Like fellow exhibitor Nigel Henderson, William Turnbull was a fighter pilot in the war, experiences that surely informed his aerial bronze reliefs of pocked landscapes populated by stumps and blocks. In Topography of Aloneness, one of several pieces by Polish Jewish artist Franciszka Themerson, the artist includes herself imprisoned within an aerial landscape of strange lines.
With its thick ridges of paint, Leon Kossoff's Willesden Junction, Early Morning is the remarkable centrepiece of the Scars section, a part of the exhibition centred around the ruptures to the cityscape caused by war and subsequent reconstruction. His paintings are teamed with compelling work by his close friend Frank Auerbach, who escaped Berlin as a young child in 1939. These impressionistic, highly textured pieces are followed by the contrasting abstract work of constructivists such as Victor Pasmore, Mary Martin and Anthony Hill, artists who found refuge in crisp geometry a world away from the messiness and ruination of war.
Big universal themes are supplemented with personal vignettes that challenge the notion of post-war domestic stability and traditional gender roles. The Jean and John room of the individual work of artist couple Jean Cooke and John Bratby suggests the tensions of what is known to have been a troubled relationship, with Bratby often destroying his wife's work and controlling the amount of time she spent painting. In one of her arresting self-portraits, she depicts herself with a black eye. Freud's paintings of his two wives Kitty Garman and Caroline Blackwood, in particular the rather chilling Hotel Bedroom 1954, also suggest a sense of anxiety and disenchantment. In contrast, Sylvia Sleigh's paintings of her younger male lover Lawrence Alloway dressed as a bride seem to explore a rather more harmonious, if unconventional, relationship, but were not displayed for decades due to their controversial content. Francis Bacon's Man in Blue series of 1954 of a suited man cruising in a bar have a tension that reflects societal attitudes to homosexuality of the times.
New ways of living and consumerism was another area explored in work by Richard Hamilton and Eduardo Paolozzi, with the allure of American lifestyles a theme. Alison and Peter Smithson's House of the Future is featured as a radical way of living, with huge photos of their vision of 1981. Populated by glamorous models with strange hairstyles and costumes, this still looks startlingly avant-garde more than 65 years later. Goodness knows what visitors made of it when it was unveiled at the 1956 Daily Mail Ideal Home Exhibition.
It's the compelling photographic work in this exhibition that really gets close to more everyday life. Work by Bert Hardy depicts a bombsite that has been re-appropriated by children as their playground – a place now of fun rather than destruction. Later in the show, Shirley Baker's images of Manchester's Hulme and Roger Mayne's of west London are a world away from the clichéd idea of the swinging 60s – instead of glamour, these are harsh, gritty, messy cityscapes. But there is also, in particular in the Hulme images, a sense of survival, endurance and above all, community, in adversity.
Postwar Modern: New Art in Britain 1945 – 1965, until 26 June 2022
Barbican Art Gallery, Barbican Centre, Silk Street, London EC2Y 8DS