Convention disappears as four architects explore their artistic side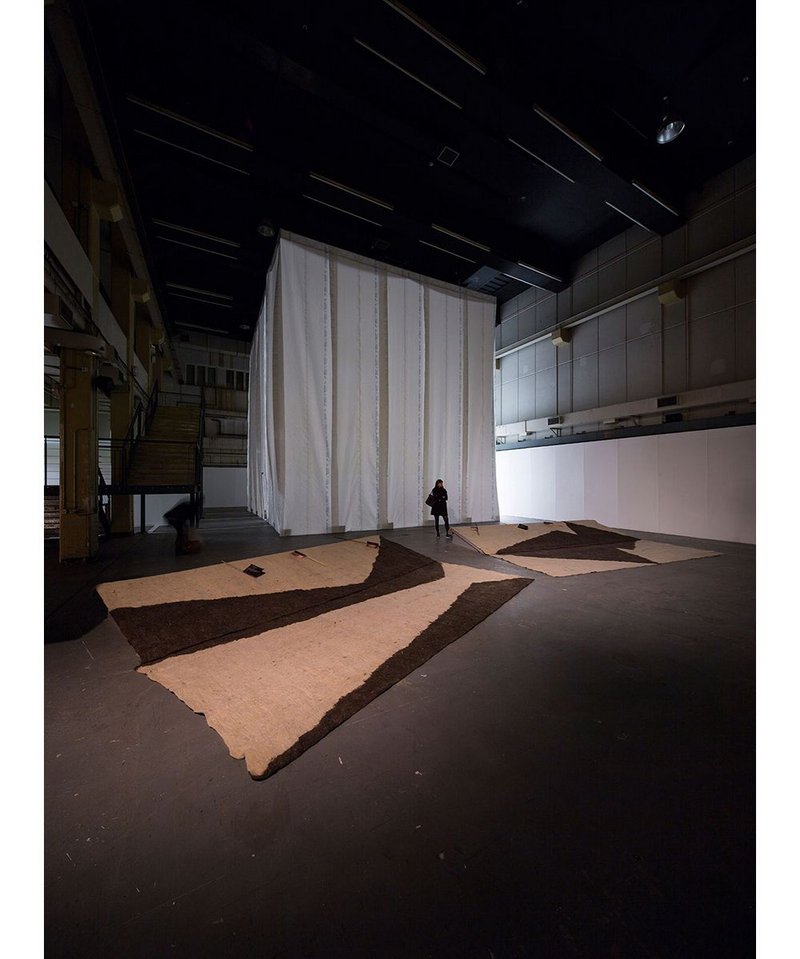 Nomads Won't Stand Still for their Portraits, installation by Joar Nango, in front of the space filled by Alexander Brodsky with Five Towns.
What happens when architects work like artists? Well, they certainly don't produce conventional buildings – as demonstrated in Potential Architecture, a collection of four site-specific installations in the cavernous Ambika P3 venue at the University of Westminster.
According to Ambika P3 director and professor of architecture Kate Heron, the curators were interested in architects who work with art practices to create something that's like architecture, but not – the potential architecture of the exhibition title. From a jumbled forest of suspended door frames to an installation about Mongolian nomadic culture, the diverse results are intriguing and stimulating, and about as far away from the commercial development world of Mipim – which opened on the same day – as you could get.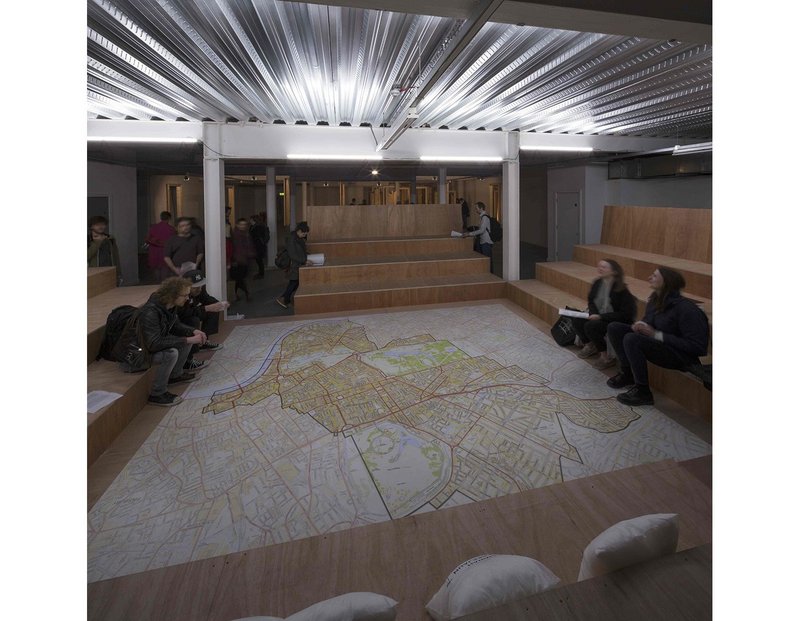 Apolonija Šušteršič: Underground Discussion Club (Session 1).

Credit: David Freeman
Apolonija Šušterŝič's Underground Discussion Club is the most easily understood of the four pieces, which have all been created specifically for the show. Concerned about the negative effect of property speculation and elitisation in London and the way that planning and development decisions are made, she built an area for live debates, which will be filmed and projected in the space throughout the exhibition.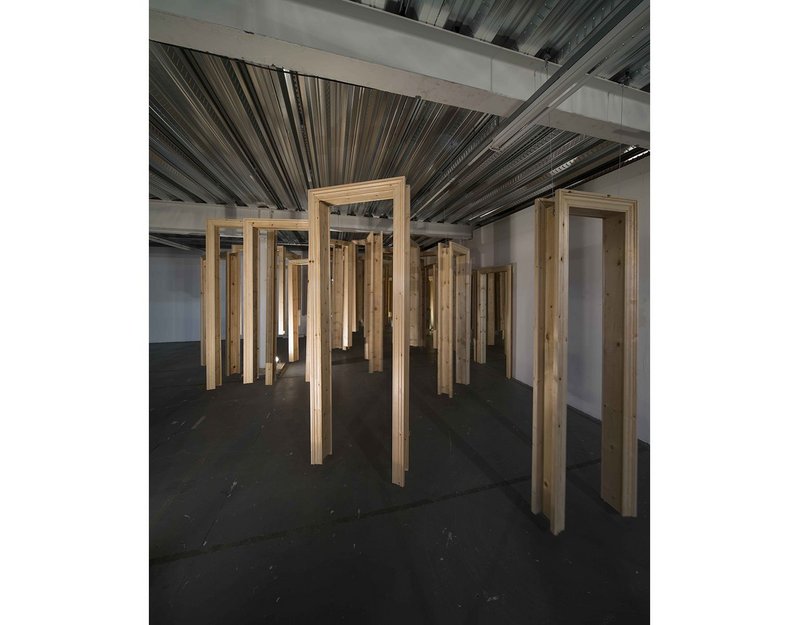 Sean Griffiths: Piece for 53 Door Frames and 10 Mirrors.

Credit: David Freeman
Sean Griffiths's 53 Door Frames and 10 Mirrors is more enigmatic. Fresh from the closure of Fat, Griffiths is now Professor of Architecture at the University of Westminster and is clearly embracing the freedom of working as an artist, away from the strife and restrictions of conventional practice. As the title suggests, the piece consists of a large number of frames in three different sizes, most arranged in a jostling cluster with some on top of others, the effect amplified by reflections in the wall mirrors (a nod to the infinity effect of the mirrors in Adolf Loos' American Bar in Vienna). To one side, a row of frames reads a bit like a slalom course, the frames swinging as you push past and through. The idea is to walk among the doors, which form a strange 'ghost environment' of a house.
Griffiths's intention was to take a simple door, something equated with rights of passage, and make that ordinary object into something strange and disconcerting as part of a physical encounter. In another twist, the composition is largely determined randomly with the help of dice and the I Ching. Griffiths is exploring the use of chance further with his students at the University.
'Engagement with chance is a refusal to engage in the economic, monetarised agenda that informs most architecture,' he says.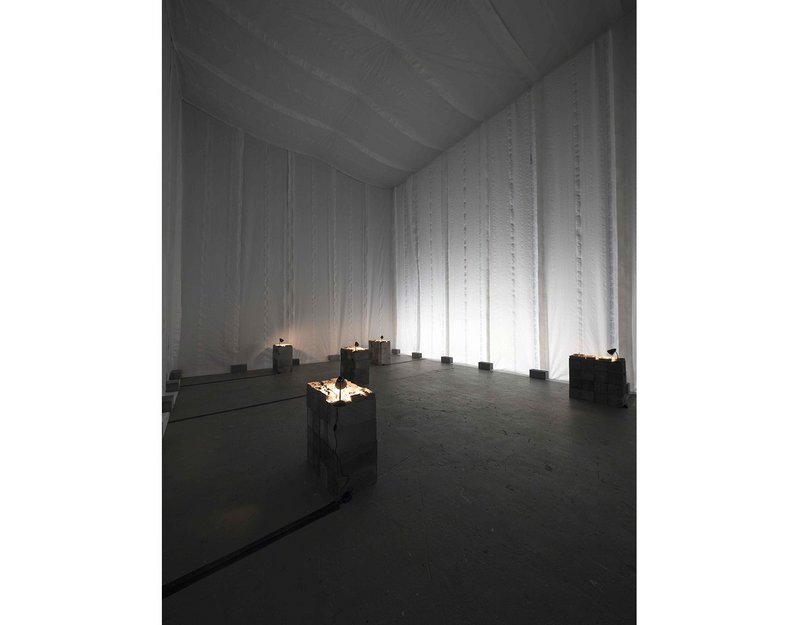 Alexander Brodsky: Five Towns.

Credit: David Freeman
Alexander Brodsky's installation, contained within high white plastic walls, is a much quieter, contemplative space. In this, the Russian architect/sculptor has created displays of small clay sculptures resembling the ruined ground floors of buildings, made from unfired clay and covered in ash and dust. Perhaps they are ancient ruins, perhaps the result of a recent disaster - as visitors experience the installation, he wants them to have some 'philosophical' thoughts about what they see, and maybe begin to take notice of the small details in architecture, which are, he feels, too often overlooked.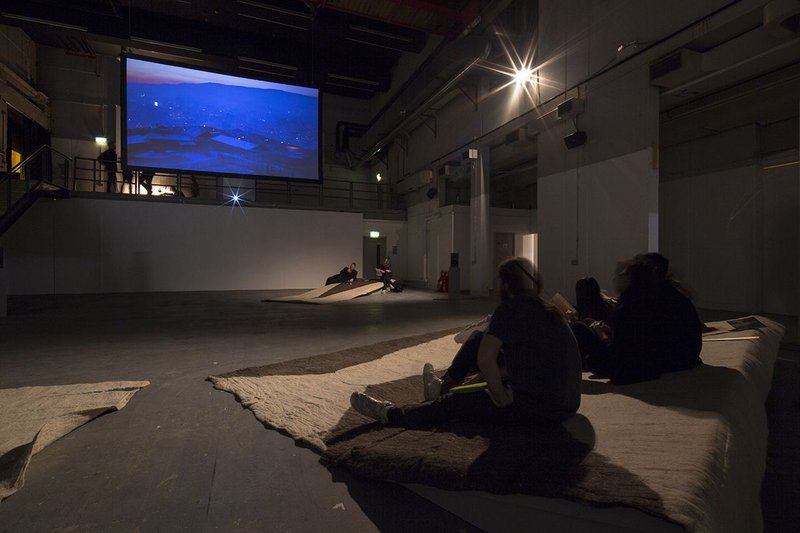 Joar Nango: Nomads Won't Stand Still for their Portraits.
A Sami, Joar Nango has a particular interest in indigenous identity, and the tension between self-sustained lifestyles and those influenced by capitalism. His work is also a response to how nomadic architecture had been left out of conventional architectural history. For Potential Architecture, he explores a Ger community in Mongolia, creating an installation using felt made in a Ger factory as the seating to view a film on the community, and how they create an environment with minimal means. The 'woolly walls' of the homes belong not to their location, but to their occupants' wider nomadic journey.
The University is planning further events on the work of architects outside normal architecture. Potential Architecture is a great, oddball opener to this exploration of alternative modes of practice.
Potential Architecture – Alexander Brodsky | Sean Griffiths | Joar Nango | Apolonija Šušterŝič, until 19 April 2015.
Ambika P3, Marylebone Rd, London NW1
---