As well as the shortlist for our annual Regional Awards, ARB's agreement with the US will boost the post-Brexit profession, says Simon Allford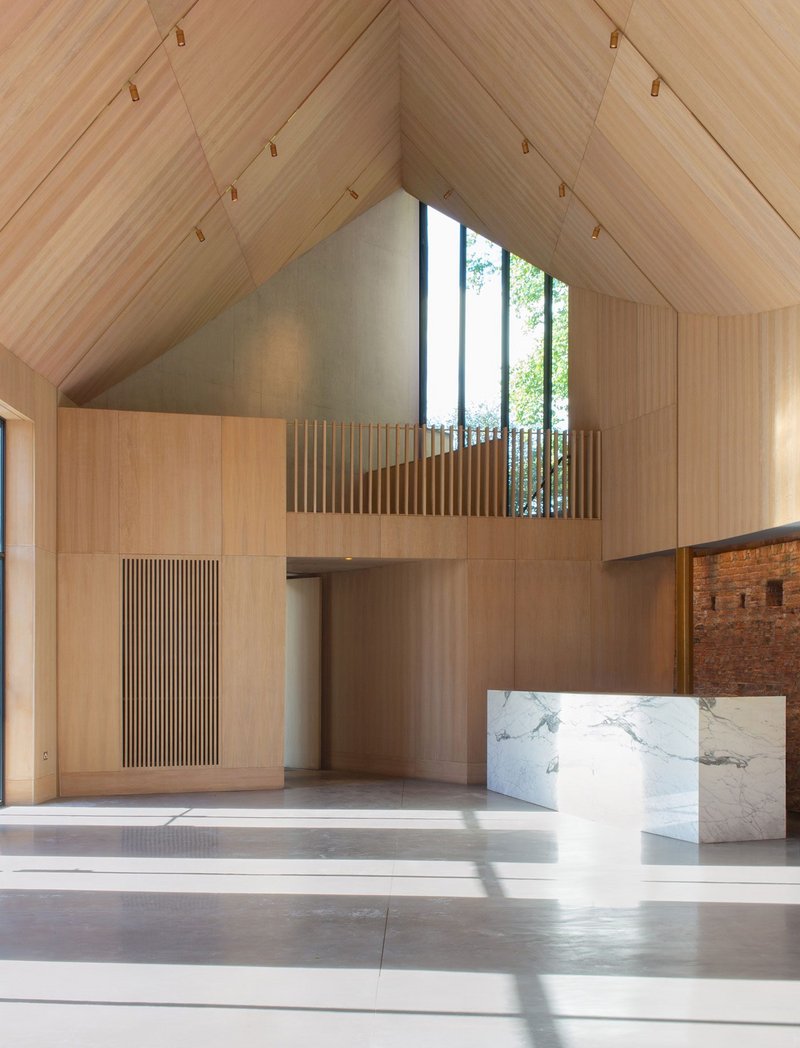 One of the projects shortlisted in the RIBA Regional Awards, L'Ecurie at Dorfold Hall in Nantwich designed by ZOË POLYA-VITRY.

Credit: Tim Lucas
You will have seen a flurry of announcements in the press of projects shortlisted for RIBA 2023 UK Regional Awards. As always, their variety and quality is extraordinary. Awards are important as they promote the value of architecture to the public (the client of the future) and celebrate and share exemplary design at all scales. Making good architecture is tough so celebration is important.
Awards also open the door to new practices and models of working and making. So I am very pleased to announce that the Stephen Lawrence Prize, set up in memory of the young aspiring architect who was shockingly murdered, is being restructured. From this, its 25th year, the prize will be awarded to a project led by an early career architect. I am sure you will agree this is an appropriate celebration of youth, ambition, hard work and talent. Shortlisted architects will be selected from winners of the UK RIBA Regional Awards, and the winner will be announced at the Stirling Prize ceremony in October.
To win an award projects must be proven to work well in practice, to be making serious headway in embodied and operational carbon and to be seen by the jury at least to offer something close to delight! They are a celebration of what is good in architecture in the broadest sense. Good luck to all shortlisted practices and clients.
On the professional practice front we can celebrate the recent signing by the UK's ARB and the USA's National Council of Architectural Registration Boards (NCARB) of a game-changing Mutual Recognition Agreement for architecture qualifications. Over recent weeks, I've thought quite a bit about the significance of this landmark agreement and the weight it carries for both countries, which have played crucial roles as architectural powerhouses on the world stage. In addition to the far-reaching benefits of the agreement for architects on both sides of the Atlantic, it carries a personal significance for me. Having offices in both London and Oklahoma City has shown me the innumerable opportunities for knowledge sharing and mutual expertise between the UK and the US. As well as the movement of talented people, I cannot stress enough the importance of co-operation between the UK and the EU/US to open doors for architects overseas while boosting trade in services.
L'Ecurie at Dorfold Hall.

Credit: Andrew James
While helping open up new export markets for ​UK architects, this agreement also lays the foundation for the next steps as architects navigate a post-Brexit landscape. The impact of the decision to leave the EU has reverberated through our profession and the higher education sector. As practices look to recruit and retain a diversity of talent, it's imperative that new models of education facilitate an inclusive profession.
It is on this basis that I recently voiced my concern that the ARB consultation on educational models leading to registration will negatively affect the vital new affordable models that we have been supporting; models that seek to speed up and open access to our profession. At this key moment in the development of architecture education, we must work hard to ensure that new models can come forward alongside proven existing models. We will be publishing our initial thoughts in response to the ARB proposals and urge you to review and respond.
---
Events flourish at Number 66
With spring under way, 66 Portland Place is awash with exhibitions, featuring busts by artist Celia Scott, the writings of Robert Maxwell, the revered photographic work of Monica Pidgeon, and Long Life, Low Energy – a look at the circular economy.