The Wakefield gallery revives the work of the modernist sculptor, an exponent of 'musicality and rhythm' and peer of Caro and Moore, whose sixties fame declined after her death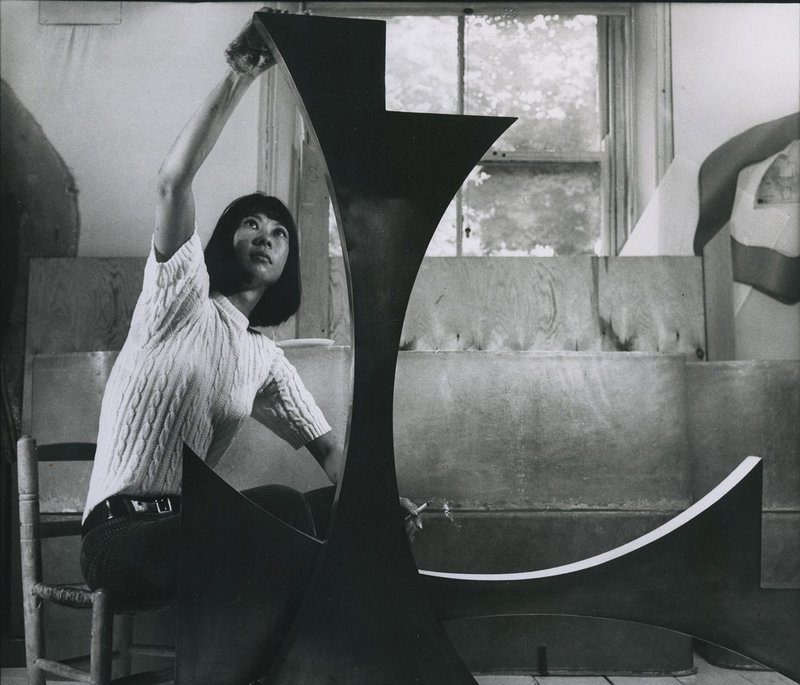 Kim Lim working on Twice, 1968.

Credit: © Estate of Kim Lim / Turnbull Studio. All Rights Reserved, DACS. Photo: Jorge Lewinski. © The Lewinski Archive at Chatsworth. All Rights Reserved 2023 / Bridgeman Images
In her lifetime, sculptor and printmaker Kim Lim was a celebrated British-Singaporean artist. At the 1966 show Sculpture in the Open Air at Battersea Park, she was in elite company alongside Antony Caro, Henry Moore, Barbara Hepworth, and Elisabeth Frink. In 1977 she was the only female exhibitor at the Hayward Gallery Annual, and the only artist from the Global Majority. Her work went on to be collected by 14 UK galleries and another seven internationally. Yet after her death in 1997, her work largely slipped from view, popping up again last year as part of group exhibitions at the Whitechapel Gallery and Barbican Art Gallery.
How appropriate that the first major solo exhibition since 1999 is being held at the Hepworth Wakefield, which has had her work in its collection for decades. The exhibition Kim Lim: Space, Rhythm & Light is an opportunity for many of us to get to know her work for the first time.
Quite why she dipped under the radar for so long is a moot point. As the accompanying catalogue discusses, Lim constantly had to navigate an art world 'that wasn't easy if you weren't a white man', and this difficulty remained after her death. Hepworth Wakefield curator Abi Shapiro points to both a revival of interest in mid century abstract sculpture and new attention being given to work by artists from the Global Majority. As a result, the scene is now set for an overdue reappraisal; there are also plans for a retrospective of her work at the National Gallery Singapore.
Born in Singapore to Chinese parents, Lim came to London in 1954 to study first at Central St Martins then at the Slade. We learn how she looked beyond the Eurocentric narrative of the art canon she encountered, and sought her inspiration elsewhere, in particular through travel, which she described as her main art education. Travelling at first alone, and later with her husband, artist William Turnbull, she went to Cambodia, Malaysia, China, India and Japan. Photos of these trips, many taken by Turnbull, are shown in the exhibition.
These journeys expanded her frames of reference, says Joleen Loh, co-curator of the forthcoming Singapore exhibition, in the catalogue. 'Her cosmopolitan visual language was informed by multiple aesthetic systems and vocabularies that drew on, for example, transnational geographical and mythological references,' she says.
The Hepworth Wakefield exhibition traces the development of her work throughout her 40 year career from her early more figurative works through to later, more minimalist works in stone. After graduating, she began experimenting with assemblages, initially using wood off-cuts from timber yards. In the mid 60s, she produced a series of colourful works in brightly painted wood and was also working in steel and aluminium. Her 1966 work Day, an arc of painted steel, was acquired by the gallery in 1983. An interest in ladder-like forms followed in the 1970s including work in acrylic and wood exhibited at the Hayward Annual.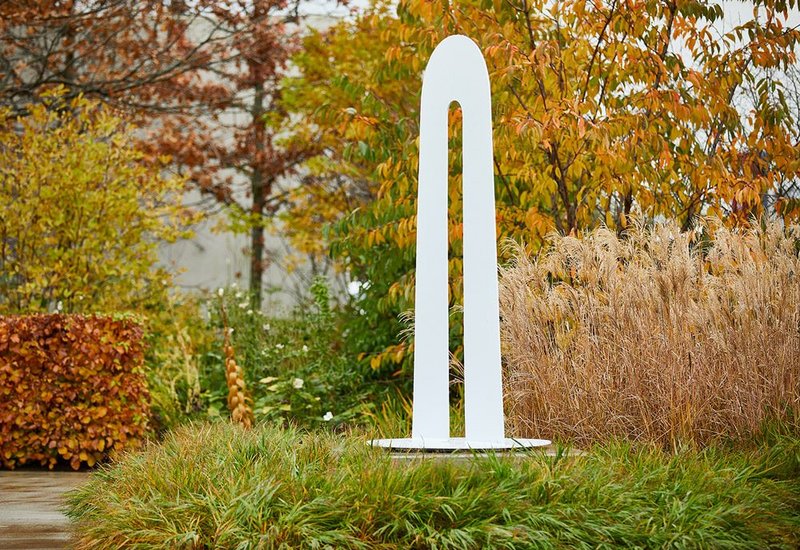 Kim Lim, Day, 1966.

Credit: © Estate of Kim Lim / Turnbull Studio. All Rights Reserved, DACS 2023. The Hepworth Wakefield (Wakefield Council Permanent Art Collection). Photo: Nick Singleton
Thoughout her career, her work was about showcasing space, according to curator Marie-Charlotte Carrier, who says Lim was particularly interested in the negative space around her sculptures.
She began carving stone in 1979, working in marble, Portland stone and granite and making what the catalogue describe as 'bold totemic sculptures'. 'She had an energy and strength tthat really flourished at the end of her life,' says Carrier.
As well as the sculptures, the exhibition includes her sketchbooks and more than 40 screen prints, which she saw as a way of sculpting, and of equal importance to her three-dimensional works.
Organisers of the exhibition point to a sympathy between the work of Lim and Barbara Hepworth – in particular, says Carrier, a shared interest 'in the idea of musicality and rhythm' and also the sound of sculpting during the making process. At the gallery, the permanent exhibit exploring Hepworth's studio and tools and methods enables visitors to draw their own parallels when visiting the Kim Lim exhibition.
Carrier hopes visitors will enjoy discovering 'an incredible artist', and more broadly that the exhibition will help expand understanding of what British modernism was through Kim Lim's work.
'She lived all her working life in Britain but has evaded that narrative,' says Carrier.
Kim Lim: Space, Rhythm & Light, 25 November 2023 – 2 June 2024, The Hepworth Wakefield, Gallery Walk, Wakefield, West Yorkshire, WF1 5AW