Some cities enhance wellbeing – how do you design that? Bath's week-long Therapeutic City event aims to find out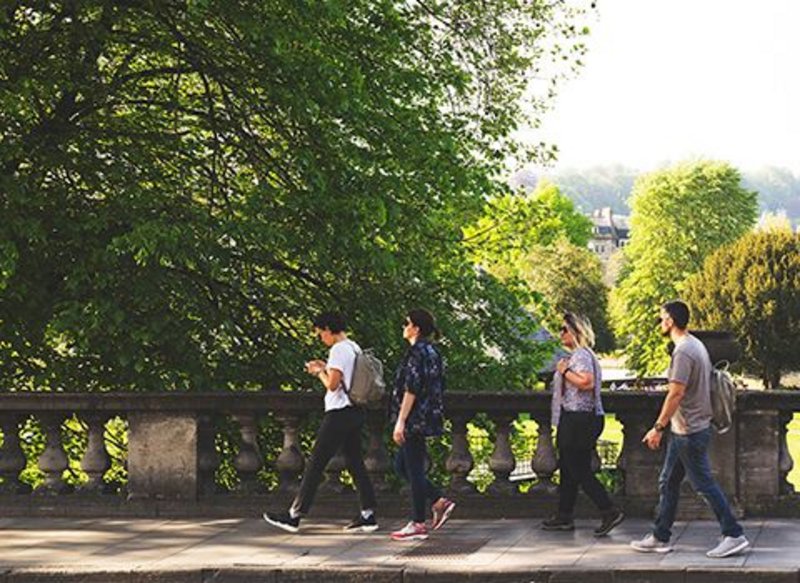 Defining marks of a therapeutic city: a pleasure to walk in.

Credit: Martin Gledhill, Therapeutic City
Moments of joy, pleasurable exploration, intriguing alleys and active public spaces are to be found in the best cities. Beyond their role as economic generators, cities can be good for people's mind, body and soul. The role of design in all of this will be examined by the RIBA-supported Therapeutic City week this September in Bath, which was a place of pilgrimage to the abbey before it become the Georgian spa town where the fashionable went to take the waters.
Architecture Is?, the group behind the initiative, has a drawn up a mix of events aimed at both public and professional audiences, featuring designers with experience of creating uplifting places, to propose ways forward for cities in this era of net to gross ratios, risk avoidance and Brexit uncertainty. How, for example, might a city like Bath use its resources of spa, river, steep hills, Georgian set pieces and limestone backlands, to become a more holistically therapeutic place?
A series of walks offer different perspectives and sounds to the city, alongside the Bathscape walking festival. Weekday evenings are populated with debates in cafés and riverboats, bringing expertise from Gehl Architects and RIBA Stirling Prize shortlisted Feilden Fowles to talk about developments in Bath, which currently include the Allies and Morrison masterplanned 2.2ha Bath Quays North and the highly contentious Grimshaw plans for an expanded rugby stadium in the centre of the city. This broadening out of the debate about the future of the city includes road closures in the city centre and a pecha kucha of quick-fire provocations.
The week concludes with a day-long conference when local, national and global experts will delve into how we should design cities that improve our sense of wellbeing. As a Bath resident and cheerleader I am fascinated to be chairing some of this to hear evidence about the interaction between the fabric of the city, the creative economy and people's live and happiness. Contributions from the World Health Organisation will set the scene followed by Sue Morgan, director of architecture and built environment at the Design Council, on recent research into healthy spaces and the value of blue and green spaces.
A burst of design energy will hit before lunch with landscape architect Townshend drawing on its work from King's Cross Central to Aberdeen and Abu Dhabi, and the Icelandic BASALT Architects on its work on wellness, which is at its core. Links between the creative economy and wellbeing in creating successful sustainable places will be unpicked by economist Mark Hepworth of The Good Economy and Beatrice Fraenkel, whose experience spans design and healthcare. The conference then shifts gear to look at whether successful cities will be happy ones, with inventive designers from different fields including furniture (Jan Christian Vestre of Vestre) to creative education (Penny Hay of Forest of the Imagination) and architecture (Anna Liu of Tonkin Liu). The final keynote speaker is still to be announced, but a pairing with Piers Taylor, architect, Bath native and global TV explorer, it is likely to result in a lively conversation informing ideas of the best sort of city, way beyond Bath and the south west.
Therapeutic City, 20-27 September, Bath
---