Ghanaian-born architect Arthur Timothy has certainly filled the blank canvas his son gave him one Christmas, switching career to become a globally-recognised artist within six years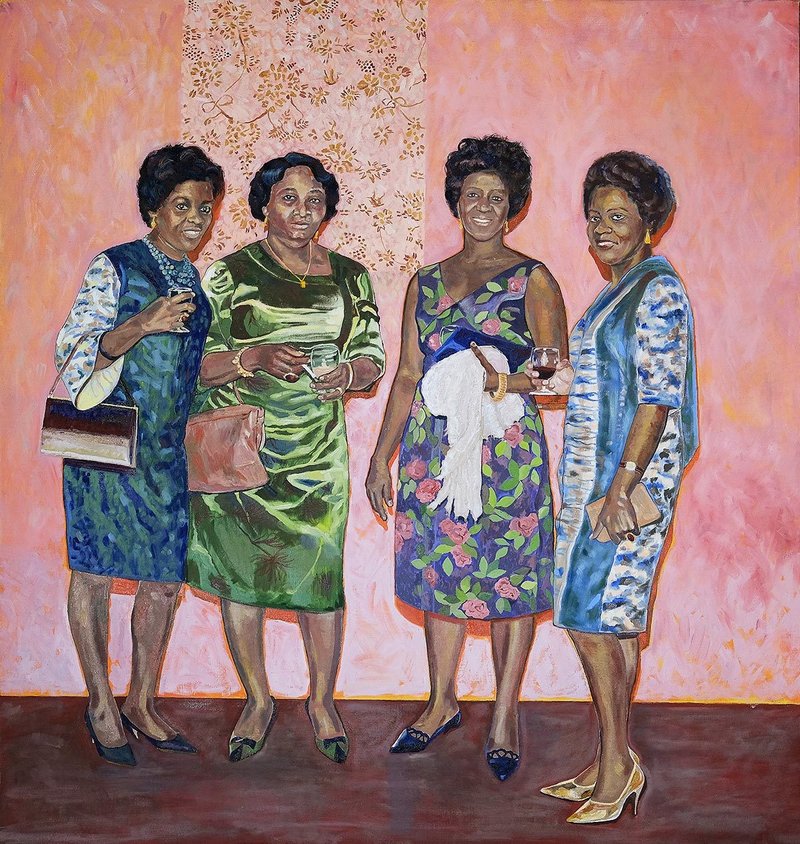 Party Frocks, 2019. The artist's mother Adeline is shown second from the right.

Credit: Sophie Davidson
'He's aware he's changed my life,' says Arthur Timothy of the time his son Duval, himself an artist and musician, gave him a stretched blank canvas as a Christmas present, in the hope that he would use it.
That was in 2017, when Timothy was running a small architecture and design practice in London with his wife Erica, and sketching and painting as a hobby at weekends. Six years on, he is now fully focused on art, having completed a somewhat 'accidental' transition from architect to artist precipitated by the Christmas canvas. It's been quite a ride – he's had sell-out solo shows in London and Accra in Ghana, and has exhibited in art fairs all over the world. When I met him earlier this month, he had just returned from exhibiting at New York's The Armory Show art fair followed by an ongoing group show in Accra on emerging contemporary artists from across Africa and the diaspora.
'I feel that this is a really nice bonus for me at this stage in my life,' he says, adding that a lot of the people he studied architecture with have now retired.
Although clearly delighted with this career change in his sixties, he stresses that it wasn't born out of disillusionment with architecture.
'I don't want to sound down on architecture. Architecture is great when you're doing exciting work,' he says.
Timothy studied architecture at the University of Sheffield and had a positive experience working for big commercial practices including Owen Luder Partnership, Michael Aukett Associates and Michael Twigg Brown & Partner, where he worked on Hay's Galleria at London Bridge, before setting up as Timothy Associates in 1986.
As such, he did experience the frustrations familiar to many small practices of managing cash flow and trying to break into new sectors without previous experience. He built up a track record in residential work as well as some hotel, health centre and mixed use projects, but would also have loved to have designed civic and cultural projects such as art galleries.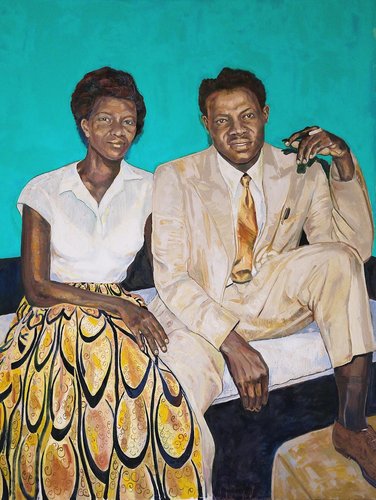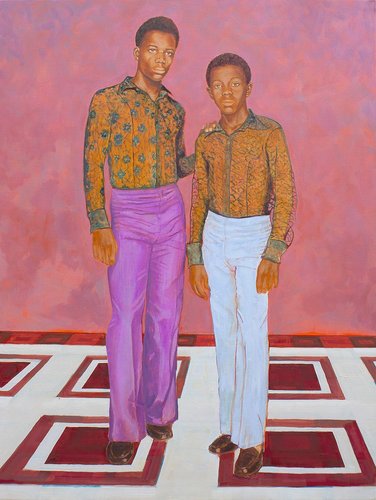 Timothy was also the inaugural chair of the Stephen Lawrence Trust, set up following the teenager's racist murder in Eltham, south-east London in 1993. His involvement was deeply personal. Stephen was interested in architecture and had done work experience at Timothy's practice. Also, as a parent of three children himself living in south-east London at the time, Stephen's murder hit home with Timothy particularly hard. He recalls how there was surprise at the time that a black boy would aspire to be an architect, and does wonder what sort of experience Stephen would have gone on to have in the profession. In his own time as an architect, Timothy himself had encountered his share of surprise from developers that a person of colour was an architect, and experienced their awkwardness in dealing with him.
Meeting him at his splendidly-restored Georgian townhouse and studio in Bath, it is clear that Timothy is relishing his career change. Ever modest, he feels 'incredibly lucky' to have had such 'amazing' success so soon in his time as an artist, especially since his career change was unplanned. He also points to the serendipity of his emergence as an artist at a time when art institutions are becoming more interested in representations of black work.
Looking at the vibrant and compelling paintings that adorn his studio and home, it's clear there is a lot more to it than luck. Inspired by a cache of family photos found in a trunk of his late father, his paintings celebrate family and friends from times past, the small black and white images transformed into a feast of pattern and colour. In doing so, they are also homages to Ghana, where Timothy was born but left as a baby, and to the landscapes of Sierra Leone, where he grew up until being sent to boarding school in England at nine years old.
Such personal work has been cathartic for Timothy, who spent several months walking past that first, daunting blank canvas on its easel before plucking up the courage to tackle it.
'I think probably I doubted myself. It took me a long time to get started,' he says.
He started with Party Frocks, a painting of his seamstress mother Adeline and three of her friends, each resplendent in a richly patterned dress and high heels against a pink-orange background, clearly enjoying a social occasion. While he could remember the colours of his mother's dress, the other vivid colours are his imagination. The second is of his parents, his father Bankole looking dapper and nonchalant, his mother in a boldly patterned skirt, against a vivid turquoise background. Both oil paintings were accepted into the 2019 Royal Academy Summer Show, kickstarting a cascade of interest in his work that has kept on growing. A debut exhibition in London at The Ronchini Gallery in 2020 was followed by exhibitions at Gallery 1957 in Accra. All the work was sold in both. Another exhibition for Gallery 1957 in London focused on the landscapes of Sierra Leone, and he has exhibited online with the Pippy Houldsworth Gallery.
Further emboldened by his work being acquired for the permanent collections of institutions such as the Institute of Contemporary Art, Miami, he realised that he could 'have a go' at pursuing painting as his main career and hasn't looked back.
Timothy has found the process of painting such personal subject matter enjoyable and 'kind of comforting'. It's also been a way of exploring his family background and in particular the experience of his parents in Ghana. His journalist father was deported after being critical in print of Kwame Nkrumah, the first leader of Ghana after independence, leading to the family's move to Sierra Leone, where his father was from. Working on paintings of his late older brother Desmond, the subject of his recent New York exhibition, helped him to come to terms with the pain of his loss. Other family members depicted include Timothy's grandmother, his aunt, and the artist himself. Having got things 'out of his system' through the painting process, he feels able to let the paintings go if they are sold. The only exceptions are the first two, which have pride of place in Timothy and his wife Erica's home – despite potential buyers at the RA Summer Show, they weren't for sale.
He has recently begun to leave the trunks of photos behind and has started to explore new subjects. He's interested in how representations of black people prominent in Renaissance society, such as a Medici duke in Florence, have been marginalised in some Italian galleries. He's already begun to respond to this in two recent paintings depicting African figures in Florentine settings. He'd also like to paint family and friends from life, beginning with Erica – although she doubts she'll be able to sit still long enough.
Timothy is also thinking of experimenting with other painting techniques. So far he has worked in oils on canvas or linen. As for influences, he cites the work of Velasquez as a particular inspiration, as well as Caravaggio, Freud and Bacon, among many. More contemporary references include British-born West Indian artist Hurvin Anderson, and Claudette Johnson, as well as Ghanaian artists Gideon Appah, Amoako Boafo and Kwesi Botchway, and Derek Fordjour, an American artist of Ghanaian heritage, who is something of a mentor.
He feels more at home in the art world than in architecture, and recalls his uncomfortable memories of the RIBA, which didn't feel particularly welcoming to him. 'I love the people I meet in the art world. It feels like a real community,' he says.
Asked what advice he would give to other architects thinking of a similar career shift, he advocates making time to produce a body of work first before trying to generate interest from galleries. 'It's definitely worth a try,' he says.
Does he miss architecture? While Timothy definitely doesn't rule out working on architectural projects for himself or his family, he is enjoying having less stress, more agency over what he does, and a better living, in his new life as an artist.
'I think my heart is now in the art because I'm really in control when I'm doing art. I enjoy it more because I don't have the frustrations I used to have when I was an architect, of constantly dealing with local authorities and planners and developers,' he says, adding that he is appreciating having the time as an artist to create his own vision, without compromise.
'Architecture is still a part of me. I just feel I have to keep going on with my art.'
Follow Arthur Timothy's work on Instagram